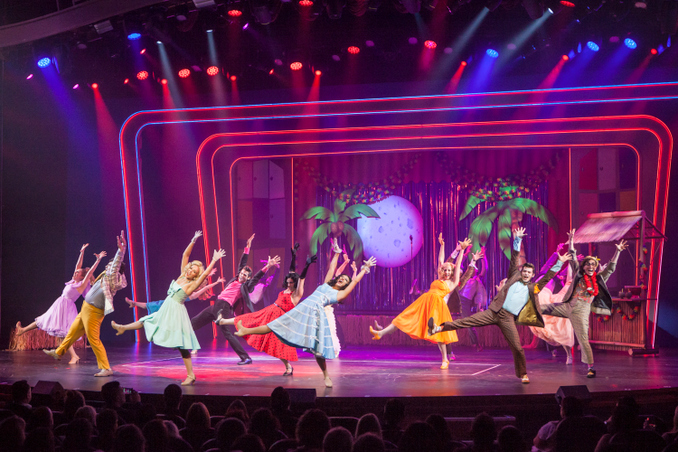 From Broadway razzmatazz to risque burlesque, cruise shows just keep getting better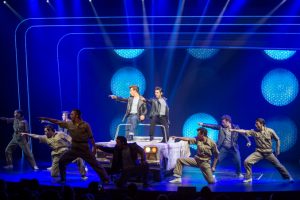 They say the show must go on and when it comes to entertainment on the high seas, it's full steam ahead. A night out in the ship's theatre has always been the mainstay of nautical entertainment and passengers typically get a taste of Broadway with all its razzmatazz.
Diehard show fans will highlight the event on their cruise program, turn up early to nab a good seat and settle in with a drink. I like to catch the occasional show and always sample a mixture of entertainment on every new ship.
I've watched the 90-minute production of Grease on the then world's biggest ship, Harmony of the Seas, and was recently mesmerised by Burn the Floor, the Australian dance spectacular playing on board Norwegian Jewel.
Royal Caribbean International (RCI) and Norwegian Cruise Lines (NCL) are the big players in production shows, giving passengers the whole Broadway extravaganza with full-scale, under-licence renditions of Cats and Saturday Night Fever (on selected RCI ships) and Priscilla, Queen of the Desert and Rock of Ages on NCL. They also curate original musicals, such as Royal Caribbean's quirky Columbus – the story of the famous explorer's hapless third cousin, Marvin.
P&O Cruises takes a different approach. Rather than re-purpose popular songs and ideas, it crafts productions especially for Australian audiences and with its latest show, Love Riot, is testing the waters with something risque. The Spiegeltent-style burlesque performance has a cast of seven acrobat-dancers who are separate from the ship's entertainment troupe and are sourced from a Montreal circus school. With latex costumes, a couple of blow-up dolls and other sex-shop accoutrement plus a smidgeon of blink-and-you-miss it nudity, it's naturally an adults-only show, costing $10 a head (with cocktail) to control demand.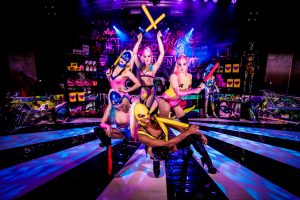 P&O Cruises director of entertainment Brett Annable said it was rating well, with most passengers snapping up the $30 dinner-and-show package, a bargain in anyone's language. Another original production, Twice Upon a Time billed as "a dramatic journey through a post-apocalyptic world" with songs in a fictional language, is also pushing the boat out, so to speak.
This new entertainment approach is the brainchild of P&O president Sture Myrmell, who's on a mission to create experiences that mimic what's happening on land.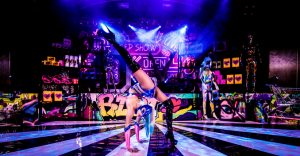 Cruising's massive growth has meant fierce competition among the brands, which are under pressure to come up with new ideas and are always on the look-out for top dancers and singers. While most cruise lines source their own performers from global auditions, one exception is Burn the Floor (BTF), created by Australian producer Harley Medcalf and playing on four NCL ships. Responsible for bringing the likes of Elton John and Billy Connolly to Australia over a 40-year career, Medcalf employs a dedicated troupe of professional dancers who work solely for his company.
Some 110 dancers are under contract across four ships – Norwegian Breakaway cruising from New York, Norwegian Getaway cruising from Miami and Norwegian Epic in the Mediterranean, while the Jewel just completed a nine-itinerary season from Sydney and will return in December.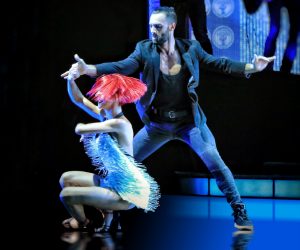 The shows enjoy long runs on each ship. Burn the Floor is in its sixth year on Norwegian Breakaway, and has run for four and two years on the two sister ships.
"We're constantly developing new work," Medcalf said. For the Australian season passengers were treated to new routines called Hit it, Spin it, Swing and Desire.
Cruise lines are a tough business model, he said, and taking a show on board a ship is not exactly lucrative. However, the exposure is huge.
"We never thought we would be given an opportunity to have such brand momentum. Audiences love the show – 10,000 passengers see it a week. Our relationship with NCL is amazing."
Miami-based NCL senior director of entertainment production Robert Hertenstein says the line currently stages three of the five top-rated shows as voted by readers of popular website Cruise Critic: Burn the Floor, Priscilla and My Revolution, conceding that RCI's Grease occupied the top spot.
But showbiz is always dynamic and things should rev up when NCL launches its new ship Norwegian Bliss this northern spring and debuts the smash hit, Jersey Boys.
"That is a big expense, but it's worth it," Hertenstein says. "We're known for the best entertainment in the cruise industry and we want to set the bar high."
Apart from well-known shows, NCL is always on the hunt for new material. "I'll fly to the Adelaide Fringe Festival, London and LA to research shows and people approach us with ideas too," he says.
Hertenstein says Australian performers are among the best he's worked with. "They are disciplined and have a great work ethic. I've been coming to Australia for 10 years to find the best dancers."
One such Aussie is singer-dancer Felicity Light, who recently completed two contracts with Celebrity Cruises. After surviving a gruelling seven-hour audition – "they drill you and see who's the last one standing" – she headed to the States to work on Celebrity Summit on cruises to Bermuda, followed by four months in Alaska aboard Celebrity Millennium.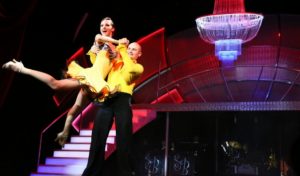 A dancer since she was three, Light loved the shipboard life and shared a cabin with a Melbourne girl who's become a best friend. Of the troupe's 18 performers, six were Australians. Her duties involved two shows a night, three times a week during seven-day sailings, and six days a week on fortnight-long itineraries, as well as assisting with lifeboat drills.
The perks were great, she said. "It's a dream – to dance, travel and save money. I loved the beaches in the Caribbean and Bermuda. You can virtually save all your salary; the only downside is we were based in Cape Liberty, just across from Manhattan and I loved to go shopping."
Entertainment staff also have several privileges over the normal crew; they can use the guest gym and eat in the main dining rooms and buffet restaurants.
"It was a bit of a struggle to keep my weight down at first; I went overboard in the first month with all the desserts, but you eventually get into a routine, especially as we had constant rehearsals."
Light is now back in Sydney and hoping her nine months at sea will help secure a job in musical theatre. "Cruise ship work is really good to have on your resume."
If she doesn't crack it in local theatres, Light might consider going back onboard if she could get a gig in one of RCI's musicals, such as Grease or Mamma Mia.
With a 26-ship fleet, carrying about 100,000 passengers a week, Royal Caribbean has a massive entertainment task. That's the domain of Christi Coachman, head of RCI Productions in Miami. She writes and produces original shows and travels to 60 cities a year in the USA, Canada, Britain, South America and Australia searching for the 1500 cast members who work across the fleet.
New production facilities with 14 full-sized studios and a 280-seat theatre for final run-throughs (performed before family and friends) have recently opened in North Miami. "These big shows are the mainstay of entertainment. When we launch brand new   ships, we launch brand new shows."
And the latest to entice fans will be another Broadway smash – Hairspray – to debut on Symphony of the Seas when it launches in Barcelona in April 2018.
Fans who love their "sequins and feathers" have quite a lot to look forward to.
Working as a cruise performer   
Aspiring dancers can find audition information on cruise line websites and trade magazines such as Dance  Informer
Having an agent helps
Ship contracts range from four to six months
Singers/dancers perform twice a night, usually three times a week; they also teach passenger dance classes and do boat drills
Dancers must keep to their pre-cruise weight and fitness level with regular gym work-outs.  Alcohol is allowed but none five hours before a shift begins
Crew romances are allowed; those between crew and passengers are not.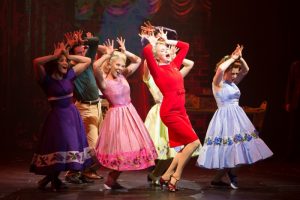 Published in Traveller, Sydney Morning Herald. April, 7, 2018
http://www.celebritycruises.com