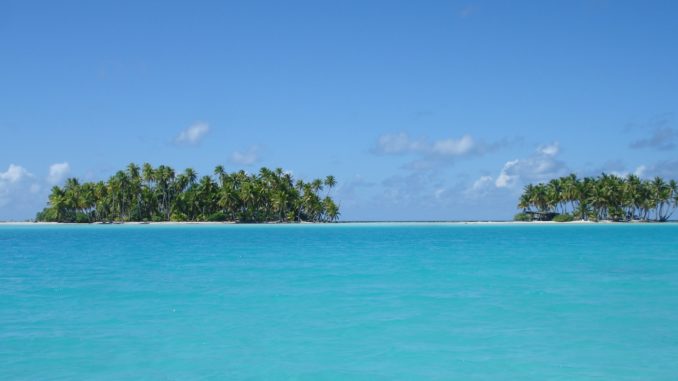 Let me begin this post with an apology or "Je regrette", as the French speakers of Tahiti might say.
It's been a while since my last blog. My absence from Caroline's Cabin Fever has had more to do with certain gremlins in the WordPress software than it has with lethargy on my part. It seems that a pesky glitch prevented me from transferring photos from my computer into my website's photo library – a necessary facility indeed. What's a blog post without an array of tantalizing photos? Nothing but a bunch of words. Hopefully, the gremlins have been exorcised and we can head back to Tahiti.
Last year I wrote about one of my favourite places on earth, French Polynesia, and a few of its 118 islands. Here's a photo of Bora Bora to reacquaint you with its glorious blue lagoon.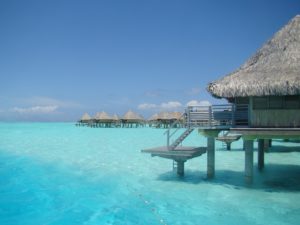 I  was back in French Polynesia in February last year, on a fleeting visit to get aboard the newish ship, Viking Sun. I'd never cruised on Viking Ocean Cruises before, although I'd heard people rave about it. With beautiful Scandinavia design and artwork, great food and everything included in the fare such as drinks and use of the amazing Nordic Spa (with a snow grotto with fluttering snowflakes), it's one of the best experiences I've had. My eight-night cruise was a mini segment of a world cruise and most passengers I met had joined the ship in Valparaiso, Chile; others had boarded in Miami a month earlier.
I spent one night in the Manava Suite Resort at Papeete, on the island of Tahiti. It has a fab pool and great views across the Sea of the Moon to Moorea and the next day hopped a cab down to the wharf to board the ship.  It was just a short sojourn in French Polynesia, just one stop in beautiful Bora Bora, and then six days at sea before calling at New Zealand from where I regrettably flew home.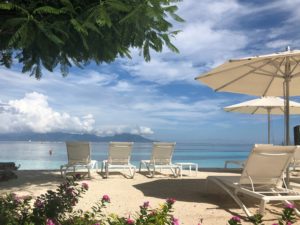 As we cruised out of Tahiti in the evening, it wasn't long before we drifted past Moorea, and luckily just as the sun was slowing sinking behind it. Moorea has radically-shaped mountains and has the best profile of any of the islands. Yes, Bora Bora has the lagoon and a couple of cloud-swathed volcanic peaks, but Moorea has the iconic shark-tooth mountain (Mt Mouaroa) – seen on many postcards, as well as Mt Mouaputa, which has a hole pierced through its summit.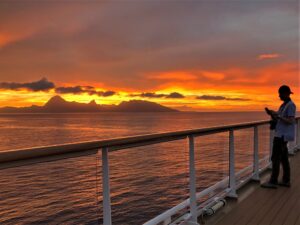 Although we had limited time in the isles I made the most of it by taking Viking's included tours in both ports. In Papeete, I joined a small walking tour and again visited the markets, Notre Dame Cathedral and had a peek at the Town Hall and the Presidential Palace. Apart from the guide, there were only three of us on the walk – the others were a fun couple from Virginia in the US.
Over the course of the cruise, I bumped into them a few times and on the last night, we had dinner together. Thankfully we shared the same political views and they had an opportunity to talk freely with me and my three journalist colleagues. One has to broach the topic of politics very carefully these days – especially when travelling on ships favoured by Americans.  But I digress…
In Bora Bora, I boarded one of the dozens of local buses that turn up when ships are in port and paid 500 francs (about US$5) for a one-way ride to Matira Beach. It's really the only beach on the island for daytrippers, unless you go to a resort, have a meal or a few drinks and then have a swim. As there were three ships in port that day – ours and one each from the Oceania and MSC Cruises' lines, there were plenty of people at the beach,  although not that many in the water, possibly because it's very shallow and you have to wade out a long way to really immerse yourself.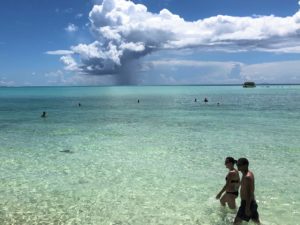 But today's focus is on the continuing story of that lovely collection of 118 islands in the South Pacific, French Polynesia.  Last time I focussed on the main players – Tahiti, Tetiaroa (the tiny island not far from Tahiti that Marlon Brandon bought in the 1960s), Moorea and Bora Bora. They are all part of the Society Island archipelago and are the most visited
Now let's venture over to Huahine.
Most travellers fly over the island as they wing their way from Tahiti to Bora Bora, which is a bit of a mistake. It's well worthwhile touching down at the basic little airport and staying for a few days in either Huahine Nui (big Huahine) or Huahine Iti (yes, little Huahine). Here you'll encounter the true meaning of life in the slow lane and finally get to grips with the concept of total relaxation. Huahine residents like to boast that their island is "Bora Bora 30 years ago" and they're probably right.
I stayed in two family-run pensions on Huahine Iti, which is the southern (and quieter) half of the two parts of the island. I rented a car for three days, a little Renault, which seems to be the most popular hire car in French Polynesia. Considering you can whip around the whole island in less than a day, I had plenty of time to slowly motor along and stop wherever I pleased to take photos – photos of quiet bays, views from the Belvedere lookout, little shops and restaurants and several ruined marae (the ancient Polynesian temples). During my sojourn, I rarely saw another car on the road in sleepy Huahine Iti; I did see a few though when I ventured over the little bridge, which separates the two islands halves, and entered Huahine Nui.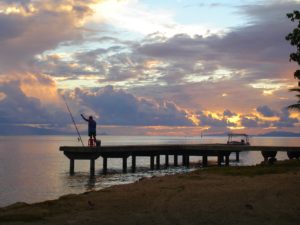 What passes for action takes place in the village of Fare (pronounced Far-ay), the island's "capital" on the north-western side of Huahine Nui.  This is where you'll find a few shops, a car rental, a restaurant or two and the big attraction – the Fare Super Nui – the island's only supermarket. I spent quite a bit of time exploring its shelves, mostly looking for an affordable bottle of red wine. There's really no such thing in French Polynesia (it's not a Dan Murphy's kind of place) but you can pick up something adequate which won't break the bank – and it will be French!
At night a few little food caravans, known as roulottes (which are also found in Tahiti and other islands) open for business. Without a doubt, the roulottes (not roulettes mes amis ) are the best culinary deal in the islands. Often operated by Chinese chefs, the roulotte sometimes specialises in just one meal – such as chicken chow mein – or if you're lucky you'll find a roulotte that has a few choices. I ordered what turned out to be a huge serving of lemon chicken (stir-fried in a wok right there and then), which the Tahitian chef plonked it into a large takeaway container. Mind you it would have been a bit more romantic to eat my dinner while sitting on a picnic table near the Fare wharf as the sun set slowly over Bora Bora in the west, but I was on my own and didn't fancy sitting there sipping from my bottle of French plonk. So container in hand, I hopped into my little Renault and motored off over the bridge to Huahine Iti and to my pension and ate the dish (with a glass of decent French wine).
If you want to live like a local for a few days consider renting a little villa (such as Villas Bougainville on Huahine Nui), which comes with a car and a little motorboat. They're not glamorous but it will be a completely relaxing week where you can freewheel along the roads and the lagoon.
Raiatea and Taha'a 
Another couple of islands in the Society group are Raiatea and Taha'a, which share the same lagoon. That's an interesting geographical concept, a bit like finding a double yolk floating about in the one egg.  The one reef surrounds both islands; the southern tip of Taha'a, the smaller of the two, is only a few kilometres from the northern tip of Raiatea. I visited these two during a seven-night cruise on the 330-passenger ship, Paul Gauguin.
We arrived in Raiatea on a Sunday morning and nothing was stirring at the wharf although a bunch of local school kids had turned out in their costumes and came on board for a vibrant show. A few tour buses eventually turned up to take us on excursions but the rest of the town was asleep. That's Sunday in French Polynesia – which consists of church in the morning and a big family lunch afterwards.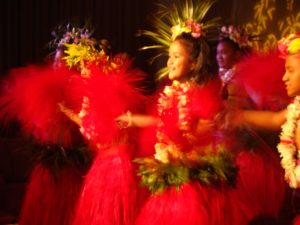 Raiatea's two big claims to fame are its reputation as a hub for round-the-world yachties (there are several marinas on the north coast where yachts tie up) and at the opposite end of the scale, its ancient marae, or Polynesian temple, called Taputapuatea. Raiatea is known as the sacred island as it developed a powerful cult devoted to Oro the God of War around the 16th century; Taputapuatea was the meeting ground and place of worship, and reputedly human sacrifices also took place there – up until the 18th century. Today after quite a bit of restoration work, visitors can walk among the basalt stones and crumbling former altars. Situated on the south-east of Raiatea, the marae complex was granted UNESCO World Heritage status in 2017. Taputapuatea is not particularly photogenic (it's certainly not the Acropolis or the library at Ephesus in Turkey) but its setting overlooking the Ava Moa Pass (which is a break in the reef) is lovely. The thing to do in Raiatea (if you're not a yachtie) is to get on a 4WD tour to whip around the island and then board a small boat to venture up the Faaroa River, the only navigatable waterway in French Polynesia, to check out the jungle.
Taha'a
Just a few kilometres to the north of Raiatea is Taha'a, known as the vanilla isle as 75 per cent of French Polynesia's crop is grown on this island that measures just 53 sq km. Vanilla is the world's second most lucrative crop after saffron. I've bought Tahitian vanilla from the market in Papeete (Tahiti's capital) and if you're in French Polynesia long enough you'll eat a few dishes flavoured with vanilla sauce, such as the popular fish mahi-mahi. We didn't do any exploring at all in Taha'a; we cruised into the lagoon, dropped anchor and were taken off the ship in tender boats to Paul Gauguin's private island, Motu Mahana. It was a day of total island bliss as the crew stoked up the barbecue and we lounged around on deck chairs on the sand and ordered drinks from a man who was literally standing in the lagoon pouring cocktails! Yep – fond memories of Taha'a. Local folks turn up in their boats and set up stalls selling shells, sarongs (pareos) and pearl trinkets. It was the most relaxed day I've ever had in French Polynesia and I highly recommend it. Paul Gauguin Cruises visit the island regularly.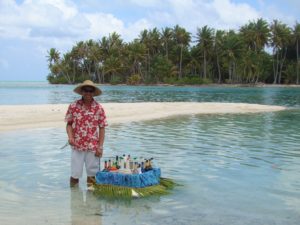 Next time we'll head over to the Tuamotu Archipelago, the largest of French Polynesia's five island groups, known for their fantastic diving, snorkelling, pearls, pink sand beaches and hidden patches of paradise within the lagoons. I've visited Rangiroa and Tikeahau – just a couple of the 77 atolls (or coral cays) that make up the Tuamotu group.
Here's a look at the Blue Lagoon – a popular day trip complete with beach picnic in Rangiroa.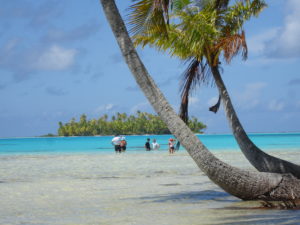 Until next time –  and Mauruuru (that's thank you in Tahitian) – for reading.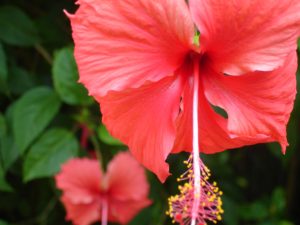 A few handy links:
Villas Bougainville on Huahine:  http://villas-bougainville.com/en/
Paul Gaugin Cruises:  https://www.pgcruises.com/
Tahiti Tourism:  https://tahititourisme.com.au/en-au/
Viking Cruises: https://www.vikingcruises.com.au/