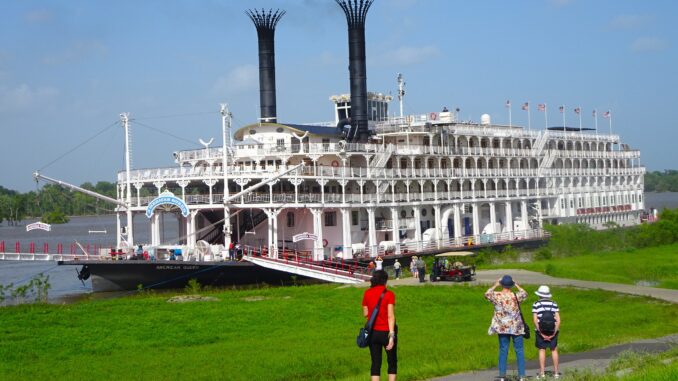 One of my favourite cruises
In those pre-pandemic days, I used to go on cruises fairly regularly – in fact, I'd notched up 60+ cruises on ships of all shapes and sizes and prize tags.
Last year, on a blistering hot June day, I boarded the America Queen steamboat for a seven-night cruise along the Mississippi.
That was my first cruise in two-and-a-half years. I'd long fantasised about being on board a paddlewheel riverboat on that fabled river.
I went on my own and was never lonely or wanting for company – I would recommend it in a heartbeat. Here's my story that was published in the Sydney Morning Herald earlier this year.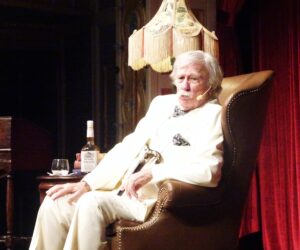 " LEWIS HANKINS has made a living on the Mississippi River. Dressed in a three-piece linen suit, he sits in an armchair, bottle of Tennessee whiskey and glass at his side, dispensing pithy quips as a Mark Twain impersonator on the American Queen steamboat.
Rarely out of character, Lewis, 75, has performed his one-man show for 33 years on the "Queen" and other steamboats that have plied the river between New Orleans, Memphis and Minneapolis.
Chris Wistey is a "riverlorian" – she's been telling passengers stories about the Mississippi for a decade as they gather in the chartroom to study maps and meet the captain in the wheelhouse of American Queen – the largest steamboat ever built – as it rolls slowly upriver.
Don is one of them, but as he's taking his 47th cruise, I dare say he's heard the stories before. Mostly, Don likes to sit in the Mark Twain Gallery leafing through history books or in a rocking chair on the boat's front porch watching the river flow. He grew up on the banks of the Ohio and can't get enough of riverboats.
Me – I'm pretty partial to Mark Twain and can trace my desire to take a trip along the Mississippi, which courses through 10 states on a 3780-kilometre journey from Minnesota to Louisiana, to the time I watched the Adventures of Tom Sawyer on black-and-white TV as a kid.
It takes me several decades to get to the Sip, as it's called, but it's all the more special coming after years of pandemic lockdown.
American Queen sits grandly at New Orleans wharf, its twin smokestacks piercing the sky when I board on a blistering June afternoon.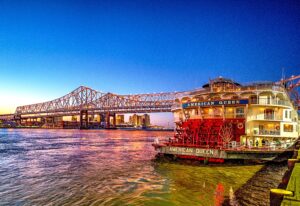 At 5 pm the crew cast off the bowlines and we steam out en route to Memphis. I walk from bow to stern to stand a deck above the big red paddlewheel, watching it turn rhythmically, sending up waves of spray that cool me down.
The horn toots and pianist Phil Westbrook plays a Dixie tune on the calliope – a steam organ of 37 gold-plated brass pipes. It's a piercing sound, not exactly melodic, but we're on our way leaving New Orleans in our wake for seven days of river life.
American Queen is a beautiful boat (never call these vessels "ships"), all white, six decks high, with staterooms opening onto wrap-around verandahs. Its grand saloon has private viewing boxes and the spectacular J M White dining room, named after the most opulent riverboat of the 19th century, with high ceilings, white fretwork and Victorian-era chandeliers adorned with gaslight bulbs, is a feast of steamboat gothic design.
Owner John Waggoner feels the same way – that's why he bought it. As the chief executive of HMS Global Maritime, which owns ferries and dinner-cruise boats in major US cities, he loves all things nautical and American history.
He's on board to commemorate the 10th anniversary of the relaunch of American Queen and announce new itineraries and the company's new name – American Queen Voyages.
The story he tells of how he saved the riverboat that had languished for a couple of years in Beaumont, Texas, by raising money to buy it from the US Maritime Administration, which had repossessed it when its owner went bankrupt in 2008, and how it was painstakingly restored it, is one hell of a yarn.
He's a great raconteur and, obviously, a fast talker as he managed to secure the $US15.5 million needed – after 50 presentations to banks and tourism agencies – to buy the boat and the $US9 million to restore it.
Waggoner's dream to own the "Queen" came to fruition when the 127-metre, 3707-tonne vessel was re-christened by godmother Priscilla Presley in Memphis in April 2012 and began its summer cruise season soon after.
American Queen was built in 1995 for the Delta Queen Steamboat Company, which went bust in 2000 and was then acquired by Majestic America Line in 2000, which succumbed to financial hardship in 2008.
I had known about her and had yearned to step on board for years, a scenario perhaps ripe for disappointment.
Fortunately, I'm rewarded at every turn and every bend of the river and discover a river cruise is as leisurely or as busy as you want. I love to walk along the decks watching the water traffic and the activity on the banks hundreds of metres away. The Mississippi is wide, make no mistake; it was a major waterway, the lifeblood of industry in the 19th century before railroads came along and took over transporting goods and people.
Within no time, I get into the flow of waking early, as the morning's first rays have a habit of sneaking through the louvres of my cabin door. I step straight out onto a verandah and take in the stillness.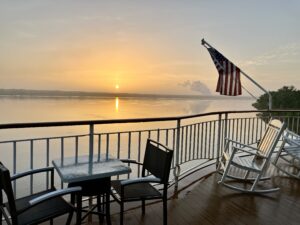 It's just as beautiful at night when the intense heat of the day subsides, a slight breeze dances on the river and the moon is high. We pass Louisiana's capital, Baton Rouge, on the first night, with its art deco capitol building lit up on the distant shore.
Our journey up the Sip has five ports of call and a final day of scenic cruising. At our first stop, near the town of White Castle, I'm taken aback by the glorious mansion, Nottoway, looming above the river levee. It's my first sighting of an antebellum plantation home and as the largest surviving mansion in the South, it's beyond grand. Like all plantation houses, there are grim stories of slavery, although our guides, dressed in full-length silk hooped skirts on a 38-degree day, keep to the tales of the Randolph family for whom it was built in 1859.
The magnificent white ballroom is one of 164 rooms and the one where John Randolph paraded his seven daughters to suitors. Nottaway is now privately owned and our costumed guide, Alex, says it's up for sale for US$2.8 million, which we handful of Aussies agree is a steal.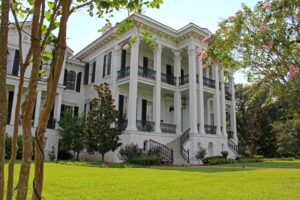 After the tour, many passengers stroll the 100 metres back to the Queen, but as I want to soak in as much of the South as possible, I've booked a trip to the bayou – the swampland of Louisiana – for a date with alligators.
Brandon of Cajun Swamp Tours is our boat captain for a trip along the waterway; he wears a Gator Patrol T-shirt and sports a sense of humour to match. The reptiles come out in force, swimming alongside us hoping for a snack, as Brandon explains the difference between Cajan and Creole (it's a long story, folks) and all their peccadillos and superstitions. It's fascinating – the swamp is full of critters, real and imagined, such as the Rougarou or Cajun werewolf, which is deeply revered in these parts.
I alternate my days between guided tours (one day I visit BB King's museum in Indianola to be greeted by a gospel choir) and hop-on-hop-off tours aboard American Queen's branded buses that meet us at every port. My favourite towns are Natchez with its grand mansions and streets ablaze with crimson crepe myrtle trees, and Vicksburg. The latter is etched in Civil War history for the decisive 47-day Siege of Vicksburg, which witnessed the Confederate surrender, giving control of the Mississippi River to the Union.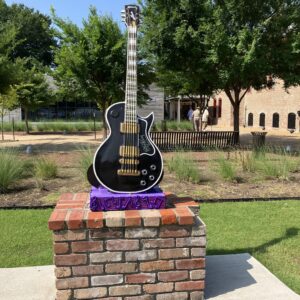 I start my evenings with a drink on the front porch, follow with dinner in the opulent dining room and move to the grand saloon for blues, jazz or whatever razzamatazz is on offer. The entertainment is the best I've encountered on many a vessel and once I discover the band at the Engine Room bar, where you can see the big wheel turning through several portholes, and are served complimentary drinks whatever your poison, I feel I've found my spiritual home.
And that big red wheel can be viewed at any time of the day. I have my Proud Mary moment on the last day when I descend to a hot, noisy space and come face-to-face with the authentic steam engine and a crewwoman escorts me through a back door to stand by the paddlewheel for a photo.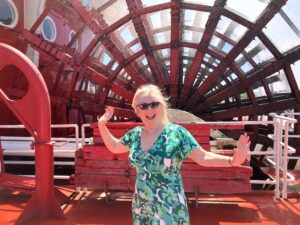 THE DETAILS
CRUISE
American Queen Voyages operates American Queen and other paddlewheelers on the Mississippi from February to October. An eight-night New Orleans-Memphis cruise includes one-night hotel accommodation, seven nights onboard, unlimited beverages, Wi-Fi and tours. See aqvoyages.com.au
Cruise travel agent, Cruise Traveller, sells these cruises. Here's one of the boat's intineraries for April, 2024 with pricing.