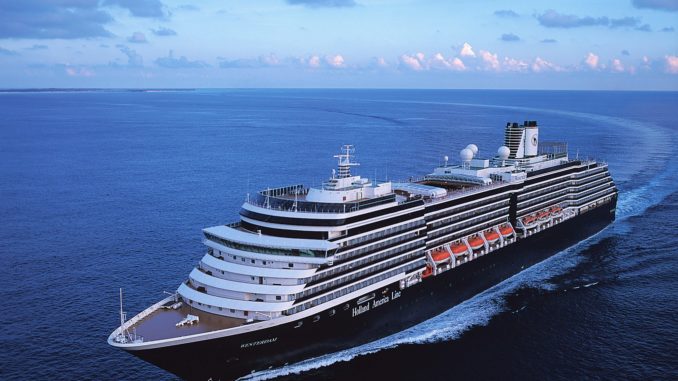 ---
Here's something that won't come as a shock to anyone – the Coronavirus is wreaking havoc on the cruise industry. Every day there's a new announcement – a ship reports that passengers have tested positive to the virus or it has been banned from docking at a port.
Last Thursday I wrote that several big cruise lines had just announced they were suspending their cruises for periods from 30 days to two months. The news changes daily and most cruise lines, even river cruise companies operating within the US, are following suit.
I've been following the crisis for some time. Here is some background.
The first ship to make the news was Diamond Princess. Before February 4 when the news of its quarantine and isolation off Yokohama broke, few had heard of the ship. Now it's a household name. Some marketing types used to say that there's no such thing as bad publicity, but I think we all beg to differ on that one now.
I sailed on Diamond Princess in 2014. It was just a short hop from Sydney to Melbourne, via Hobart. I was doing the first few days of a 30-day circumnavigation of Australia itinerary. I'd never really cruised on Princess before (save for a brief one-nighter to Melbourne) and after my time on Diamond, I came away impressed.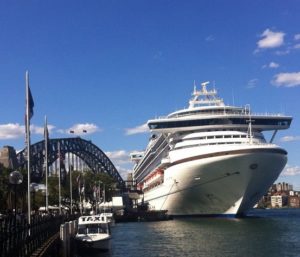 Princess is a premium line – there are 18 ships in the fleet and they're mainly big (let's say 2500 to 3500 passengers). The cruise line is considered the 'gold standard' by many passengers who love premium ships. Premium ships sit between the expensive luxury ships and the mass-market ships favoured by families and party-goers.
What I liked about Diamond Princess was the combination of tradition (daily afternoon tea served in the restaurant by waiters pushing trolleys laden with yummy treats) and the must-have latest drawcards such as big outdoor movie screens, celebrity chefs (that's Curtis Stone of Coles supermarket fame) and the adults-only Sanctuary.
But Diamond Princess had one special offering unique to the ship – the Izumi Japanese Bathhouse. And that's why the ship was in Japan. The bathhouse with indoor and outdoor tubs and separate facilities for men and women was installed in 2013 especially to appeal to Japanese clients, and it's been cruising around Japan regularly every since. For those who wanted a total Japanese immersion, you could go au naturel and have a swimming costume-free soak in the indoor tubs, as they do in Japan. This was purely optional of course; there were advertised "naked" and swim-suited bathing sessions, or at least that was the case when the ship was cruising in Australian waters.
Well, that was Diamond Princess then – hot and steamy in the Izumi and great sushi on offer in Kai restaurant, along with traditional Western fare in the three main dining rooms, Crown Grill Steak House and Sabatini's Italian restaurant. Here's a picture of the ship's open-air cinema screen.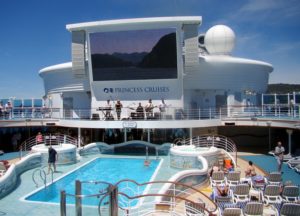 The Diamond Princess drama began when a Hong Kong man, who had boarded in Yokohama and disembarked in Hong Kong on January 25, tested positive to the virus on February 4. By the time the ship completed its well-publicised two-week quarantine, some 690 people also tested positive to COVID-19 and by March 6, tragically, seven passengers had died, including one Australian.
With the benefit of hindsight, those in the know realise that the enforced quarantine – with more than 3500 souls stuck out in the harbour for a fortnight – was a very bad move. The ship had morphed into a breeding ground for the virus.
The next ship to hit the headlines was Holland America Line's Westerdam.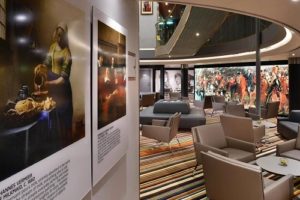 I am rather a fan of this line's ships, loving their wide wrap-around promenade decks, the Dutch seafaring tradition that is displayed in paintings along the many corridors and great entertainment in the form of BB King's Blues Club and the Billboard Onboard piano bar. I know all this as I was on a cruise on Westerdam in November last year.
I boarded in Phu My, the port of Ho Chi Minh City, and disembarked in Singapore a week later. While onboard I checked out the new Rijksmuseum at Sea, a small branch of the famous Amsterdam art gallery. The ship had just begun what was to be a six-month Asian cruise season.  However, news got out that there were infected persons on board and the ship was barred from entering ports in Japan, The Philippines, Guam and Thailand. Despite assurances from Holland America Line (HAL) that there were no confirmed cases, news of Diamond Princess's debacle was very much top of mind. So Westerdam kept cruising until it found a friendly port. Passengers weren't quarantined, however, and presumably still grooved the night away in the blues club and checked out the famous painting, The Night Watch, in the art gallery.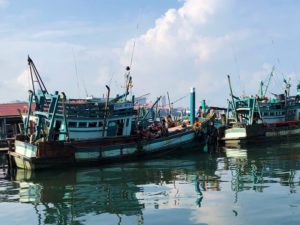 Finally, on February 13, the ship was allowed to dock in Sihanoukville, a port in southern Cambodia. The World Health Organisation (WHO) called this an "act of international solidarity". Privately I was overjoyed that Cambodia was getting some good press. If any country has been to hell and back it's Cambodia. When I was cruising on Westerdam last November I decided to take a shore excursion of Sihanoukville and check out the city sights and beaches. Once upon a time, it was a sleepy village, the haunt of backpackers who flocked to the beaches a decade or so after the horrors of the Killing Fields were revealed. What I discovered as I was driven around the city and walked along the fishermen's wharf near the cruise terminal was a horror of a different kind. I felt I'd embarked on a form of poverty tourism as I wandered along the wharf looking into ramshackle factories making ice and peering into pungent huts where workers were toiling over barrels of shrimp, which would later be turned into the lucrative crop of shrimp paste. Men on motorcycles, which were literally held together by duct tape, rode up to work in these seaside factories. The only saving grace was the colourful fishing boats bobbing about in the harbour beyond.
As we drove around Sihanoukville the modern-day tragedy of this city, which is being dug up and demolished to make way for development, was revealed. The city is certainly under siege from developers. Today it houses 90 casinos, all built by the Chinese for Chinese tourists. Cambodia, which has a total of 150 casinos, is aiming to become the next Macau, or perhaps the next Las Vegas. Billions of Chinese dollars have poured into the country and the once quiet beach-side backpacker town. The upshot is that the Cambodians themselves are not getting any benefit from this investment – but, of course, the Government is.
And that brings me back to the reason why Cambodia decided to welcome the Westerdam to Sihanoukville. It wanted to curry favour with the Chinese and the Americans. Cambodian Prime Minister Hun Sen (who's been in power for 35 years) personally greeted the passengers as they disembarked from Westerdam; he was photographed not wearing a medical mask. Passengers were greeted with flowers and a Cambodian scarf and off they went on their way home. Earlier in the month Hun Sen had been in China and wanted to visit Wuhan to visit Cambodians living there in the grip of the virus but was not allowed permission to visit the city that was, and still is, under lockdown. When the Westerdam docked in Sihanoukville on February 13, it was carrying 1455 passengers and 850 crew. Among the guests were 650 Americans (and a sprinkling of Australians) – it seems that Prime Minister Hun Sen also wanted to send a message to Washington that he was a good guy and they should back him when the next round of elections come up. So what I thought was altruism, was just another political opportunity. Silly me……..I should toughen up and be more cynical.
There was however a skerrick of good news. An 83-year-old American passenger who transitted through Malaysia after she disembarked from Westerdam tested positive to the virus. However after she was treated with anti-viral medication, she tested negative and headed home. (What is this anti-viral medication of which the news sites speak?) *It later emerged that the woman was more than likely a 'false positive' case, meaning she may never have had the virus at all.
Naturally, Westerdam has cancelled its Asian season and is back in North America.
Moving on to March and news came through that the Norwegian cruise ship, Viking Sun, had been denied landing at the port of Surabaya in eastern Java, Indonesia. Onboard were some 800 passengers and 595 crew. The ship, one of six vessels in the luxury Viking Ocean Cruises fleet, was on what's best described as the "never-ending world cruise" – a 245-day voyage that began in August 2019 and is circling the globe visiting 53 countries and 111 cities and smaller ports.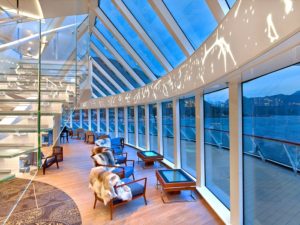 Last February/March I was onboard Viking Sun as it flitted between Tahiti and New Zealand as part of its 2019 world cruise of around 120 days. Are we noticing a pattern here? Yes, that's right, I have been on three ships that have recently made the coronavirus news. I'm glad to say I was on the ships pre-outbreak. I do feel for those poor passengers and crew stuck on ships, not knowing what's going on and what awaits them. Many crew members who had been taking their annual breaks back home in China and other affected countries have been told not to return for duties until the whole thing is over. For many, their livelihood hangs in the balance.
Viking Sun, like the other five ships in the fleet, is a stunner. It's Norwegian (owned by Torstein Hagen who launched Royal Viking Line back in the 1970s and later bought KD River Cruises to create Viking River Cruises) and the look is Scandinavian chic. One of the great features of the ocean ships is the spa. The whole experience emulates a Nordic spa where you soak in hot tubs, dowse yourself with freezing water, sweat it out in a sauna and steam and then, if you wish, enter the snow grotto where fake but freezing snow comes fluttering down on your semi-clad body — all in the name of health and fitness. I loved it. Here's a picture of the huge saltwater bath.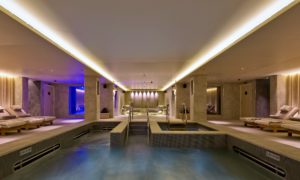 As it turned out there were no cases of coronavirus onboard Viking Sun. Passengers missed out on a port because the local authorities did not want to create "mass panic" in the city. Ironically Viking Sun had been allowed to dock at the port of Labuan Bajo on the island of Flores, only a few days earlier. The ship went off on its merry way, hoping to dock at as many ports as were originally scheduled.
However, in news released on March 12, Viking has decided to suspend all its sailings on its ocean and river ships until May 1.
This brings me to my own Indonesia cruise story. Just last week as I was reading about Viking Sun's trials, I was informed that my cruise on Wind Spirit – a motorised sailing ship – had been cancelled.  We were to have set off on the 148-passenger ship from Darwin on March 16, cruising towards Bali while stopping at Flores, Timor and Komodo along the way. We were scheduled to dock in Bali on March 23 and the ship was then heading to Singapore where it was booked into drydock and refurbishment before continuing its season in Asian waters.
Now the whole thing is off. Wind Spirit, which belongs to the Windstar Cruises fleet, will head to New Zealand and be refurbished in Auckland and then well…who knows. They say it will be deployed in New Zealand and Aussies waters, but there's no official word as yet. I've long wanted to go on a Windstar ship. There are three sailing ships in the fleet and three largish launches – the latter once being part of the Seabourn fleet. Here's a picture of Wind Spirit. I've heard sailing on these four-masted ships is simply divine. I would have gone in a heartbeat but the decision was not mine.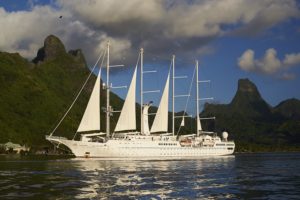 In another newsflash, since I began this blog, Windstar Cruises has also announced that all cruises on all its ships have been suspended until May 1.
These suspensions are obviously to ensure that the virus doesn't spread and operators are hoping that things will be contained by May 1. Here's hoping that that is an auspicious date.
Other ships that have made the news include the Grand Princess, which was sent back out to sea last week to idle in the waters near San Francisco, was finally able to land at the port of Oakland on March 9. Some 21 passengers were believed to have contracted the virus and were taken to hospital; Californian citizens were shipped off to some military base nearby, while US residents from other states were also sent to bases and other facilities to be quarantined, while many overseas passengers will board chartered flights to fly home and enter quarantine on their own turf. The disembarking process naturally took some time – that's what happens on large ships, but in my experience, it's always done in an orderly fashion. However, the townsfolk of Oakland were miffed that the ship docked there, rather than in San Franciso. They felt they were being treated as a second-class city and a bit of a dumping ground but the word is that Oakland is located a considerable way from a population centre and is near to airports.
Residents of other places were also overreacting – that was the case when the Sun Princess docked in Reunion, in the India Ocean, some 11 days ago. There, locals took matters into their own hands and started pelting rocks at passengers who were getting off the ship to go on shore excursions. Many passengers took the wise course and got back on board!
Poor old Princess Cruises has copped it – three ships have made the headlines over the past five weeks. Other cruise companies, such as Italian line Costa Cruises, haven't escaped drama. One ship, Costa Fortuna, was denied access to both Phuket and Penang as the ship was carrying a passenger who had boarded in Italy in recent weeks.
And now in the latest breaking news, Princess has also suspended all cruises until May 1. And today, March 14,  P&O Australia, Royal Caribbean Cruises and Carnival Cruise Line have suspended their operations (of all ships in their fleet) from now until mid-April, 2020. The owners of Norwegian Cruise Lines, Oceania and Regent Seven Seas Cruises have taken the same route, suspending all cruises for 30 days. And I think we can assume all lines will do the same in the next few days.
And as of March 15, Prime Minister Scott Morrison has closed all ports to cruises ships for 30 days. This is unprecedented but necessary.
So is there an upside to all this?  Last week I said "perhaps", now well "no". 
Cruise lines have had to come to the party and are relaxing their cancellation policies for all cruises falling outside the ban periods.  They will allow passengers to cancel either 24 or 48 hours before they were due to sail, without penalty. All are giving passengers a full refund – some are offering that in an immediate cash refund, while others are giving the refund as a cruise credit only. Lines that are offering credits only are upping the ante and giving a 25 per cent discount on any future cruise booked with the credit. P&O Cruises Australia is going one step further and offering anyone who opts for the credit to have a 200 per cent credit. In effect, that means that when cancelled passengers rebook a cruise in the future, they can go on a longer cruise, or book a more expensive cabin. I'm assuming that any left-over credit will be applied to their onboard expenses. It's a generous offer.
A handful of ships changed their itineraries and headed for or were heading to Australia when all ports were still open before the Prime Minister's recent announcement above. Queen Mary 2, which was on its annual world cruise, cut out Asian ports including Singapore and Hong Kong and arrived in Perth early, boosting the city's economy, while sister ship Queen Elizabeth, stayed longer in Australia. The Cunard ship had already spent 100 days sailing in Aussie waters when the virus struck; the owners decided to keep it Down Under for an extra 60 days and devise a last-minute 27-day circumnavigation of Australia cruise to depart from Sydney on April 12. (As of March 16, it would appear that this cruise and others around this date won't be going ahead).
And in some good news for Princess, its newest ship Sapphire Princess is planned to come to Australia earlier than previously scheduled having abandoned its China sailings. Among new itineraries planned is an Australian circumnavigation. All these new loops of the Australian continent are pretty rare – only a handful of ships ever offer this long itinerary. It might be a good idea to get onboard and score a deal once things settle down and ports re-open.
Western Australia is also going to benefit from Sapphire's longer stay in Australia, as a dozen or so cruises are scheduled for the WA coast from around May. Sand Gropers (our nickname for those who reside in the west) will be able to enjoy winter cruising too, which has never been offered there, as one of Sapphire's itineraries is the 17-night 'Northern Explorer' between Fremantle and Sydney that will call at Broome during the Broome Cup as well as Geraldton and Cairns. It's scheduled to depart on August 20 – but that's a day-by-day proposition.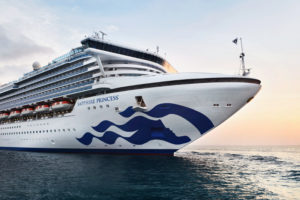 Deals?
The Queen Elizabeth's (since cancelled) circumnavigation, with calls at ports including Brisbane, Cairns, Darwin, Fremantle, Busselton and Kangaroo Island was starting at $1799 per person, twin-share – a real bargain.
Sapphire Princess's 17-day trip from Fremantle to Cairns (as detailed above) is $1999 for 17 nights – was definitely worth checking out. Other lines are following suit. The best advice is to check cruise websites and even Facebook for the latest offerings for cruises down the track.
There has been some good news. The cruise industry's feel-good moment came when Royal Caribbean decided to reposition its ship Spectrum of the Seas from Shanghai to Sydney and offer free three-day cruises to the first responders and families who battled the flames during our shocker of a bushfire season. All guests would be accommodated in balcony or oceanview cabins and also be offered free alcoholic drinks during dinner meals – something not usually offered by Royal Caribbean. The third and final thank-you cruise headed out on Friday, March 13.
And yes I've been on Spectrum of the Seas. I attended its launch in Shanghai last June, long before the coronavirus was a 'thing'. It's a huge, slick ship, full of whizz-bang rides and attractions. I'm sure our firefighters won't be daunted by the slides, the Ripcord tunnel that simulates sky-diving, the surfing machines or the North Star glass dome that takes passengers on a high-altitude ride up and out over the ocean. Here's a look at the groovy thing.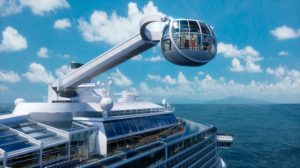 For the latest on the cruise industry and coronavirus – which lines are doing what and which ports are closed around the world – I recommend Cruise Critic. Australian editor Louise Goldsbury has done a fantastic job collating all the information. Locally all Australian and NZ ports are closed. The news changes daily. It's a very fluid situation, so to speak.
UPDATE: Updating on coronavirus and the cruise industry is never-ending and impossible to keep up with. However, as of April 2, there are still many ships still sailing in the hope of finding a port that will allow them to dock. Carnival Corporation, which operates nine cruise brands including Princess, P&O Australia, Seabourn, Holland America Line and Costa,  still has some 6000 passengers on board its ships across the world (not a huge amount considering there are about 90 ships in Carnival Corp's fleet). However, it has become a major humanitarian issue as ports refuse to allow ships to dock or if they allow them to dock, they are unwilling to disembark passengers who do not live in that city or country.  Unfortunately, there have been more deaths; some five people who were on Ruby Princess*, which docked in Sydney on March 19, have died along with at least four people who were onboard Holland America Line's Zaandam, which is still hoping to dock in Fort Lauderdale. It is a very grim situation.
Compassion is needed – not the rock-throwing and the other abuse that has been hurled at passengers. As far as I know, no-one has taken to social media or driven out to airports to throw rocks at passengers arriving by aeroplane.
As stated above, the below link has more up to date information.
As of late April, 22 deaths have been linked to the Ruby Princess and a criminal investigation is underway.
Here's a link:https://www.cruisecritic.com.au/news/5016/