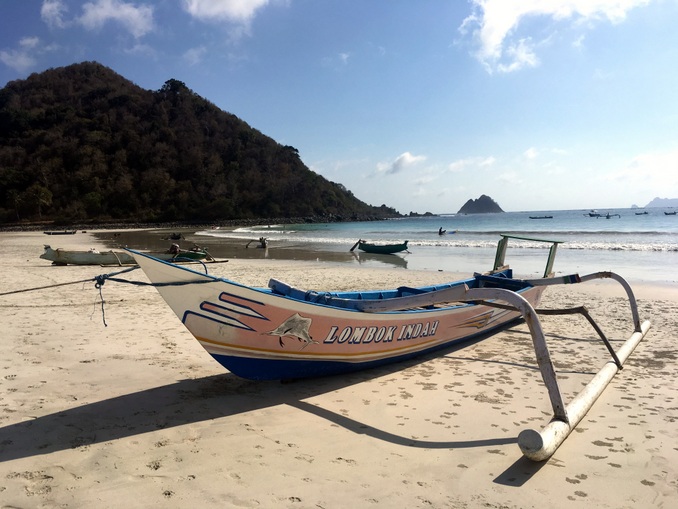 It's the perfect time to visit Lombok before Bali's little cousin loses its peaceful persona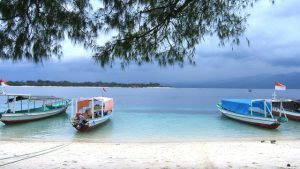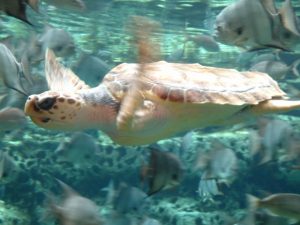 Spiritual experiences are often hard to come by although I was once moved to tears as the bells of Prague's Loreta church rang out during an afternoon of aimless wandering many years ago.
On a snorkelling trip in the Gili Islands, however, I find myself spellbound. It's not the exquisite translucent water that has me mesmerised, but a graceful turtle drifting along below me.
It's all the more moving as I've often been disappointed during so-called turtle "safaris" in various tropical climes. But this is turtle territory and I later read that tour operators are so confident of sightings, they promise to refund money if you don't spot one.
I follow my turtle along as if in a dream, then another appears and then a third, all the while I'm caught up in my own imaginary champagne glass of turtle trail bubbles and the phosphorescence of the churned up ocean below.
On resurfacing to look around for our snorkelling guide, I catch a few strains of the unmistakable call to prayer – the noontime call. Although I can't see the mosque I'm guessing it will have a green dome and some decorative orange trim on the minarets, as do most of the 1000-odd mosques scattered around Lombok, just a few kilometres across the water.
We have scooted over to Gili Trawangan, the largest of the three Gilis (the others are Gili Air and Gili Meno), in a fast boat from Lombok's north-west coast.
Once at the pier, having given way to a brightly festooned horse-and-carriage called a cidomo, we check into the plush Villa Ombak hotel and are then whisked off for the snorkelling jaunt. Although there are easily a dozen boats out there bobbing about and depositing a hundred or so snorkellers into the deep (there's a big Indonesian conference group in "town"), our guide steers us beyond all the life-jacketed folk and into my dreamlike state.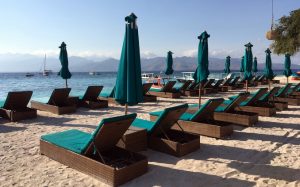 "Gili T" as it's called has made its mark as the party island; you read about its legendary status everywhere. However, apart from a lot more infrastructure (hotels cheek-by-jowl with bars and dive shops on the beachfront), it doesn't strike me as party central, although I'm not here for a full moon party.
"Partying" seems to mean finding a beachside bar with beanbags, buying a Bintang and settling in to watch the sun sink slowly over Bali and the infamous Mt Agung volcano in the west. Post-sunset and everyone looks for a place to eat – and there's plenty for every budget – and maybe a dance club.
Villa Ombak was the first five-star resort on the island but I gather there are quite a few more these days, particularly swanky Pondok Santi on the west coast.
We go with the island flow, borrow the villa's bikes and cycle along the east coast, skirt around the tiny south shore and arrive in time to find three beanbags at Gili Boys bar, which seems identical to the rest, with identical prices.
The spectacle from the beanbag is great – local lads are beautifully silhouetted riding their ponies along the beach, tourists pose for photos on gigantic wooden swings on the water's edge and there's the show-stopping sunset.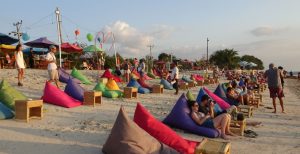 Cycling back is a bit trickier as it's now dark; there are no street lights, not many bikes have headlamps and those cidomos can clip-clop along at a cracking pace. I lose my balance and fall off – cursing the two-wheeled and four-legged transport. No damage was done and certainly nothing that a good meal and a cocktail on the beach outside Villa Ombak can't fix.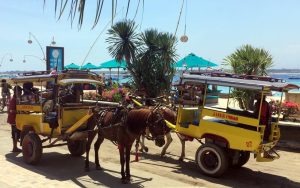 Gili T is all but a one-night stand and while I would have liked to stay longer and attempt to cycle the circumference of the island and take a sunset sail on Princess Margaux, a handmade wooden boat, we get back on the fast boat and wizz over to Teluk Kodek, the busy speed-boat hub on Lombok's west coast.
From there the 30-minute drive south along the one winding road to Senggigi beach resort is dramatic; full of twists and turns as the road climbs hills above Nipah Bay and dips down to hug the shoreline. It dawns on me that this is what people mean when they say "Lombok is Bali 30 years ago"; for on this stretch of coast are little beaches, frequented more by locals than tourists, where warungs (makeshift eateries) sell sizzling fresh fish and sate prawns straight from their outdoor barbecues.
Many travellers base themselves at Senggigi, the first real resort enclave on Lombok (the Sheraton Senggigi was established there 25 years ago), among the 30 hotels or more strung along the shoreline.
For a taste of both ends of the island, however, an ideal itinerary would include a few days around Senggigi and the Gilis, and another few days about 70 kilometres away in the south at Kuta. Yes, there's a Kuta in Lombok, too.
Once the domain of keen surfers, the beaches in the south still exude that 30-years-ago vibe and if you have the stamina for very bumpy roads and have hired a good driver, you can visit a few gems such as Pink Beach (officially Tangsi beach; its sand is comprised of crushed red coral) way out on the south-east tip where the feeling is of total isolation.
Instead, we head to Selong Belanak Beach about 12 kilometres west of Kuta – a long crescent of powdery sand hemmed in at both ends by steep forested hills. This is a beach with character – out in the ocean big volcanic chunks of rock line up along the horizon and the beach itself seems organised along democratic lines. I wander along from west to east, past the usual sun-lounges and surfboards for hire and warungs, to the busy little fishing village at the other end. Groups of local boys are on hand to help fishermen haul their outrigger boats up on the beach where they join a pretty line of brightly-painted craft. I go for a quick dip and am heading back to my friends sitting at the only western-style restaurant when I spy a group of buffalo being herded along the beach by a farmer. We grab our cameras and run after them but only manage to catch the tail end, so to speak. I assume this is a sight you don't see every day, but our guide corrects me saying that this is, in fact, a daily occurrence, typically at 5 pm.
While old customs continue at Selong Belanak, plans are afoot back at Kuta to create a huge integrated resort complex of residential villas and four- and five-star hotels, with construction cost tipped at US$3 billion.
The brainchild of the Indonesia Tourism Development Corporation, which created Bali's Nusa Dua complex, we catch glimpses of this massive project which will eventually stretch along 16 kilometres of beaches and over 1175 hectares. Club Med and Pullman hotels are expected to open in 2019, while plans also include a water park, nature reserve and even a MotoGP track.
I am thinking that those seeking that Bali of 30 years ago might want to hop over to Lombok pretty soon.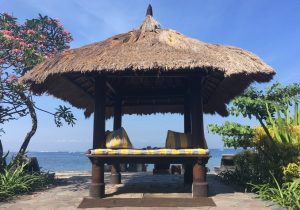 So what's the difference between Kuta Bali and Kuta Lombok? (The latter is sometimes spelt Kute).
* Kuta Lombok beaches are backed by forested hills and access to the area from the north is via an elevated road affording dramatic views. You'll see buffalos grazing nearby.
* Kuta Lombok has just one four-star hotel – for now – the Novotel Lombok Resort & Villas, and a few homestays and bungalows. Kuta Bali is packed with hotels.
* Lombok's proposed Mandalika Resort complex will be a five-star enclave like Nusa Dua in Bali, not like Kuta Bali's strip of three-star hotels, bars and shops.
* The sand on Lombok's Kuta beach is coarse and resembles peppercorns, hence the name the Pepper Coast
* Both Kutas have good surfing for beginners and offer surfboards for rent and surfing lessons.
In the know 
A private driver is a good way to get around Lombok. Ask at your hotel's reception or check online forums for recommended drivers. Expect to pay A$50 to $90 a day.
Transport from Lombok to the Gili Islands is by public boats from Bangsal Harbour and fast boats from Teluk Nare and Teluk Kodek.
The story was published in The Sun-Herald, April 15, 2018