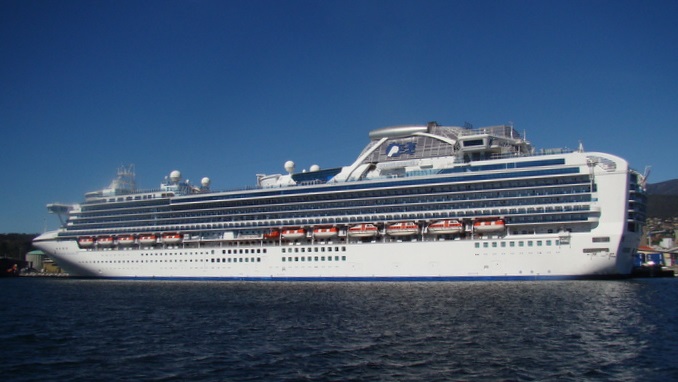 Turning Japanese –  dare to bare in the bathhouse on Diamond Princess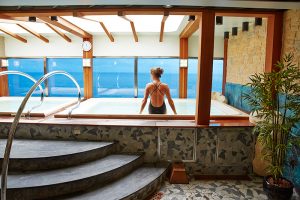 Making promises over dinner and a few wines is OK but when it comes to agreeing to go naked in a Japanese bathhouse, it's perhaps best to decide when totally sober.
A couple of us thought we'd go au naturel to sample the brand new bathhouse onboard Diamond Princess. That was late at night. The next day, in the cold hard glare of the mid-afternoon, we reconsidered.
Had we been strangers and not colleagues, then I'd thrown caution and mini-towel to the wind as I'd done in Japan several years before when staying in a traditional inn.
But not so on the superliner Diamond Princess, which was heading down to Tasmania with a boatload of cautious Aussies. So it was on with the bathing suit and into the hot tub.
Princess Cruises had spent US$30 million refurbishing its 10-year-old ship and I'd say a good deal of it has been spent on the bathhouse. It's a stunner and the largest of its kind at sea.
This expensive investment (along with the addition of the terrific Kai Sushi restaurant) was made as the ship is now spending most of the year cruising Japan and we know the Japanese take to hot tubs like we take to vegemite (or more precisely to the surf at Bondi!).
It's a wonderful feature and needs to be experienced once during a cruise.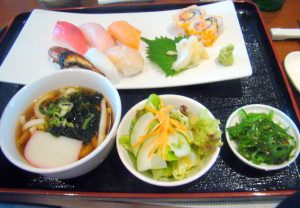 I travelled on the first sector of the ship's 28-day circumnavigation of Australia – back in 2014 – and was among the first Aussies to take a look at the bathhouse-equipped ship. Naturally, it will take a while for Australians to embrace the concept, but many on my cruise were certainly very interested, once they realised it was actually there. As we all know ships are so big these days that it can take days to discover all the facilities.
Called Izumi, the bathhouse is a huge area at the aft (rear) of Deck 15, divided into men and women's sections on either side of a reception area. One day the port side (left) is reserved for women (and the starboard or right side for men) and the following day it's swapped over. This is in keeping with the bathhouses in Japan, which also tend to feature different facilities in each section and the exchange gives everyone a chance to experience it all. It's best to take a tour of Izumi before you book, so you know what features you'd like to try and then book your preferred bathhouse side on the appropriate day. It's easier than it sounds! There are also clothing and clothing-optional bathing times as well.
The Izumi experience costs around US$39 (approx.A$46) for a two-hour session, however a five-day pass at around US$99 (five x two-hour sessions) is a good deal, and it can be used over any five days of the cruise.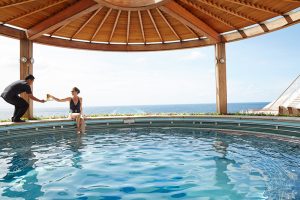 Once we decided to keep our cossies on, we met our sweet Japanese hostess who showed us where the robes and plastic slippers were and directed us to the individual washing stalls. As the baths themselves are for soaking, you wash first  in these little rooms while sitting on a stool facing a mirror (another reason most of us were glad we kept our cossies on!) After a slosh here and there with liquid soap and a bit of shampooing if you wished, you hose off or douse yourself with bucketfuls of water using the cane baskets provided. Then it is into the pool.
On the day we soaked we were allotted the starboard side of the bathhouse, which has two indoor hot baths (one's a Jacuzzi with a push-button for bubbling), which are called cypress baths due to the wood that encases them. There are also two stone baths, in a separate area outside, with an open-air ceiling. This was my favourite as it gets hot in the bath and having the ocean breezes swirling around makes you feel less queasy. And we had good reason to feel queasy as the seas were rocking something fierce as we headed down the Australian east coast from Sydney to Tasmania.
I also sampled one of the two indoor baths – all were about the same temperature and much like one of the deck hot tubs, only square and much larger. It's great to sit around in them and chat and that's really the fun of going with people you know. You can have a good old gossip.
Our section also had what's called an Utaseyu, a series of three showers set in a lovely grotto-like space. Each shower is meant to cascade over you and ease those tired and aching muscles, however, I could never get any of the showers to work properly for me. No doubt I wasn't doing it the right way and I should have sought out bathhouse hostess for advice.
The portside area also has two cypress pools, two stone pools and a dry sauna but also adds a wonderful looking herbal mist steam room – that looked amazing during our tour but wasn't available for women on the day we booked our soaking session.
Along with the tubs, there are also plenty of beautifully tiled showers, a charge room, and a room with mirrors and hairdryers and an area to simply relax in.
Outside on a private deck, accessed via sliding doors, is a unisex hot tub and several comfy deck chairs. This is the place where couples and friends can meet after their sessions in their own gender-designated areas, and chat about their experiences. You may not want to face another hot tub after a good old session inside, but the deck chairs are ideal for relaxing after a hot session "inside". Looking out over the wake, with a cup of green tea or a glass of mint-infused water in hand, is the perfect way to unwind.
Izumi gets the thumbs up from me and I can see why those Japanese bathing fanatics loved it so much.
It's a good idea to buy one of the packages that also includes access to the ship's thermal suite located in the Lotus Spa at the other end of the ship. For around $149, you can have five days at the Japanese bathhouse and five using the thermal suite with its wonderful heated thermal beds and a clutch of steam rooms and saunas.
Where is it now: Diamond Princess spends the year cruising around Japan, South Korea and Taiwan.