There's a gorgeous pocket of northern New South Wales called the Tweed, a region blessed with beaches, rivers and creeks and a lovely hinterland that sits in the shadow of Wollumbin or Mount Warning.
When you're driving in the countryside it seems that everywhere you go, Mt Warning – also known as the  Cloud Catcher – follows you around like the eyes of the Mona Lisa, if you'll indulge me.
For a small patch of a big state, there's an awful lot on offer from established rural villages that have been gentrified and still hold on to their rustic charm, to the green pasturelands, the big smoke of Murwillumbah, which is quite a funky town, and of course the beaches – Cabarita, Casuarina, Pottsville, Bogangar, Kingscliff and a handful more.
Officially there are 10 gazetted by the Tweed Shire Council but there are also great coastal haunts like Fingal Head lighthouse and Tweed Heads – where the river meets the ocean – where nature in all its glory is on view.
Tweed's rich volcanic soils produce some of the best avocados, coffee, tropical fruits,  nuts and dairy products in the country.
The region is undoubtedly genetically blessed but there has been plenty of suffering –  it's a year since huge floods swept through the region (two floods in fact — in late February and again in early March). The Tweed River peaked at 6.5 metres in Murwillumbah (200 mm more than in the big flood of 2017) and areas in the hinterland, such as Tumbulgum and Uki were swamped. Homes in the coastal towns of Pottsville and Bogangar were surprisingly inundated as well.
Some rural roads are still closed however Tweed folk are resilient and most businesses have reopened and life is getting back to normal.
The Tweed Coast is a popular place for holidaymakers in summer, but I suggest visiting in autumn or spring when the weather is cooler and the crowds (not that there are thousands on the beaches mind you) have thinned out. It's the ideal time for a little road trip to the villages and long walks on the beach.
Here's why you might want to visit the Tweed.
Beaches. Yes, there are at least 10 beaches officially but some of the local names that won't appear on the maps include Cotton Beach and Salt Beach, both lovely stretches of sand just a little south of Kingscliff. For those sought-after long walks on the beach,  stride out along Salt Beach north to Kingscliff's Cudgen Creek or south to Cotton Beach at Casuarina. Right on the beachfront are the Peppers on Salt and Mantra on Salt resorts; it doesn't matter if you're not staying at either, you can pop into any of the cafes and restaurants at Salt Village, which is a purpose-built enclave established in 2005. You could drive there, park in the commodious car park, take a stroll on the beach and then have lunch.  Further north, and tucked away down bushland tracks are the evocatively named  Dreamtime Beach and nearby Fingal Head; it's best to go on a clam day as these areas are exposed to the elements, but even on a windy day, the sight of waves crashing on huge basalt rocks not far from Fingal Head lighthouse and the views to Cook Island, 4km offshore, is well worth it.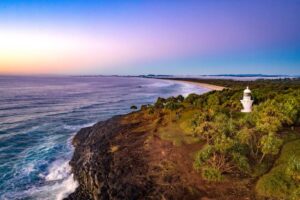 2. Hinterland Villages
Probably because I'm a city girl and live on a famous Sydney beach, I always yearn to take in the sights and sounds of the hinterland and I do love a country drive. The Tweed has many little towns and hamlets accessed via winding roads that travel through the valley and up and over the hills. It's best to brush up on your pronunciation beforehand as some of the places are rather difficult to get your tongue around; it's all about which syllable you stress. I discovered that with Tumbulgum; you'd think that was easy enough to pronounce -no! It's Tum-BOWL-gim, I was told by a friend who grew up not too far away in Murwillumbah, while Tyalgum, is pronounced something like TAL-gum (if I recall). And be very careful with Condong!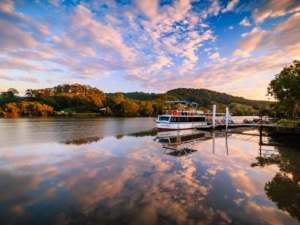 Leaving that to one side, these places are super-cute. Tumbulgum sits on the river, traversed by a ferry and is the place for dragon-boat training and races on weekend mornings. There's not a lot there. A pub – the Tumbulgum Tavern as well as the House of Gabriel restaurant and a take-way spot and cafe. Not too far away in North Tumgulbum is the fantastic Husk Distillery where they turn out terrific rum and something called Ink Gin, where the colour comes from the Butterfly Pea flower.  Folks can take a tour of the distillery, taste of flight of rums, and have lunch on the lawn.  Almost 12 months ago, it was surrounded by floodwaters, but it's been back in business for many months – drop in for a cocktail at dusk as the distillery is open til 7 pm in summer. https://www.huskdistillers.com/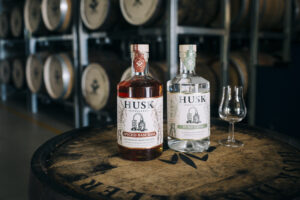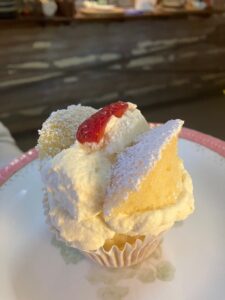 Tyalgum has come a long way in the past 20 years; I first visited in 2003 and recall there wasn't much apart from the General Store. These days there's a wealth of little boutiques and cafes all centred around the same historic store and the former butcher's shop. It's a fascinating complex containing the ever-so-cute Flutterbies Cafe (great food and their signature drink Pink Lemonade), arty shops, funky clothes and a fairy shop for the little girls.
This is high-tea heaven and if you remember the butterfly cakes of old, well they have them – my mum used to make them for our birthday parties. The folks who run Flutterbies also own the Garden of Light just up the road, a beautiful garden and woodland spread over 10 hectares. Escorted spring and autumn tours visit the individual gardens such as the Tuscan and Cottage gardens and the Wisteria Arbours and also Noah's Ark, an animal shelter that has been looking after abandoned critters for years. It's really the last word in serenity and these tours can be booked with a picnic on the lawn as well.https://flutterbies.com.au/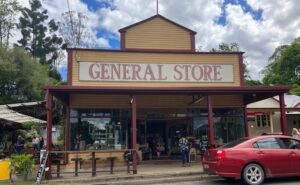 Just up the road from Flutterbies is Tyalgum Gelato which whips up some fantastic flavours such as my favourite salted caramel. It's owned by Valentino and Carly Giannoni – he hails from the Cinque Terre region of Italy and she's a local gal.https://www.facebook.com/tyalgum.com.au/
The road from Murwillumbah to Tyalgum is still closed, following the floods, but there's a slower meandering road, which ventures through the village of Chillingham and this is the perfect way to take in all the wonderful valley vistas.
Crystal Creek is a blink-and-you-miss-it kind of place; in fact, there's no 'centre of town' just a few cafes and cabins dotted here and there.  Many years ago I stayed in the ever so swish Crystal Creek Rainforest Retreat where I was virtually embedded in the forest with the brook babbling away not far from my glass-walled cabin if one could call such luxurious digs a "cabin". This time I had lunch at the rustic Crystal Creek Estate comprising a cafe whose balcony almost overhangs the creek, a nursery and a gift shop. As I wander around the garden I'm tempted to buy an array of plants; I think even I (not known for my green thumbs) could create a decent garden here in the Tweed where the fertile soils allow everything to grow. Jenny Tatton opened her business just as Covid struck and built a solid business despite the uncertainty of lockdowns and later the floods. After my quiche and salad lunch, topped off with a cake and coffee, we wandered around the grounds, which were buzzing with diners and shoppers.
However, since my visit in November, it seems that Jenny has gone back to Brisbane. Fortunately, another plant-loving hospitality-loving couple has bought the business, so all is well.  https://www.crystalcreekestate.com.au/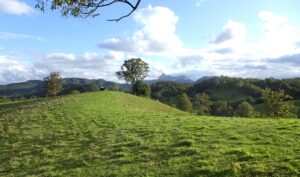 Another place with fantastic views of Mt Warning and the Springbrook and Cougal Ranges is Hillcrest Mountain View Retreat. It lives up to its name; on arrival I wanted to retreat there for a week, but alas, we were just having dinner. What a place and what a position; it's the rural idyll we all dream about. The B&B has two guest rooms in the main house and a separate cottage. It looked like the perfect place for a couple or a single person just wanting a bit of R&R. The guest rooms have access to a great library with hundreds of books, another common room for relaxing and reading and a verandah with those views – there's a day bed, a hammock and a pool…..bliss! And the food, created by Paul Catto, who owns the retreat with Craig Holland, was the best. I love garlic prawns and these were so good, as were the other many small dishes on the menu (such as lobster spring rolls). We rounded it off with a delicious lemon and lime tart! https://hillcrestbb.com.au/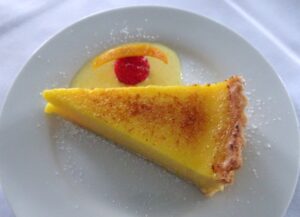 Uki is another beautiful spot and a favourite of mine. Pronounced Yoo-ky, the hamlet has a clutch of interesting shops selling art, crafts and funky second-hand wares (if you're a 1960s lover you have gotta go to The Vault)   https://www.thevaultuki.com/and a post office that has been turned into a coffee roaster. Entrepreneur and coffee lover Gary Wall opened Bastion Lane, which is a coffee roaster and cafe within the old 1919-built post office in 2018. Folks can still collect their mail, buy stamps and pick up their online orders, but they can also enjoy an espresso and snacks while they're there and also check out the artwork displayed on the walls.  https://bastionlane.com/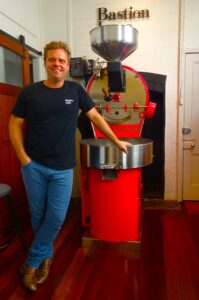 It's a fun place and you might just be allowed to have a peep at the bright red coffee roaster out the back. Gary sources his coffee beans from Columbia, El Salvador Ethiopia and Central and Southern America and produces four 'bespoke' roasts in his roast office: Postmaster's, Alt, Popanyan Filter and Decaf. Drop in for a cuppa before strolling along the main street or heading to the UK Buttery (the old butter factory) to peruse the antiques, clothes and eclectic mix of knick-knacks.
I was lucky to be staying at Chesson Lodge, a four-bedroom historic house a short stroll away from the main drag of Kyogle Street. It's full of great vintage and mid-century furniture and fittings as it's owned by The Vault owner, Louise, who has such a good eye and a wonderful way of putting great pieces together. All the bedrooms have queen four-posted beds swathed in muslin – very romantic – and there's a terrific industrial-style kitchen with all the groovy mod-cons on hand to rustle up decent meals.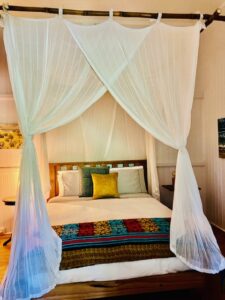 Two big bathrooms (one with a lion-claw bath), a lounge and sitting room and a pool, all make this a fantastic place to stay for a group of friends or family members. I loved it – bring your vinyl records as there's a record player in the lounge room or spin a few of the old favourites that Louise has provided from her amazing collection of second-hand wares.   https://www.chessonlodge.com/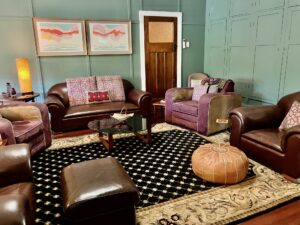 A short drive away is another great place to stay, albeit with a fancier price tag and a terrific view to match. La Rocher Eco Retreat is a set of stunning villas on a ridgeline overlooking the sweeping valley and Mt Waring in the distance. Each villa has a huge glass-walled bedroom so you can check out that view from bed, a wide verandah with a day bed and a decadent bathtub, all prime spots to take in the beauty of the valley. This is a gorgeous place to hole up for a few days.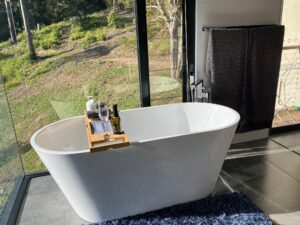 The self-contained kitchen, BBQ on the deck, TV and wi-fi means you'll never have to venture out. But if you do, there's a pool and some great walks around the vast property.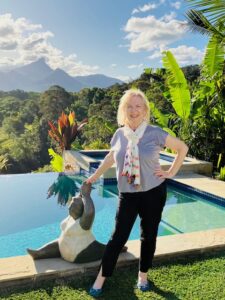 3. Plentiful Produce and Cool Emporiums
The lush pasturelands and volcanic soils of the Tweed mean there's a bounty of produce on offer. There are farmers' markets galore, boutique primary producers and a swag of cafes and eateries to taste the treats. I'm crazy about dukkha, condiments, balsamic vinegar and anything that gives a meal a hit. We popped into Tweed Real Food which makes a range of these products – Durban Earth Curry Rub, Wild Porcini Salt, Avo Smash Dukkah and a little libation for salads called Burbon Maple Splash. Tweed Read Food is a small business on a fifth-generation avocado farm near Mooball, another cute Tweed village. Owner Julia Foyster had an interesting story to tell, actually a harrowing one about the drought, floods and bushfires that have ravaged the farm in recent years. As a young German backpacker, she came to Australia and worked on the farm and married the farmer no less.
Ten years later with two kids and wanting to start a business to bring in a steady income to help the natural-disaster-struck farm, she started Tweed Real Food. She has also produced a cookbook with a bunch of very easy (for me) recipes that use the dukkah, the rubs and the balsamic vinegar. The story of the fires and floods is also told in the book. The good news story is that when Covid hit, Julia turned Tweed Real Food into a viable mail-out business: cooks were keen to use the products during lockdowns and orders were so plentiful she put on a dozen staff!   https://tweedrealfood.com/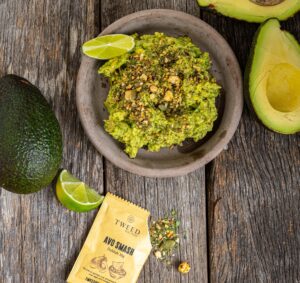 Cheeses  Loves You providores Deb and Jim Allard are not particularly religious (as far as I know) but their creamy bries and other artisan products are pretty divine. Yeah, OK, that's an appalling pun. Deb and Jim farm their Jersey cows on the rich alluvial soils on the upper reaches of Burringbah Creek, which is another blink-and-you-miss-it kind of place. It was raining when I was there so not conducive to wandering around the paddocks and greeting the herd.
We did taste a couple of lovely cheeses — a mozzarella and perhaps a romano while dodging the raindrops. Jim's family has been in the dairy business for several generations but cheese-making is a pretty new thing for Deb who only sells her tasty wares at farmers' markets such as Byron Bay and Mullumbimby and a couple of others in the area. They are meant to be bought and consumed quite soon after purchase. Very yummy indeed. https://www.facebook.com/dairyandcheese/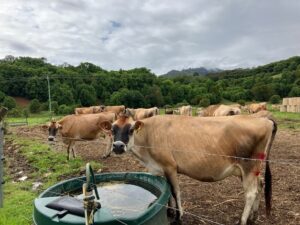 I seem to have cut Deb out of the following photo. She is wearing a cool cheese t-shirt though and she did stress she doesn't like having her picture taken. I would have loved a glass of wine to go with those cheeses but it was just a little early in the day for a drink.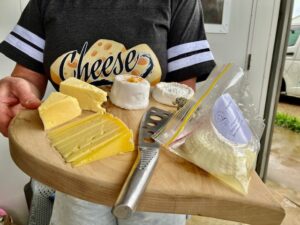 Another primary producer, Gerard Buchanan, affectionately known as Buck has been growing avocadoes, bananas, mangoes and the latest must-have ingredients such as finger limes, Buddha hands and other exotic fruits including Lemon Aspen and Bobble nuts on a lush farm in Chillingham that he bought when just 19 years old. It was a treat to wander around the property – Buck's Farm – and hear about the famous chefs who buy his produce and the Japanese who visit to look at his Yuzu fruit trees. Yuzu is a citrus fruit, originating in Japan. It's an odd-shaped, very seedy fruit said to taste like a  combo of mandarin, lemon and grapefruit. I've had Yuzu ice cream and that's seriously delicious. Buck told us that after 40+ years of farming, he was ready to sell Buck's Farm and move to the coast and spend his days fishing. I'm not sure that has happened as yet; so if you're driving around the Tweed, head to Chillingham and see if he's taken down the shingle yet….Somehow I doubt it. At the roadside, there's a shop selling all sorts of great stuff made with his products; I snapped up a pot of Yuzu citrus facial cream (a moisturiser) – not sure if it has produced the miracles I was hoping for, but it is certainly very soft and feels wonderful on my face, and a pot of Neem eye gel. Neem is another fruit I'd never heard of before and like Yuzu, it is said to nourish the skin. I'll go with that and it does feel quite luscious.  Buck makes products out of many fruits including finger limes, which are the cutest of fruit – you popped them open and caviar-like pearls of flavour pop out. The shop naturally stocks plenty of fresh produce too and they do mail orders.  https://bucksfarm.com.au/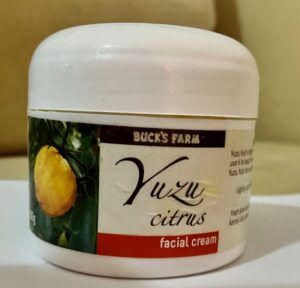 While not exactly a primary producer Bron Harrison's products are pretty earthy. Bron runs the Brooklyn Tasting Room in Burringbah, a hamlet with a main street and plenty of farming land about 16 km south of Murwillumbah. Bron's wares are organic and biodynamic wines, beers and spirits and I have to say that I was surprised to find such a sophisticated cellar door in this little neck of the woods.
Bron hails from Brooklyn NSW, on the Hawkesbury, hence the name. There are dozens of wines on the shelf and tastings cost $25.  http://brooklyntastingroom.com.au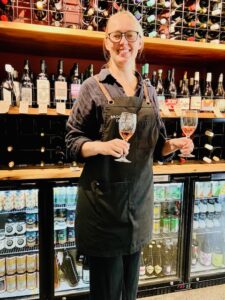 Another Burringbah outlet well worth a look is Heath's Old Wares, just up the road from Bron's place. Established 40 years ago, Heath's has everything you can possibly imagine from ladders, old padlocks, chains of every shape and size, gardening tools, watering cans, what Ross Heath calls garagenalia and kitchenalia (stuff for the garage and kitchen) and a thousand or so old bottles of every shape and size.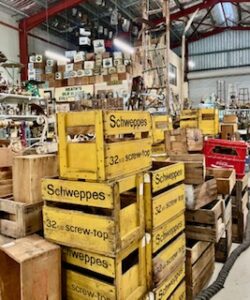 Who wants this stuff? Well, you never know what you want until you see it…but actually, movie directors or more correctly, movie set designers, want this gear and Ross and Eva Heath lent stacks of their items to Baz Luhrmann to use in his blockbuster movie, Elvis. Ross wasn't around on the day I visited, however, Eva showed us the kind of things that movie folk want – old signs and advertisements from the 1950s and '60s, petrol pumps and props that sit in the background in most movies, often unnoticed, but which are an intrinsic element of authentic set design. You could spend hours there! https://www.heathsoldwares.com.au/
4. The Big Smoke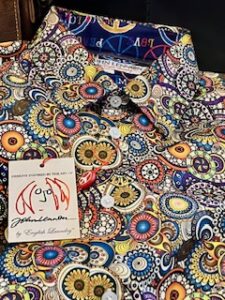 No, this has nothing to do with inhaling or otherwise. Here I refer to Murwillumbah the main town of the region.
It's where it all happens these days. Once upon a time, it was a sleepy-ish rural town that served the local community; today it's a bit of a shopper's haven (and spoiler alert, I'm a shopper) and a place for great food and art. I was bowled over by the cool shops for men and women; I yearned to be a guy when we popped into Bolt & Buckle and saw the array of men's shirts, from the John Lennon range, on display.
Apparently Yoko Ono has approved the brand. We all loved the gear and one of our party bought three shirts – one for her husband and one for each of her sons. It was a pity that it was such a fleeting visit and that Scarlett's Wardrobe, a women's retro/vintage shop was closed; it could have caused serious credit-card bruising. There is also a hipster barber or two, and plenty of women's boutiques. I noted that the much-loved Austral Cafe & Bakery is still thriving – I went there years ago for a finger bun and a milkshake and it still sells the old-fashioned cakes that I loved when I was a kid.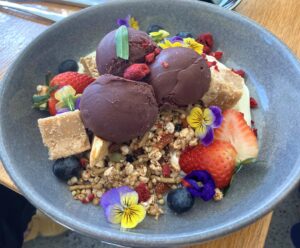 Old mixes with new, and there are cafes offering more 'modern' grub, so to speak. I enjoyed a delicious and very pretty Acai breakfast bowl chock full of fruits at Wild THYME Dining.   https://www.facebook.com/wildthymedining/about
And Murwillumbah has also morphed into a real arts hub – there's a new precinct called M Arts Precinct, while the fabulous Tweed Regional Gallery and Marget Olley Centre is only a few km away. And there are movies and performances staged at the art deco Regent Cinema, recently given a new lease on life.
At night we hunkered down at the mini pink palace, the Imperial Hotel. This old school pub has recently had a reno and these days they call it the "Impy", although my good friend, a journo who grew up in Murwillumbah (or Mur'bah to those in the know) and knows these types of things, scoffed at that abbreviation. Whatever the case, I slept like a baby at the Imperial Hotel despite it being above a pub. I'd eaten there the year before and can attest that their $15 specials are pretty damn good.  https://www.impy.com.au/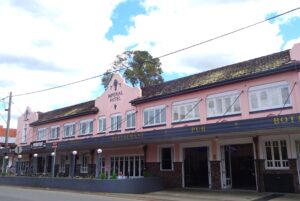 There are, obviously, a heap of reasons to head to The Tweed. You can drive down from southeast Queensland or fly into the Gold Coast from all points in Australia. The drive from Coolangatta Airport to Tweed Heads is 10 minutes. Once you've poked around the coast and had a swim, it's time to head for the hills. Happy Travels!