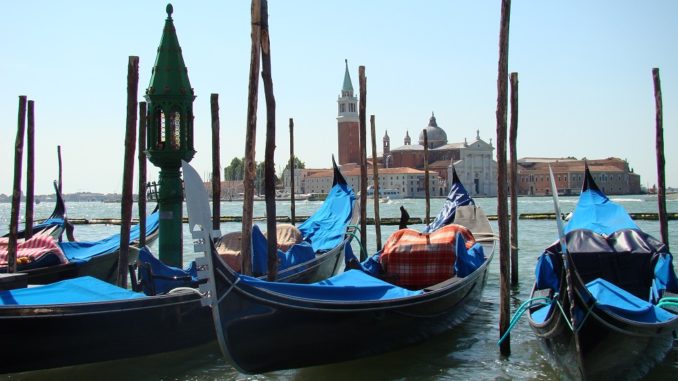 ARRIVING in Venice by plane in the dead of night is a tantalising mystery. I was whisked from Marco Polo airport to the nearby pier in a matter of minutes by my 'meet and greet' senorita and was bundled on to a small launch.
Also on board were a couple, a couple of lovers that is, perhaps on their honeymoon. I sighed an inward sigh. I was to be alone for a few days, and nights, in this the most romantic city in the world.
My boatman raced off and for 20 minutes we crossed the dark expanse of the Venice Lagoon. A few lights in the distance and those hanging from mooring poles gave some illumination but mostly we were cloaked in darkness.
Then we entered a series of canals and the boat cruised slowly and silently through watery backstreets with just a headlight to guide our way. It was exciting. Then rather abruptly the boatman said it was time to get off; he hauled my luggage out and pointed off in the distance telling me my hotel was 200 metres away.
I dragged my bags past an ancient church and over a little stone bridge, up a street to my hotel as a few couples were wandering home from restaurants. Here I was in the city of lovers!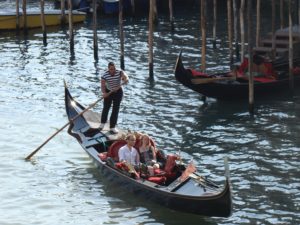 Venice on one's own is far from daunting. There is plenty to see on self-guided walks and dozens of medieval buildings to admire at every turn. It also offers one of the world's great boat rides; a return trip down the Grand Canal for a mere $10 where art and history – and some very adorable-looking gondoliers – float by.
It's worth getting a hotel close to Piazza San Marco (St Mark's Square) because this is where you'll spend a lot of time during a short stay. When you're not in the square, you'll have no trouble finding it again as all roads, as a jewellery shop owner boasted to me, lead to San Marco.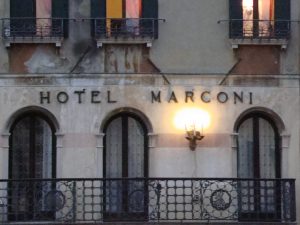 Shopping is a single traveller's delight. There are shops twinkling with beautiful Morano glass jewellery and other exotic trinkets, and boutiques bulging with leather goods and shoes and no-one to tell you not to buy.
Sightseeing and shopping are a heady mix. You can visit several of the hundreds of churches, museums and galleries that are nestled on the 117 small islands that make up Venice. To do this you'll cross over many of the 400 bridges that span the 150 canals.
Thankfully at the end of a string of alleyways you'll find an open square (campo) dotted with cafes and restaurants for respite, and nearby they'll definitely be another glittering shop.
Venice in the autumn, winter or early spring (anytime that's not the height of the summer tourist season) is ideal. It may be chilly and often the water rises so high that it floods St Mark's Square.
You can escape the weather inside the grand buildings of the square – St Mark's Basilica and the Doge's Palace – or brave the elements and witness a sensational view from the Bell Tower chamber 100 metres above it all.
If you don't want to ramble on your own, you can join an organised walking tour that promises to take you to Venice's secret places. The tourist office at the Pavilion on the water's edge near the Piazza is the place to go. This is also where you take the No 1 ferry (or vaparetto) for an unforgettable 40-minute journey down the Grand Canal.
Evening is often the time single travellers feel most alone, as it seems everyone is eating out together. However, you may be fortunate to meet other solo travellers on a walking tour or during an excursion to one of Venice's large nearby islands. Try Murano renowned for its glassblowing, Burano for lace and brightly painted houses and the famous Lido for its fine beach and smart sophistication.
Otherwise, you can dine alone and have fun people-watching or shop for goodies at any of the delis. I picked up the ingredients of a nice little meal – salami, olives, sun-dried tomatoes, bread, cheese and vino to take back to my pleasant hotel room.
Another evening I attended a Vivaldi concert in an historic church at the foot of the Rialto Bridge. If you're visiting from late winter through to summer, it seems there are performances in churches and other venues just about every night of the week.
As a single traveller in this wonderful city, you'll be too busy to notice you're on your own.
Published in The Sunday Telegraph, October 2001.