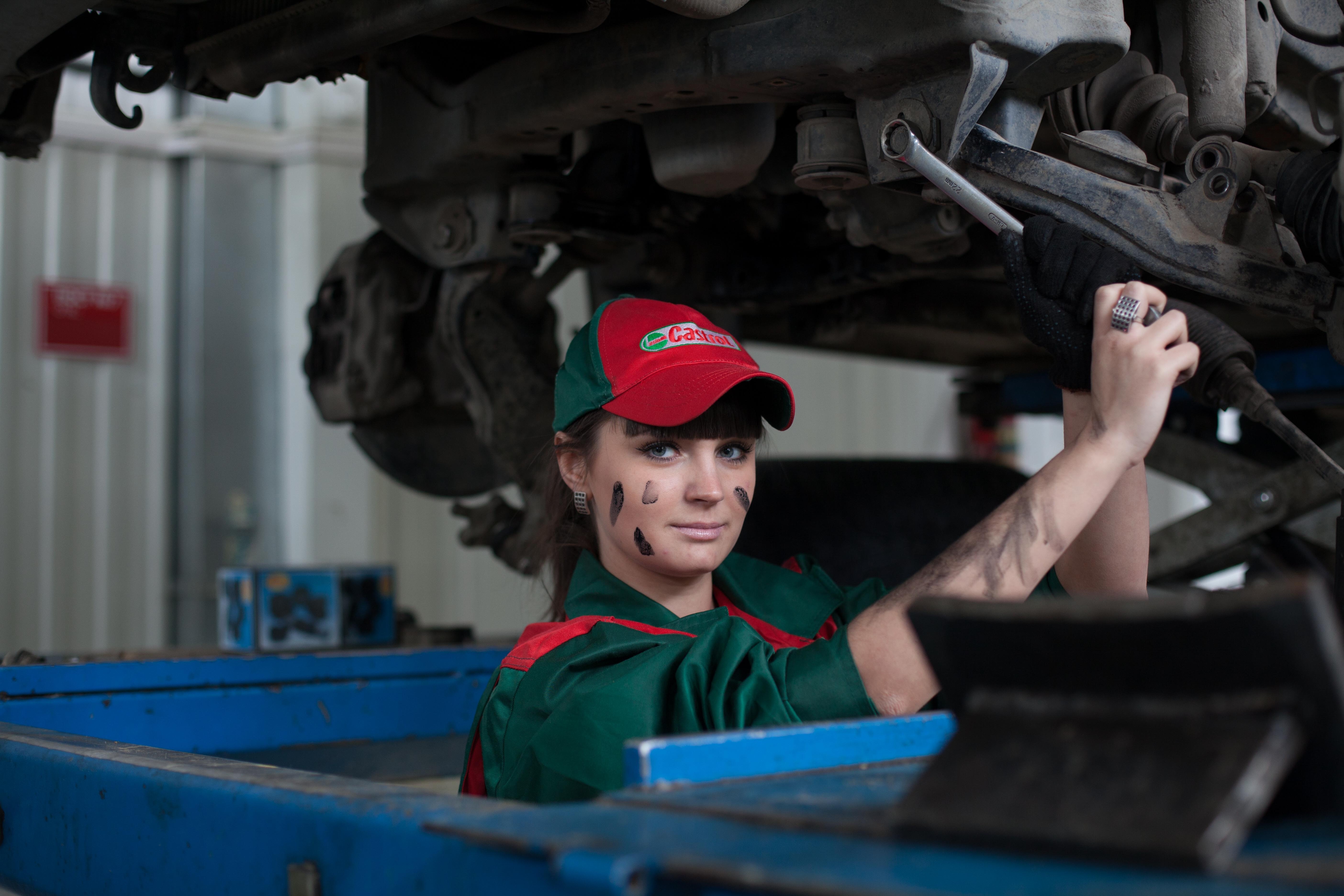 I know very little about cars. However, after buying my adorable little Ford KA many years ago, I attended a free 'motoring for women' workshop, a benefit that came with Ford ownership. I do love a workshop and not just for the tea and bickies. I came home and thought: 'why not write about that' – so I did and the Sunday  Telegraph published the story.
The Ford courses are no longer offered, however car maintenance courses are run by Sydney Community College. (See the link below).
Here's  the story.
"IF you're a female car owner you've probably had some intimidating encounters with motor mechanics. Whether you've taken the car in for repairs or a routine service, you may have been too scared to ask questions or if you have, were bamboozled by the answers.
And I'm guessing you couldn't wait to get out of the garage and away from the testosterone-laden atmosphere.
But you parted with big dollars and you wished you knew why.
Tracey Coppell knows that feeling and for the past five years has been helping women understand what goes on under a car bonnet and what to do when something goes wrong.
After working for 13 years in the sales and marketing area of the car trade in Melbourne, Ms Coppell, 41, established Motoring Women.
It's a basic car maintenance course held in automotive dealerships, such as Ford, and suppliers including Mobil Oil and Bob Jane T-mart.
There is no charge for women – the automotive outlets pay Ms Coppell for the concept and the marketing, which includes advertising the workshops and providing the refreshments and the show bags of driving information that every participant receives.
City Ford Rockdale has held two workshops this year and about 40 women, aged from their early 20s to late 60s, turned up for the October course.
We were divided into groups of eight and each had their own mechanic. Nick guided our group, which included a mother and adult daughter, around the workshop floor where five cars were set up for our inspection.
For the next two hours we learned how to change a tyre and jumpstart a battery; we looked at worn brake pads and stood under a hoist as we studied every component of a car from bumper to bumper. We learned how to take tyre pressure and got acquainted with everything under the bonnet. But the most valuable exercise was being able to ask questions in a non-threatening environment.
Nick told us what we could expect from a new car: how many kilometres before the brake pads, tyres and spark plugs needed replacing. And we learned that new cars don't have points!
During supper, Ms Coppell gave a talk on safe driving and how to avoid road rage. We were also treated to a demonstration on basic self-defence as one of the mechanics played the part of her 'assailant'.
It was a rewarding evening and I came away feeling a lot more knowledgeable and laden down with helpful notes.
Ms Coppell said the feedback from women was very positive. "I get letters and cards thanking me for the course," she said.
"They tell me how empowering it is. And they are never made to feel silly. I've had some husbands ring and say how good it's been for their wives to learn these things."
So what's in it for the dealerships that finance the evenings and pay their mechanics to work overtime?
"It's a good PR exercise for them," Ms Coppell said.
"We've found out that 57 per cent of the women who attend the workshops have never stepped into their local T-mart or Ford dealership before. It's an ice-breaker for the women and the dealership."
Bob Reynolds, service manager at City Ford Rockdale, said the workshops were a good customer-relations exercise for the local area.
"It's basically for anybody and everybody and not just Ford owners," he said.
"The ladies get a lot out of it and the mechanics, who were a bit hesitant at first, now absolutely love it."
After five years of flying between Melbourne and Sydney, Ms Coppell has settled in Sydney and has plans to run two to three workshops a week across the state. She now employs a staff of eight women and is taking the concept to Perth.
"I plan to take the workshops nationally. While I've been conducting most of them personally, I now want to concentrate on marketing the business and will eventually have two women in every state running the workshops," she said.
Her next idea is a self-defence and safe driving workshop conducted by accredited trainers including the Jim Murcott Driving Academy.
"We will do one a year in each of the dealerships that have run the Motoring Women nights," she said.
Published in The Sunday Telegraph, November 2002.
Link to the car maintenance course. http://www.sydneycommunitycollege.edu.au/course/LSWE1