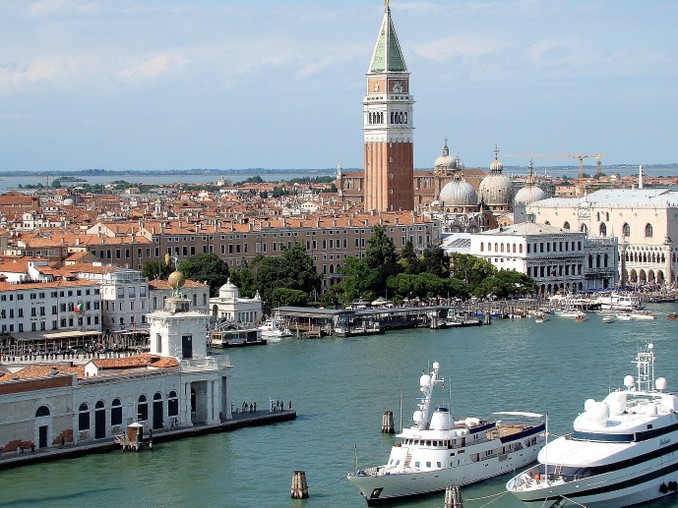 Death in Venice – is the cruise ship industry loving Venice too much?
Situated on the edge of the Adriatic Sea and surrounded by water, one imagines Venice as the ideal cruise destination. Well it is — it's just that the city's dwindling residents are sick and tired of the huge cruise ships towering over their historic city like massive apartment blocks.  The constant cruise ship traffic churns up the canal waters, creating a wash that destabilises the foundations of quays and buildings. The ships pump out pollutants, all of which are damaging the Venice Lagoon's fragile eco-system. Venice is already sinking at a rate of 2mm a year and it regularly floods in the winter months. No wonder the locals are up in arms – there's enough to contend with, without cruise ships adding to the problem.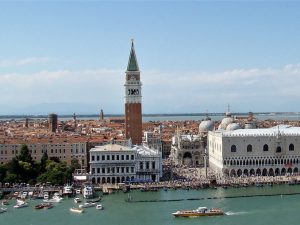 Somewhere between one and 1.4 million visitors arrive in Venice by cruise ship each year, adding to the 21 million other tourists who flock to the city annually. The city's population is a mere 55,000 (down from 164,000 residents in 1931). Many citizens have left – driven out by high rents and real estate prices in a city where hotels and Airbnb reign. The average Venetian just can't compete. Not everyone is anti-cruise ship, of course. Many folks are making a killing from cruise ship passengers – the port authority is pretty keen to have the revenue as well.
Those who hate the ships liken them to 'sea monsters' devouring everything in sight (gondolas too) as they make their slow journey along the beautiful Giudecca Canal. The most notable anti-cruise ship protests took place in 2013 and 2106. Then residents donned wetsuits and jumped into the canal forming a human barricades; others took to hundreds of small craft and waved flares in protest.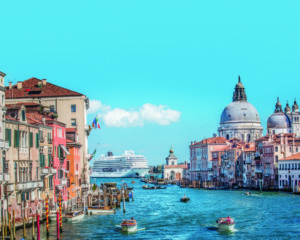 Venice's cruise terminal – Terminal Venezia Passeggeri – is ideally located – and that's the problem. It's very close to St Lucia railway station and just a short walk from Piazzale Roma, where many hotels are located and where I stayed in 2011 before I boarded the Costa Favalosa for a short trip to Trieste for her christening. The cruise terminal can take six ships – big and small – and at the time I was there, there were at least two huge ships in port. All vessels cruise down the wonderful Giudecca Canal and pass right in front of the magnificent Piazza San Marco – St Mark's Square. The waves created by these goliaths of the sea, send the gondolas and their handsome gondoliers bobbling away madly and I'm pretty sure they're not very happy about that.
Every inch of the journey along the canal from cruise terminal to the open sea (passing by the Lido) is captivating.  Hundreds of us stood on the Favalosa's top deck to view the spectacle in the July sunshine. We towered over the canals and the famous hotels and palaces below; very few citizens looked up at us – those that did were probably muttering something vile under their breath. No-one was protesting – then.
I'll never forget that day in July. I don't think anyone attended the life-boat drill and that's because we were cruising right in front of San Marco when the scheduled muster was to take place at 4pm.  I didn't go – I felt slightly guilty as I had never missed a drill before. But 10 decks below us, laid out like a dream, was the magnificent square, the Doges Palace and the bell tower. Who could drag themselves away from that vista for a safety briefing? It's scary to think that only six months later, sister ship Costa Concordia hit a submerged rock platform near the island of Giglio and sank; 32 lives were lost. Venetians were even more worried about huge ships sailing through their city after that disaster. Speaking of boat-drills, you would not be allowed to miss a drill these days. They are mandatory and in actuality have always been so. Today every passenger is electronically 'ticked off' a list; no-one can remain in their cabin or out on deck during a muster. And the majority of drills are now conducted before the ship sets sail.
Post Concordia, Venice citizens ramped up their efforts to get big ships banned from the lagoon. A ban was enacted in November 2014 only to be lifted  two months later following a court appeal. Even the United Nations has lent its weight to the protest movement, stating that Venice will be on the endangered city list if big cruise ships continue to ply its canals.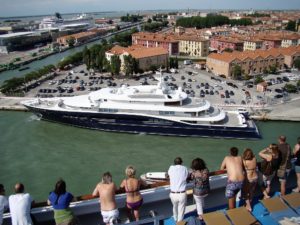 Good news came at last – at least on paper on November 8, 2017 when a new ban on big ships was announced. 
This most recent decree bans ships of more than  87,000 GRT* from berthing at Terminal Venezia and cruising along Giudecca Canal. The plan is for these giants to dock at Port Marghera, about 9km away (near the town of Mestre) and for passengers to be ferried into Venice itself. The only problem is that Marghera is an industrial port and the mega-cruise ship terminal, planned for that site, has yet to be built.
So after a confusing few years of bans, reverse-bans and more bans, it seems that until the new terminal is built, huge ships will continue to travel long the Giudecca Canal providing passengers with some of the best views on earth. Venice is truly a beautiful city, and anyone who's visited it surely cannot be indifferent to its charms. But I do feel for its citizens, even though I was one of those passengers, on one of those huge ships that enjoyed the view from my lofty perch.
I too live in a very touristy part of Sydney – our famous Bondi Beach – although my encounter with tourism is on a much smaller scale. When I walk out my door, I step straight out onto a footpath where al fresco cafes reign and thousands of people clog the pathway on summer weekends. It can take me quite a long time to walk a few hundred metres just to get that carton of milk. From Queen Elizabeth Park, the grassy area behind Bondi Beach, I often see cruise ships making their way down the eastern coast. They look great and I try to guess the cruise line from the ship's funnel or hull. But they are a good kilometre or two out to sea.  The poor Venetians have them on their doorstep and they are not happy.
Stay tuned as I follow this story ……….
*Gross Registered Tons