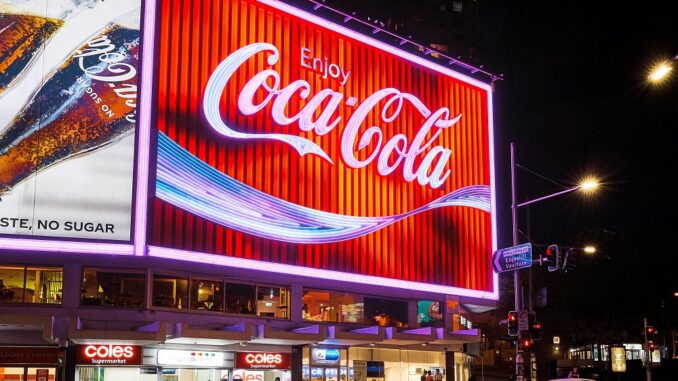 The ABC is currently screening JUANITA – A Family Mystery, a new documentary about the disappearance of journalist Juanita Nielsen in Kings Cross 46 years ago.
The show and the fact that I can only explore areas within 5 km from my home, had me thinking about a walking tour I did around Kings Cross a decade ago.
Luckily Kings Cross, or The Cross, or Kings-bloody-Cross to fans of the old movie "They're a Weird Mob", is in my 5km zone. It's more than a bright-lights, big-city, red-light district; there are great cafes and bars, funky boutique hotels, and stately Art Deco apartment blocks. Yet despite this gentrification, the Cross has always had a tarnished reputation. There have been crimes and misdemeanors aplenty, which have made newspaper headlines and have been turned into TV shows and movies. Once upon a time the inner-city suburb also had its own newspaper, the rather tantalisingly named  Kings Cross Whisper.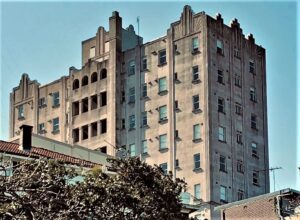 About a decade ago, I joined a new walking tour through the gritty streets and leafy laneways – it was a tour launched in time for another mini-series due to hit the small screen – Underbelly, The Golden Mile.
And now we have JUANITA. It's a different tale – a documentary told through the eyes of Juanita's cousin and niece. And it's well worth a look. You might like to read my story, which at the time was The Sun-Herald, and then head off on your own walking tour.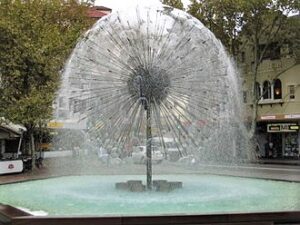 Here's the story:
'This is where Jim Anderson shot dead Donny 'the Glove' Smith in 1970," the diminutive Rebecca Giglia says.
We're on the footpath outside Eva's Backpackers in Orwell Street, Kings Cross, which, in a former life, was the notorious nightclub The Venus Room.
"Big Jim" was a business associate of the late Abe Saffron and managed bars, nightclubs, and strip joints. Smith gained his moniker by wearing leather gloves lined with lead. Anderson, although committed to stand trial for manslaughter, was never convicted.I remember going to The Venus Room a few decades ago but I decide to keep this bit of info to myself. My recollections are blurry; there were quite a few mirrors and lots of smoke but if there were gangsters about, I would have been oblivious.
Although Ibrahim called the police and gave Assaad mouth-to-mouth resuscitation, the dealer died. Townsend, who later became a heavyweight boxer, was committed to stand trial on a manslaughter charge but was convicted of assault.
Choice snippets about crims, colourful characters, and nightclub owners are dispensed freely during this new 1½-hour Sydney jaunt called the Golden Mile Walking Tour.
Launched in late March as a prelude to the third series of the popular TV drama Underbelly, it has proven a hit, pardon the pun, with crime and TV fans.
I meet Giglia at the top of the Cross, under the Coca-Cola sign, which has been a Sydney icon since 1974. The heritage-listed billboard is the largest in the southern hemisphere.
When Giglia arrived in Sydney almost a decade ago, she had a newcomer's interest in Kings Cross. She wanted to know what was behind its notorious reputation and sought out the stories that contributed to the legend.
In 2005, she founded Bounce Walking Tours, starting with the obvious city highlights around The Rocks, then branched into Kings Cross with the historic Crimes and Passions Tour. When word got out that the third Underbelly series would focus on "the Golden Mile", Giglia turned her attention to researching the famous strip of road that stretches about 500 metres (less than half a mile) from the Coke sign to the El Alamein Fountain.
Standing under the beverage billboard, I learn the Cross was originally called Queens Cross (after Queen Victoria) but was changed in 1905 as a male monarch, King Edward VII, had ascended to the throne.
With a population of about 20,000, the Cross is Australia's most densely populated precinct. There are 65 licensed premises and about 5000 guests in hotels or hostels each night. And although I don't see one single hound on the Golden Mile tour, I'm told dogs outnumber children living in the Cross by five to one.
We start in Victoria Street, stopping just a few metres from The Tunnel, John Ibrahim's first bar, which opened in 1988.
The facade is newly painted and Giglia tells us it's about to reopen under its original name. Over the years, it's had a few incarnations, recently trading as Dragonfly until New Year's Day. The club features in the new TV series and its reopening seems to be perfectly timed from a business point of view.
We stop at No. 202 Victoria Street, the home of Juanita Nielsen before she disappeared in one of Australia's most famous unsolved mysteries. Nielsen, a publisher who protested against Kings Cross high-rise development, was last seen at the Carousel Club on July 4, 1975. The late Big Jim Anderson (of Venus Room fame) was the manager of the Carousel at the time but denied any part in her disappearance.
Giglia points out the Golden Apple brothel across the road, one of the late-night haunts of a couple of drug dealers in the TV show and a testament to the diversity of businesses that flourish in this interesting street, including backpacker hostels and boutique hotels.
As we approach Fitzroy Gardens, Giglia is keen we take a wander down a lane for a closer look at Kings Cross police station. As she's about to tell us some dirty deeds of police corruption that tie in nicely with the 1995 Wood Royal Commission, a big bloke in an ill-fitting suit turns up out of nowhere and tells us he's a former copper.
I'm fascinated – and bemused – as he regales us with a story of how a wild buck's night in 1990 got downright nasty in the holding pens of the police station.
He disappears into the night as quickly as he came and Giglia smiles as she directs us back to Darlinghurst Road to amble past the strip clubs and all-night kebab joints.
We finish up at the surprisingly tasteful Sugarmill pub and toast Big Jim, Donny, Juanita, the bent coppers, and all the colourful characters of the famous strip with a free drink.'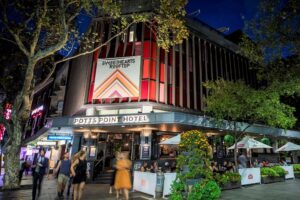 Since I wrote that story the fledgling Bounce Walking Tours has gone the way of many small businesses. I hope Rebecca has found another business opportunity.
I always love a good walk whether it's on my own around the backstreets of Bondi, along the Eastern Suburbs seabord from Bondi to Coogee (or Bondi to Watson's Bay), or the inner city. There are many great walks. Would you like to suggest some to our readers? Places to get a dose of fresh air and view some history and terrific architecture such as fabulous Art Deco buildings.
Photos courtesy of Destination NSW.
This story appeared in the Sun-Herald on May 13, 2020.