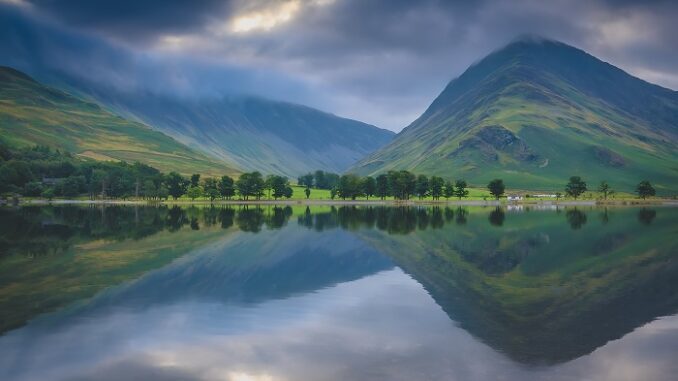 Fiction in the time of Covid – Episode 7
Last time we checked in on Mrs. MacPhillamy and her granddaughter Tiffany, life was a little tense. The new roommates had a lot in common for sure – G&Ts, fine champagne, lingering on lounges pondering their next moves, and asking the maid what was on for dinner. But beyond that, there were differences.
Grandma liked to appear busy and have a project even if it was simply trawling the Harrods website. She expected Tiffany to feel the same way. Tiffany, bless, wasn't that fussed. However while she lived under Grandma's roof (she rather liked to call it her London pied-a-terre) she went along, begrudgingly, with her grandmother's plans to further her career. Despite a few differences, the two were besties, if truth be told. The odd couple, divided by the decades were united by something akin to, well, kin. Okay, they were blood relatives, but as both learned to appreciate each other's differences and little quirks, they were moving toward soul sister status.
They were both sick of London lockdown and yearned for space. The huge mansion with guest wing and garden gazebo was proving a little cramped.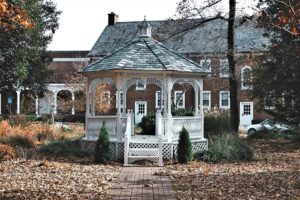 Let's take up the story as spring has just sprung in London – though the temperature hadn't quite got the memo and is still lingering in the doldrums.
As some of you will know, I write my stories every month and enter them in the Furious Fiction competition. The contest has rules and the rules for March 2021 were that the story had to include a setting (which a visual of a red telephone booth on the shore of a lake), and  we had to include four  "mar" words – market, marble, marvellous and marshmallow. The words could be plurals, or have extensions, as long as the root word was retained.
Here goes:
March announced itself with grey skies and temperatures hovering just above zero. Mrs. MacPhillamy turned on the morning news on the first day of Spring and couldn't help scoffing when the weatherman said the mercury would hit  7 degrees by lunchtime.
She sighed. Normally she'd be on her annual world cruise aboard Queen Mary 2. The ocean liner would now be plying the waters of the Indian Ocean en route to Colombo. Perhaps she'd be strolling the deck or playing shuffleboard with nothing occupying her mind beyond the impending spice markets and trinket sellers of Sri Lanka.
Lockdown in London offered no escape beyond what her memory could conjure and that was fading fast. She did allow one smug thought – her own marble bathroom was rather more sumptuous than the one in the 'premium deluxe stateroom' she booked every year. A small compensation.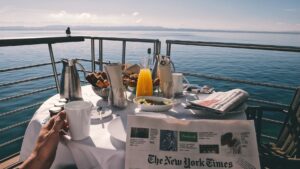 Tiffany bounced into the morning room looking as fresh as a daisy had there been any blooming in the acre of permafrost that masqueraded as her garden.
At 25 and with a regimen of 10 hours sleep a night, her granddaughter naturally looked radiant. No amount of champagne or gins and tonic seemed to inhibit the young girl's dewy glow.
"Ahh youth," Mrs. MacPhillamy murmured. She nodded at her granddaughter and pointed to the coffee and pastries sitting on the trolley by the Sunday papers.
"This cold, grey weather makes me so weary Grandma. I slept like a toasted marshmallow. Warm and squishy."
Grandmother smiled. The girl had also kept her figure. No Covid calories for her. It wasn't fair; Tiffany seemed to exist on a diet of croissants and booze.
"Pass me the papers Tiffy, the colour supplements might cheer me up. A Harrods sale often does."
Flicking through The Times a travel brochure fell on the sofa, knocking her teacup onto the floor. "Oh my God Tiffany!"
"It's OK grandma, the Royal Doulton's not broken."
"No dear, this brochure…it's divine."
The Lake District never looked so inviting. To the old lady's surprise, memories of summer holidays with her parents and chummy cousins sprang to mind. Effortlessly she recalled the views, of undulating hills and Lake Windermere with its little boats, from every window of the cottage they rented over summer.  And the parties and the young boys and those flirtatious calls she made from the old phone box up the laneway from the cottage door.
The brochure was sheer torment. What right did The Times have to tease its subscribers with delights they could not enjoy? And when would bloody Boris's damn  "roadmap" to freedom be unfolded.
She picked up the offending pamphlet and threw it into the fireplace. "Bugger, Tiffany, Bugger – this lockdown is excruciating!"
Tiffany was at a loss; rarely did her grandmother ever lose it.
"Can I massage your feet, Grandma, what about I give you a nice facial? Mix you a G&T?"
"Oh yes dear, all three. That would be marvellous."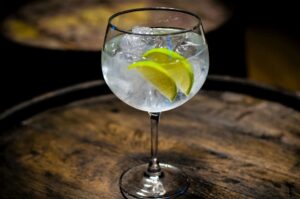 Stay tuned for my next edition when our budding soul sisters try to book a holiday ahead of the hoi-polloi. Will they succeed? Will they escape when Boris opens the gates, or suffer more lockdown lows.
By the way, anyone can enter the Furious Fiction writing competition. Here's the link: https://www.writerscentre.com.au/furious-fiction/
Happy writing!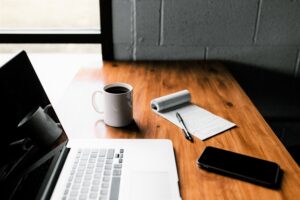 Photos courtesy of Unsplash. Main photo of Lake District by Jonny Gios. https://unsplash.com/