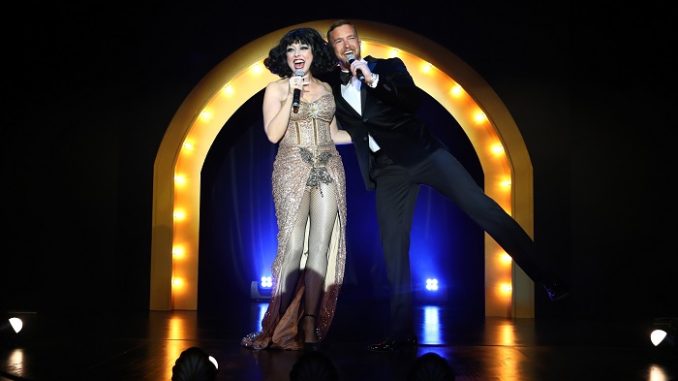 Sheraton Grand opens in style
It must have been the two espresso martinis I had at the end of the night, after I'd already consumed a few champagnes, that did it, for it's taken me a while to to wax lyrical about the party of the year – the one held in mid-November to rechristen the hotel formerly known as Sheraton on the Park.
It's certainly been a while since Sydney hosted such as flash event, at least it's been a while since I was invited to a do of that calibre. I remember going to the Sheraton way back in 1993, not long after it had opened, for a Tourism Week party where I was lucky enough see the amazing band Yotha Yindi and dance along to their hit, Treaty. It's hard to believe that that was 25 years ago.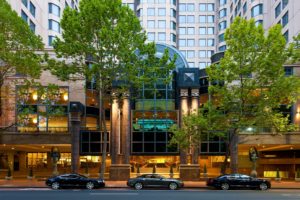 Over the quarter century that ensued I've been to a few functions at the elegant Elizabeth Street hotel including the opening of its Morton's  Steakhouse restaurant, an upmarket eatery with a Chicago-style vibe worthy of the Rat Pack. With all that glamour,  it was supposed to take the city by storm. However Morton's closed not too long afterwards, despite the marketing razzamatazz.  It turned out we Sydneysiders, even the corporate folk,  baulked at paying $80 for a steak and $14 for an Idaho potato. I still remember fellow travel writers and foodie scribes reeling at the menu prices.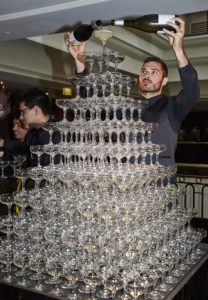 Now 25 years later the hotel has been treated to a $50 million makeover and re-emerged as the Sheraton Grand Hyde Park. Everybody with an Instagram account seemed to be at the opening,  posing for photos on the grand staircase and later attempting not to knock over the huge champagne fountain of hundreds of glasses, which a clever barman had built bit by bit throughout the night and then proceeded to fill with French fizz from the top glass down.  There were sumptuous seafood spreads, canapes and drinks by the score, but once again it was the music that had me enthralled. The grand ballroom had been fashioned as a supper club and furnished with curved velvet banquettes and tables set for two, with a small orchestra and stage at one end. We guests were greeted at the door by a hardworking maitre'd who was busy finding everyone a seat.  As there were more people wanting to see the show then there were seats, the supper club worked on a rotation basis; once a music set was over you vacated your seat and someone else got their turn. The maitre'd was great at his job and after we stood at the back of the ballroom for a while watching the last act of the previous show, he waved us over to a recently-vacated sofa and sat us down. And by luck, it was right at the front. Once ensconced in the velvet, waiters appeared with two bottles of wine – a white and a red – and a delicious tasting plate of cheeses and other treats. The Sheraton was certainly pulling out all the stops.
Then on came Meow Meow (real name Melissa Madden Gray), a diva of note who has won accolades galore for her performances at the Edinburgh Festival and on stages in London, New York and the Sydney Opera House. As MC she sang a couple of songs, one with actor and singer Tim Draxl.  The next two acts were quite a surprise.
Burlesque performer Imogen Kelly put on a tame but wonderful performance of what I'll call a modern day whirling dervish, but in a voluminous silver dress; you'd have to see her twirl in the amazing outfit to appreciate its beauty. Violinist Jane Cho wowed the crowd with her electric performance of Led Zeppelin's Stairway to Heaven and other rock hits. The acts were followed by a welcome speech by hotel general manager David Fraser, who looked dapper in a dinner suit and appeared to be the only man in the hotel sporting a tux.  After the show we were ushered out by the same maitre'd but fortunately, there was more entertainment – and those aforesaid martinis – to follow.
This time it was jazz in one of the other stunning spaces of the hotel on the first floor. And once again we were lucky to grab a seat. Unlike the supper club, this was a noisy space; folks were chatting loudly, rather than paying the band and singer any real attention. Pity. It was more background music than performance. There was more food; this time you ordered a variety of burgers and hearty snacks from a table menu, which was promptly delivered by ever-smiling staff. The martini bar was set up on one side and a hefty queue gathered to sample its wares.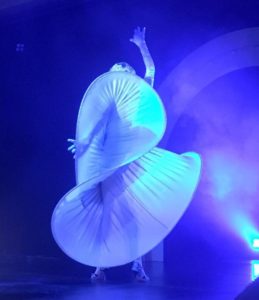 After my espresso martinis, it was time to call it a night. Later I discovered there was a nightclub pumping away elsewhere on the premises with celebrity DJ Eve Speciall spinning the tracks. But it was time to head off back down that grand staircase now heavily speckled with golden glitter.
As to the new-look hotel, there are 558 rooms and suites, the Sheraton Club on level 21 for executive suite guests' exclusive use (think drinks, canapes and other perks), a health club with rooftop pool and a stack of restaurants and bars. The night's Supper Club took place in one section of the large Grand Ballroom – 'tis a pity it isn't a regular feature at the hotel.  It would be a stylish addition to Sydney's entertainment scene (even if only held once a month), a hark back to the 1940s with all that glamour and velvet seating.
But it was a swell party and I was happy to have had a front-row seat at the show! Now if I'd only scored a room for the night….