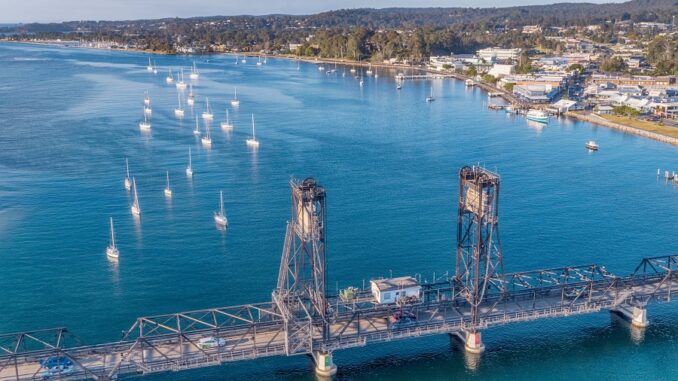 Nothing like a catchy pun-filled headline to hook you in.  Or so I'm hoping. Indulge me if you will.
There I was in Bateman's Bay in early February, five weeks after devastating bushfires had sent most of the townsfolk to nearby beaches to escape the developing inferno.
On New Year's Eve 2019, residents of this NSW South Coast town woke to shocking news. An enormous fire was heading their way.
It was one of many fires burning along the coast in the hot, dry summer of 2019.  It began in the nearby rural areas, including Nelligen to the west and Rosedale further south. In fact, Bateman's Bay was encircled by flames. Many sought safety on McKenzies Beach, 14 kilometres south of town; others stayed in the hinterland to defend their rural homes and the thousands of tourists, who normally head to the popular town over the Christmas-New Year break, were turned away. None of those visitors returned for weeks.
I hadn't been to Bateman's Bay in decades, but on February 4, 2020, I was on board the Seabourn Encore cruise ship, which had dropped anchor in the bay and was set to tender most of its 550 passengers ashore for a day visit.
We knew about the fires; they had ignited vast tracks of the Australian bushland in various parts of the country for months.
I had boarded Seabourn Encore, one of five vessels in the stylish Seabourn Line, in Auckland in on January 20. We were heading out on a 16-day itinerary that would take in most of New Zealand's east coast as well Fiordland and then cross the Tasman to visit Phillip Island and Melbourne. Bateman's Bay was the last stop before the cruise ended in Sydney.
We were a mixed band of travellers, with the majority being American; I was one of around 100 or so Australians, while there was a fair sprinkling from the UK and Europe and just two Kiwis.
During the voyage, I was naturally asked about the Australian bushfires – "How was Sydney, where were the fires?" – all the usual questions people ask when they don't know the country or its terrain well. Everyone I met was curious and sympathetic.
Well before we arrived in Bateman's Bay passengers knew that their pre-booked shore excursions to Canberra (a two-hour road journey away), historic Mogo and nearby beaches and villages had been cancelled. Many of these areas were charred and businesses closed. Fortunately, the famous Mogo Zoo was untouched, but was closed and would not re-open for another month.
Passengers were urged to go ashore, have lunch in town and spread a bit of largess. And they were certainly keen to do so as the weather gods had turned on a sparkling day and the waters were calm. Seafood, especially oysters, was on many people's lunch lists and well, I was keen to see what the town of 11,300 people was like all these decades on and to hit the shops.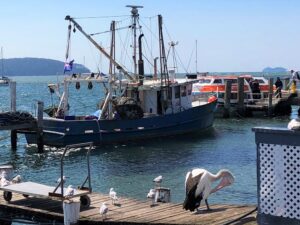 Soon after we were mingling with fellow passengers at the Black Pepper boutique browsing through the racks. That's where my first trouser try-on occurred. I wasn't really looking for anything – I rarely am but that's never a barrier – however, a pair of navy blue light-weight pants with a couple of zipped pockets at the front that would nicely accommodate a cruise-ship cabin key and credit card, caught my eye. I envisioned myself strolling the decks in them and as they were a perfect fit, I snapped them up. The saleslady was pleased, as she was when my friend decided to buy me a scarf –  a lovely white piece decorated with a multitude of colourful poms-poms at the edge.
Sorted in the navy blue slacks department, we moved on.
Most of the town's shops run along Clyde and Orient streets but there are also a couple of shopping arcades, or malls to our US passengers, a hundred metres or so from the water's edge.
It dawned on me I should try and find a pair of caramel pants to go with a floaty top, which was rather cape-like, I'd been given for Christmas. I didn't have the right pants or skirt to go with it and I was keen to debut the outfit before the cruise ended.
Good old Rockman's (a bit of a fave of mine due to its profusion of well-priced staple pieces) seemed to offer some possibilities. Perusing the rows of resort gear, I noticed what was possibly the world's craziest sale.
The women's chain store was selling casual Capri pants for $60 a pair, however, if you bought two pairs, then the price dropped to $50 for the two. Was this correct or some bogus Bateman's Bay bargain? I enquired with the sales staff and yep, that was correct.
So fortuitously I picked up those caramel tight-fitting Capri pants (for the uninitiated these are ladies' trousers that come just above the ankle) and another pair in white, in a slightly different style.
So that was three pairs of pants to add to the bulging luggage back onboard Seabourn Encore.
Despite a surfeit of slacks, shopping wasn't quite over; there was more of Orient Street to explore and still a few hours before our ship sailed. As we strolled the streets, we noticed plenty of our fellow passengers lunching at outdoor restaurants and trawling the stores. We'd heard that one shore tour had managed to get away – the Clyde River cruise on the jaunty little blue and white launch, Merinda.
This cute two-decker boat leaves the Innes Boatshed daily for a three-hour cruise that sweeps under the Clyde Bridge and up the river to the hamlet of Nelligen where the fires had begun. Back on board that evening, passengers told us of the blackened bushland they'd encounter every inch of the way.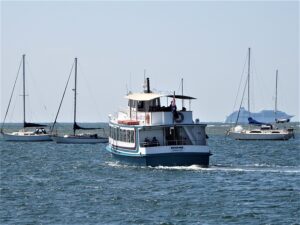 But for us, it was more of the same – splash some more cash in the shops, all in the name of charity of course. It wasn't long before the glitter of Naieve's Funky Costume Jewellery caught my eye. This little Aladdin's Cave of bling was crammed with goodies and a row or two of clothes. I often wonder how these boutiques, with more earrings and pendants that you could poke a manicured finger at, manage to do a stocktake. Here, there were shelves of earrings, necklaces, rings and bangles grouped in their various hues.
This, I knew, would definitely do me in.
Naieve the owner, or Nai, as she's called, was at the counter. We chatted about the cruise ship in the harbour and of course, we asked about her business. "Had the tourists returned? How were the fires?"
Nai was one of the many who retreated to nearby beaches on that fateful New Year's Eve. She and her partner and three of her five children, along with a dog and two cats, headed to Malua Beach, 12 km south of town. She'd been awoken earlier that morning by her adult son who told her she had better evacuate as soon as possible. As mobile phone coverage was patchy and even non-existent in some places, she lost contact with that son and her adult daughter, but all were safe and well. It was a horrifying tale, but Nai says many people had it a lot worse. There were many stories of last-minute evacuations and folks sleeping in their cars on the beaches.
Bateman's Bay, 277km south of Sydney, was one of the luckier towns of the region. There were no deaths in the immediate area, although seven people (residents of Cobargo, to the south, and Lake Conjola to the north) lost their lives in the fires and 176 homes were destroyed along the South Coast.
Apart from the human and property toll, business was well down.
Naieve said she'd lost around $20,000 that season.  She'd been operating her funky costume jewellery shop since 2009 and this was, without doubt, the worst season on record. The only thing we tourists could do was put a bit of cash in her coffers and, yes, that's that we did.
I walked out with two pairs of earrings, which were in the same hue as the floaty cape-light top I was hoping to wear, as well as two light-weight jumpers in the same pattern – one for me and the other for a friend back home. Nai was very pleased, and as we exited her shop, a couple of other Seabourn passengers were coming in for a look.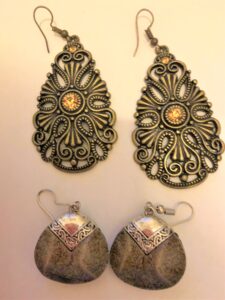 Boutique cruise ships such as Seabourn Encore and its smaller sibling, Seabourn Sojourn, have been visiting Bateman's Bay for only a handful of years. The primary reason is the port's closeness to Canberra, which would naturally appeal to overseas travellers. Aussies, like me, are likely to explore the town itself or its nearby villages. Other ships that have visited the port in the past three years include the luxury expedition vessel, Caledonian Sky, which carries just 114 passengers, and the rather famous floating condominium, The World, a ship whose 165 apartments or residences have been owned by such luminaries as Madonna, Arnold Schwarzenegger and our very own Gina Rinehart.
Most ships that visit Australia and New Zealand during the summer season won't be here this year. They won't be anywhere really, according to their websites. Most itineraries are on hold. And as to when they will return to Bateman's Bay is anyone's guess. Cruise lines aren't heading Down Under for a least a good 12 months.
If, however, a vaccine is rolled out fairly soon, then we might see ships in our part of the world in the summer of 2021-22.
Fingers crossed.
Seabourn Encore is a beautiful ship. It's the perfect vessel on which to explore the coastal towns and cities of Australia, along with the stunning New Zealand sounds and fiords. It's a luxury ship, so the fares are naturally high; around $500 a day and up. But everything you could want (apart from a spa treatment) is included in the price from the excellent food and the exceptional entertainment to the free-flowing French champagne.
Stay tuned for a blog about Seabourn's seriously swanky style in due course.
One would think I had more than enough pairs of slacks from Bateman's Bay to do me for a while. But fate would have it another way. In September this year, a friend of mine and I hit the road to the far South Coast to visit a mutual friend who lives in Bemboka, a tiny village 30 minutes inland from Bega. We motored there via Goulbourn, Canberra and Cooma.
On the return trip via the coastal highway, we stopped off at several places – Central Tilba for morning tea and poor old Cobargo, whose main street displayed the aftermath of the fires with two vacant lots where homes had once stood.
And further north we stopped again in Bateman's Bay for a coffee. As we were walking back to the car, I saw that Millers – another chain store that sells affordable stable items – was having a sale. I told my friend I'd catch him up back at the car and I ducked into the shop.
And yes – I emerged with another pair of pants. This time in a mushroom-grey hue and in a heavier fabric – perfect for a cruise in Alaska, if that opportunity ever arises. Well, I rationalised, one could never have too many trendy trousers!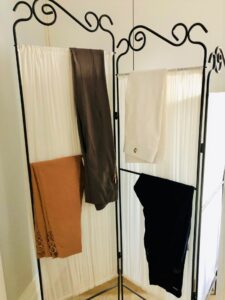 Bateman's Bay is a lovely little town. There's plenty to see including miles of beaches,  Mogo Zoo, the Clyde River, hinterland hamlets, wharfside cafes, succulent oysters and a raft of affordable funky fashions. Business is picking up for many, as tourists return to the area, and accommodation houses are booked solid for the Christmas season.
However, according to Nai, who I chatted with just today (December 2), a number of shops and businesses have closed thanks to the double whammy of the fires and COVID. So it would be a great idea to head down soon or in January, once the initial Christmas-New Year rush has subsided and spread a bit of joy.
Here are some websites worth checking out:
Eurobodalla Shire Tourism: https://eurobodalla.com.au/
Seabourn Line: http://www.seabourn.com
Naieve Funky Costume Jewellery: https://naievefunkycostumejewellery.com.au/
South Coast NSW: https://www.visitnsw.com/destinations/south-coast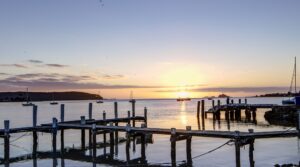 Batemans Bay at sunset. (Photo: Destination NSW)