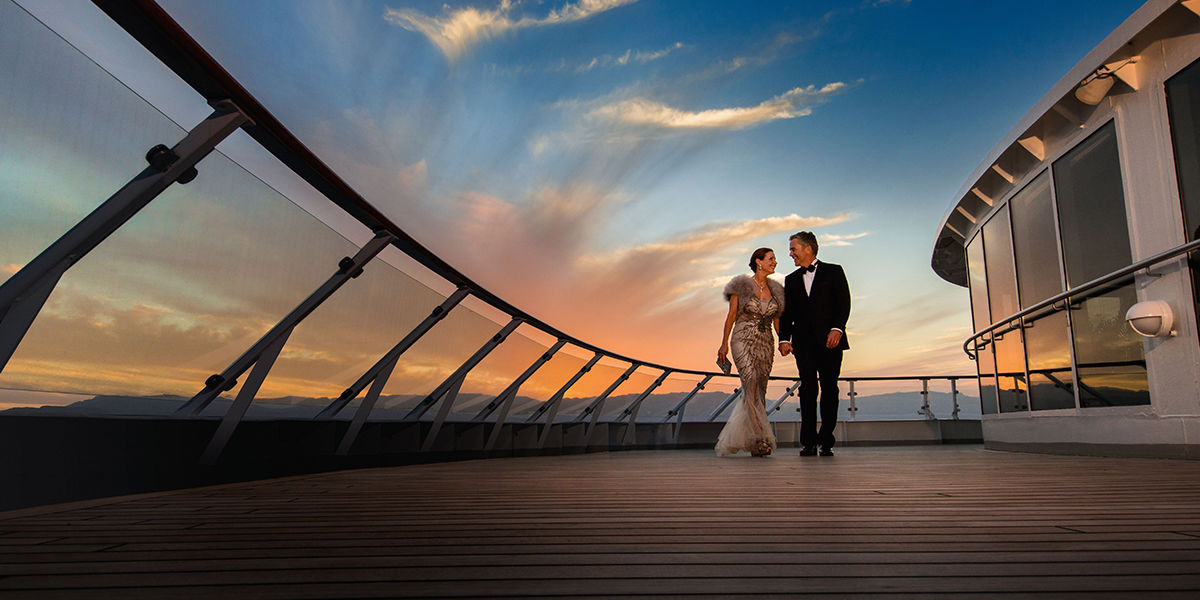 What's it like on a luxury ship?
Well, there are butlers in tuxedos, monogrammed stationery and Jacuzzis-for-two on private balconies. But while cruise lines make big boasts about their 5-star service, the man they really have to impress is cruise aficionado Douglas Ward who has made a career of inspecting ships for his Berlitz Guide to Cruising book for the past 33 years.
I spied Mr Ward standing at the stern of the ship Costa Luminosa in Genoa Harbour in June 2009.  We had both been invited to the dual christening of Costa's ships, Pacifica and Luminosa. The event was huge; there was a flyover of three Italian fighter jets trailing the colours of the Italian flag behind them, sail pasts and famous Italian singers on stage.  Ward said he could sum up a ship in 15 minutes! He travels on dozens each year and he, like most of us, has a penchant for the finer things in life. Here's a story I wrote about luxury cruising several years ago.
"SLEEPING under the stars tonight are we?" isn't as unusual as it sounds when you're cruising on the stunning SeaDream Yacht Club ships.
Your personal attendant would have reserved one of the Balinese Dream Beds and will make it up with the finest Belgian linens and down duvet, leaving you to slip into the monogrammed PJs and sip your nightcap at leisure.
It's the perfect treat for a balmy night on the Mediterranean, after a fun-filled day of water skiing from the ship's own sports marina.
Or perhaps your waiter has waded knee-deep in the blue Caribbean, with a glass of champagne and a dish of caviar.
Dreaming? No, this is the first course of Seabourn's legendary "Caviar in the Surf" silver service beach barbecue.
Maybe you need a quiet night in your cabin after a relaxing day of spa treatments, yoga and meditation.
Simply call room service to arrange course-by-course in-suite dining, and help yourself to a drink from the complimentary bar, open those balcony doors and wait for the Relais & Chateaux inspired dishes to arrive. It's all part of life on a Silverseas cruise.
Whatever luxuries you can imagine on land can be conjured up on a holiday at sea.
While the majority of new cruise ships have day spas, internet cafes, balcony cabins and speciality restaurants, a luxury ship exudes a private yacht atmosphere, which has you believe the world is your oyster or your sautéed lobster tail at the very least.
Personal space, service, sumptuous suites, sevruga caviar and sparkling silverware are the hallmarks of luxury cruising.
These ships tend to be small with the crème de la crème catering to only a few hundred passengers – nay guests – who enjoy freestyle dining with opening seating and complimentary quality beverages.
Just as on land, these floating resorts are inspected and awarded stars based on cuisine, accommodation, the ship itself (facilities, safety, space, passenger flow and spa/fitness), service, entertainment and cruise experience.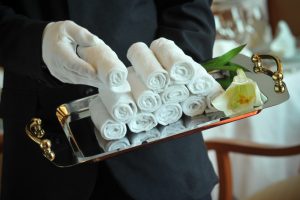 The most feared man on the seven seas has to be Douglas Ward, author, for the past 33 years, of the Berlitz Guide to Ocean Cruising and Cruise Ships. He travels the world with anotebook and white gloves at the ready, checking under tables and High Tea trolleys.
A stickler for bone china, the correct-sized sommelier glasses, linen napkins and teak by the ton, his latest passion is for ships whose public areas are designed on feng shui principles. His top accolades go to the ships with the highest passenger-space and passenger-crew ratio and where a guest's needs are anticipated in advance and always granted.
"No" should never be in the vocabulary of any crewmember aboard a ship with a five-star plus or five star rating, he warns.
Of the 300 or so ocean-going vessels reviewed last year, just a handful it into the five-star league, and only two – the German-owned and German-speaking ships Europa and Europa 2 – scored a five-star plus rating.
The sleek siblings, operated by Hapag Lloyd Cruises, carry just between 400 and 500 guests, which is about half the number carried by other ships of similar size. It's this roominess, along with stylish contemporary interiors, impeccable, friendly service and a stable and virtually noiseless piece of hardware, which has earned the sister ships the top gong.
The little touches that whisper service are the cold drinks and towels delivered to sunbaking passengers and the fine mist of Evian water sprayed on them by the ever-attentive crew.
Cunard Line's huge Queen Mary 2 and the two Crystal Cruises' ships are the only medium and large ships to have ever made the five-star list.
However potential cruisers should be aware that only QM2's exclusive Grill Class made the cut at the time, and one must book this category (on what is a two-class ship) to get a personal butler, a marble-clad bathroom with whirlpool and a seat in the Queen's Grill restaurant where the food is simply deemed "superb".
Big ships carrying big numbers have a tough time making the five-star league due to the need for two seatings at dinner, a real no-no in luxury circles. But despite this failing the Crystal sisters, Symphony and Serenity, kept their top rating due to amazing penthouses with huge verandahs and two alternative 75-seat restaurants that can be reserved at no extra charge.
The cruise world's little luxurious touches know no bounds.
Ships lure discerning guests with plush bathrobes, Bvlgari toiletries and butlers happy to run petal-filled baths. Cabins and public rooms are Wi-Fi ready, there are personal email addresses, the latest plasma TVs and DVDs and scores of movies to watch.
More and more ships boast celebrity chef-created dishes, while well-known restaurants are going nautical. You'll find exquisite dishes created Japanese chef Nobu Matsuhisa (who has a restaurant in Melbourne) on board the two Crystal ships and six Silversea ships now feature a new restaurant – La Dame by Relais & Chateau, where a bespoke menu has been created by top chefs from the Relais & Chateau team. Some ships even provide "personal shoppers" to ensure you visit only the smartest boutiques when in port.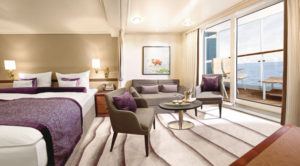 A luxury cruise will do serious damage to your credit card – daily person rates start can start at $1000 –  but it will be smooth sailing all the way.
Original story published in the Sun-Herald newspaper in October 2006 and updated to reflect today's ratings and onboard facilities on June 18, 2018. 
Post script: 
TODAY'S FIVE- STAR SHIPS: The 2018 edition of Berlitz 'Cruising & Cruise Ships' awards five-star ratings to just five ships – the boutique SeaDream I and SeaDream II, the 1931-built sailing ship, Sea Cloud, and its much younger sister Sea Cloud II (built in 2001) and the expedition ship Hanseatic, part of the Hapag-Lloyd expedition fleet. Two ships have been awarded five stars-plus: the Europa and Europa 2, also members of the Hapag-Lloyd fleet.
Over the years several ships that were once rated five stars have been demoted to the four star-plus fleet. I am guessing that may be due to age, or just failing to maintain Douglas Ward's lofty expectations.
Check out the highest-rated ships on this website: https://www.hl-cruises.com/