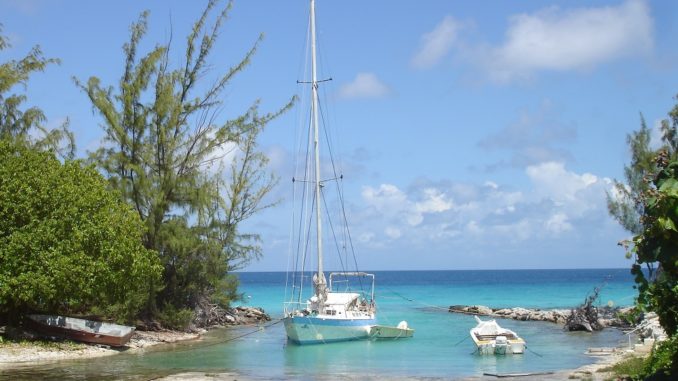 ---
French Polynesia was one of the first places in the world to close its borders when coronavirus hit and that was a very good move. The islands have recorded just 62 cases of COVID-19 and no deaths at all. *
These good figures have been reflected in other Pacific nations. Neighbours including Samoa, Solomon Islands, Vanuatu, Tonga and Tuvalu have escaped the pandemic with not a single case of the virus.
The good news for lovers of French Polynesia – an overseas territory of France – is that the borders will re-open to overseas arrivals from today, July 15. However, before travellers are allowed to land at Papeete's international airport, they must have had a COVID test 72 hours before their arrival (and produce documentary evidence of the negative result) and they must have travel insurance. Travel insurance is a little academic, as no insurance covers the coronavirus and its impacts. However, that's the rule – it's always good to have insurance in case you break a leg or lose a camera!
Travellers also must "self-test" for the virus on the fourth day of their stay; they will be handed a pack of swab-test equipment on arrival, which will include instructions on how to carry out the nasal test. It all sounds very efficient.
It's anyone's guess when we Australians can re-visit the islands, but we can always dream of blue lagoons, deserted isles (often fringed with pink-sand beaches), friendly reef sharks, overwater bungalows and French baguettes.
This is my third post on French Polynesia and this time we're heading to the Tuamotus – one of the five archipelagos of French Polynesia. And just as a bit of revision, the other four are the Society Islands (comprising Tahiti, Moorea, Bora Bora and less visited islands such as Huahine and Ta'haa); the Marquesas (a group of several islands including Hiva 'Oa where artist Paul Gauguin died); the Gambier Islands – located to the south-east of the Tuamotus; and the Austral Islands, situated about four hours away by plane from Tahiti. The Gambier and Astral archipelagos are little known and seldom visited. Perhaps one day I'll jump on board an expedition cruise that takes me there.
The Tuamotus are much more accessible and quite well known in diving circles.
Here's a look at the Blue Lagoon, which is an amazing phenomenon being a small, peaceful lagoon within a much larger lagoon in the middle of an atoll called Rangiroa. More on that later. It is a gorgeous place for a beach picnic – so picturesque that no filter is needed when taking snaps and none was used.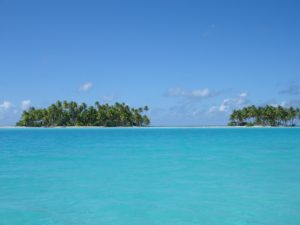 The Tuamotus, which according to one source means "distant islands" are coral atolls, similar to the Maldives. (Another source claims that the name means "islands on the ocean's back". I have no idea, however, the latter is rather poetic).
An atoll is an interesting geological feature. Atolls start life as volcanic or "high islands" and over eons erode into the sea leaving a circular fringing reef behind. The "hole" left by the island, once it has sunk into the sea, is the lagoon. That's a very brief definition of a process that takes hundreds of thousands of years, but it'll have to do. The Tuamotus are made up of some 77 atolls and a couple of semi-high islands, the most impressive of these being Makatea; I'm not sure how volcanic isles crept into the archipelago, but apparently they are a type of atoll albeit with a plateau and/or mountains. I'm a lover of geography but hardly an expert on geology, so best to look this stuff up!
Here's a photo of a whole string of tiny atolls (sometimes called coral cays) in the Tuamotu Archipelago, which I happened to snap as I was flying from Tahiti to Tikehau. This photo depicts what is most likely part of a huge circle of little coral cays (or Motus, which is the Tahitian word for island) encircling a large lagoon. It's quite hard to tell from thousands of feet above, but it's a pretty sight nonetheless.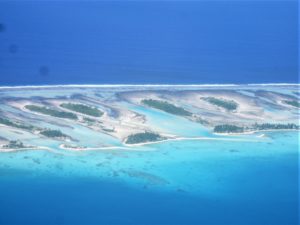 The Tuamotus are the largest chain of atolls in the world and the main island, Rangiroa, has one of the largest lagoons in the world. This lagoon is said to be big enough to hold the entire island of Tahiti. Yep, that's big and rather hard to visualise.
Rangiroa isn't the largest atoll in the world – that accolade is hotly debated I've discovered but it would seem that it belongs to Kiritimati, or Christmas atoll, in the Pacific Ocean, which is part of the island nation of Kiribati. Now, this landmass should not be confused with Christmas Island in the Indian Ocean where we lock up refugees. That's another island altogether – and not quite as idyllic.
I first visited the Tuamotus in 2007 on a short trip to Tikehau, one of the four main atolls in the archipelago. Travellers tend to visit Tikehau, Rangiroa, Manihi and Fakarava – the latter is pronounced exactly how you think it is, which makes for a bit of fun when relating your travel tales. Unfortunately, I've not been to Fakarava.
Apart from diving, the Tuamotus are known for black pearl cultivation, pink sand beaches and as the ultimate dreamy South Seas destination where you can kick back and do absolutely nothing, as nothing will be required.
While many like to say that the Society Islands of Moorea, Huahine and Raiatea are sleepy; I'd like to up the ante and say that the Tuamotus are comatose. And that's a good thing. This is the place to head if you really want to socially distance.
Let's have a quick look at a couple of the islands.
Rangiroa, known as 'Rangi' to we smug travellers, is the unofficial capital of the region. It has two tiny settlements – Avatoru and Tiputa – both of which have "passes" or breaks in the lagoon named after them. The reason divers and snorkellers go to Rangi (and to fabulous Fakarava) is to "shoot the pass" or to whoosh through these narrow breaks in the reef and watch all manner of sea life – from sharks, rays, turtles and big barracuda – whoosh past them on their way.
To "shoot the pass" properly you have to pick the time when the incoming tide is running. Divers and drift-snorkellers are dropped off on the ocean side of the atoll and are sucked through the pass with the fast-running current, which I believe is one hell of a ride. While it sounds a bit scary, I think I'd give drift-snorkelling a go next time I'm in this neck of the South Pacific.
I watched the fast-running current of Tiputa Pass from my deck chair positioned on the verandah of a pension called Relais de Josephine. This charming six-bungalow family-run hotel was established by French lady Denise Josephine Caroggio several decades ago. Its restaurant served the best food in town.
If you're lucky you can see dolphins cavorting in the fast-running waters. The waters are certainly choppy at times and as the passes are of varying depths, I would suggest that drift-snorkelling is best done with a qualified guide who knows the area well.
I did a spot of drift-snorkelling on Moreton Island earlier this year, navigating my way between the shipwrecks in the rather fast-moving current. I can't say it was relaxing as you have to be on your guard, but with a floating device to grip onto and plenty of wrecks to look at, it was certainly rewarding.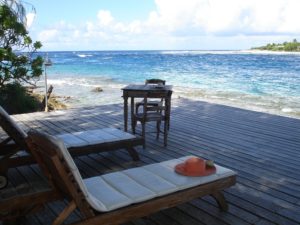 Rangiroa is an amazing place. It's made up of 415 individual tiny islets (basically big lumps of coral) strung together in a misshapen circle that measures 281 km and rings that vast lagoon. Avatoru is the main islet and also the name of the main village. This 10-kilometre skinny piece of land contains the airport, two churches, a couple of four-star resorts, a handful of family-run pensions, shops, a sprinkling of restaurants and "snacks" and at least four dive operators. Despite having just one road, many people have cars to tootle about in; I decided that hiring a bicycle was more my style and a lot more economical.
I cycled from the Novotel Resort (now rebranded as the Maitai) to church on Sunday morning – first to the Catholic church and then the Mormon – and between the Relais de Josephine to the Kia Ora Resort to watch a free Tahitian dance show. I also visited Gauguin's Pearl Farm and tasted a couple of different libations at the Vin de Tahiti cellar door.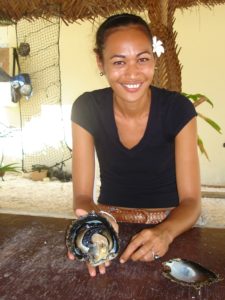 Yes, Rangiroa produces its own wine – and grows the grapes on another little islet called Faurumai, just to the west of Avatoru. The vineyard was planted by Frenchman Dominque Auroy some 20 years ago, and while initially it produced several wines including red, white and a rose, today it sticks to vin blanc and also produces a tropical rum. Tastings and visits to the barrel room can be arranged at the cellar door (or Cave de Rangiroa) near Avatoru village.
Other cycling jaunts took me to shops selling pareos (sarongs) and to the hamlet of Ohutu where a ferry takes you across the Tiputa Pass to the village of Tiputa itself. You can take you bike on the ferry (known as the taxi boat) for a fee and from there explore the smattering of houses enclosed by coral fences, St Michael's church and a school.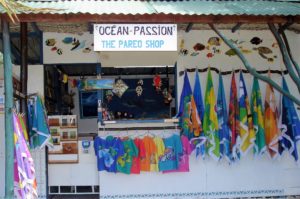 The piece de resistance during my stay on Rangiroa was a visit to the Blue Lagoon.  Forget about the 1980 Hollywood flick, billed as a teen survival romance and starring the 15-year-old Brooke Shields, this Blue Lagoon is the real deal. It's reached after an hour's boat ride from Avatoru across the main lagoon – the lagoon is so vast you can't see from one side to the other.
On arrival near a coral-cluttered little beach, you walk through shallow crystal clear water that is literally populated with tiny reef sharks that like to swim up to say "hi". At the shore, you walk across to another beach where a few thatched huts have been set up for daytrippers. And this is the big wow moment. The water is turquoise, the palm trees bend down to touch the silky sand and the water is warm and inviting (and those harmless little reef sharks eventually get bored and swim away).
The boatman will miraculously turn into a cook and whip up coconut bread on the makeshift barbecue (it's a bit like Aussie damper but laced with shredded coconut) along with succulent grilled fish and a salad. In the meantime, if he's anything like our boatman, he'll also weave a few palm fronds into environmentally-disposable plates with the help of his first mate. On my trip, the boatman brought his young daughter and her school friend along to lend a hand with domestic duties.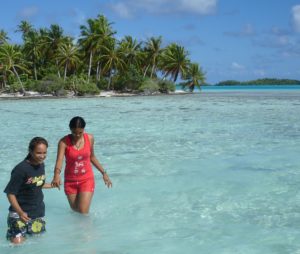 There are other day excursions to take on Rangiroa such as a trip to the Ile aux Recifs, or the "Isle of Reefs" about an hour due south of Avatoru, where coral outcrops, known as feo, stand five to six metres above the lagoon. It's said to be a stunning sight.
Tikehau
Located 12 km west of Rangiroa is Tikehau, another little gem in the Tuamotus. Its many little islets form an almost perfect circle, enclosing another beautiful lagoon.  The main township of Thuherahera, on the motu of the same name, has an airport and, rather amazingly, four churches – three of which are located at the same intersection and the other is down by the quay. Boats leave from the quay for excursions to the Sables Roses (pink sand beach), the Ile Aux Oiseaux (Island of Birds) located in the middle of the lagoon and for diving trips.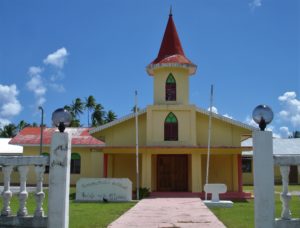 I stayed at the only resort on the atoll, the Pearl Resort, located a 10-minute boat jaunt from the wharf. My short stay included a trip to the Sables Roses for a picnic – interrupted by a brief but passing rain shower – and a wander around the main town. There's not much else to do in Tikehau apart from swim, snorkel and snooze on the hammocks thoughtfully strung between palm trees at your pension or resort. Divers head to Tuheiva Pass on the west coast of the lagoon for a chance to see manta rays.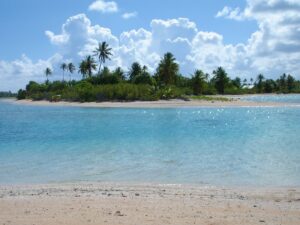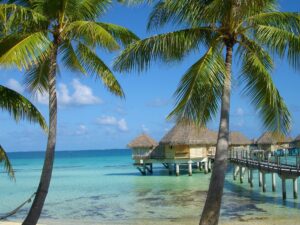 If you're planning to travel to the Tuamotus then it's a good idea to buy one of Air Tahiti's passes, which connects a number of islands by air and saves a few French Pacific Francs. Passes include the Bora Bora-Tuamotu Pass that takes you to five of the Society Islands and over to the Tuamotus, which are located some 350 km north-east of Tahiti or about an hour's flight away. The pass then links Rangiroa to Tikehau and Fakarava. While I haven't been to the latter, I feel I just have to go sometime, so I can at least name drop that one to friends.
Here are a few useful links for when the time is right to head back to Paradise.
Wines of Tahiti: http://www.vindetahiti.com/?lang=en
French Polynesia's COVID regulations: https://tahititourisme.com.au/en-au/covid-19/
Air Tahiti's surpasses: https://www.airtahiti.com/multiisland-fares
If you wish to read my story about attending church Rangiroa, here's a link to the Sun-Herald story:  https://www.traveller.com.au/a-spiritual-venture-in-rangiroa-2jorc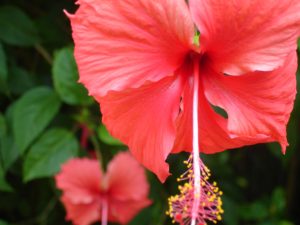 Update: Since writing this blog two weeks ago, news has emerged that a case of Coronavirus has broken out on board the boutique cruise ship, Paul Gaugin. The ship, which is based year-round in French Polynesia, began a 10-night cruise on July 29. It was en route from Bora Bora to Rangiroa when the virus was detected -one case has been reported. The ship has since returned to the Tahitian capital of Papeete. More news when it comes to hand.
It's hard to report on Coronavirus figures. Unfortunately, while French Polynesia had its Covid cases under control in July 2020, as of October 8, 2021 Delta had taken hold and the virus had spread. Covid case numbers since the outbreak were 45,181, and 625 deaths.