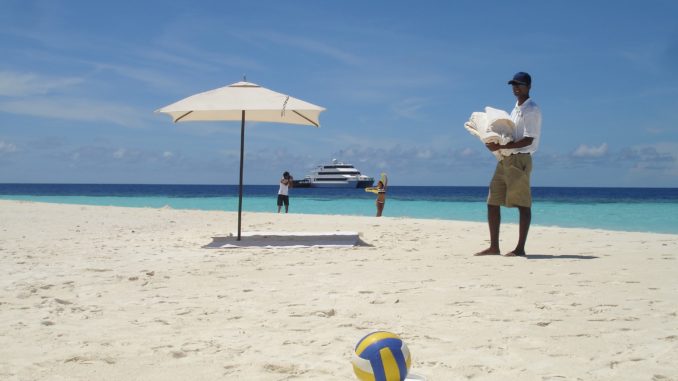 Caroline's Cabin Fever discovers a cruise that makes everyone feel like royalty – if only for three blissful days.
There's a speck in the Indian Ocean called Tasty Sand Island. I can't quite believe I'm lying on its savoury white stuff, listening to the rhythmic lapping of the sea and the swaying of coconut palms. My dream-like state has me imagining I'm on the set of Lifestyles of the Rich and Famous.
My sister and I almost have the island to ourselves, save for our personal attendant, Raj, and a glamorous young couple frolicking at the water's edge.
This piece of paradise, in the Maldives, is perfect for photographs and the woman is posing like a $10,000-a-day model as her devoted boyfriend snaps away trying to position her and her flowing sarong perfectly in front of our ship, the white and very bright Four Seasons Explorer.
It is anchored a few hundred metres away and we're taking a little time ashore during a three-day cruise around the islands. My sense that I'm living the high life is reinforced by the fact there are only eight of us aboard the Explorer, an Australian-built catamaran designed to take 22 passengers.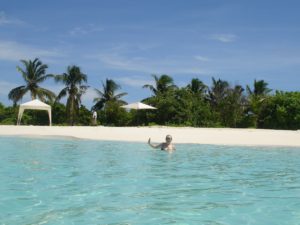 While we four burrow into Tasty Sand, two others are off scuba diving and the other couple, I'm guessing, is sitting in the spa bath nursing glasses of bubbly.
We non-models swim in the turquoise sea, play a little Frisbee, stroll around the island's circumference – which takes a good 10 minutes – and stretch out with drinks under a sun shade that Raj has assembled.
If I were certifiably deranged I would have fired up my laptop and tapped out a missive to the folks back home, as the ship's Wi-Fi connection reaches beyond cabins to the outdoor decks and islands lying within a one-kilometre range.
When it's time to go, we shake off the languor, climb into a Zodiac and zoom back to the ship, where the chef is waiting to serve lunch.
Like the majority of Maldives resorts, the Four Seasons Explorer is all about delivering a high-end, exclusive experience; they don't do budget in this neck of the woods – or, more precisely, on these 1910 coral-reef islands that straddle the equator and stretch across the ocean for some 90,000 square kilometres.
But for all its "ooh la la" attributes, life on board the Explorer is seductively casual. There's a no-shoes policy, for starters, so we check our sandals in as soon as we board and collect them only when we leave or are off visiting an island or village.
It's liberating not to worry about what shoes will go with the dress I wear to the captain's dinner on the first night or which pair matches my lounging-on-the-deck daytime outfit.
The young Welsh cruise director, Jim Hancock, says he hasn't worn shoes in five months and all crew are barefoot and resplendently casual in their khaki shorts and white polo shirts.
As the name suggests, the Explorer belongs to the Four Seasons hotel group. It's swanky and seriously boutique, measuring 39 metres long and 12 metres wide and weighing just 592 tonnes. Its three decks house 10 staterooms and a suite; an indoor restaurant, bar and lounge; an outdoor bar and dining area with nearby hot tub; and a top-deck sunbaking area with a massage tent set up in a shady corner.
It is heaven on the high seas, which do get a little choppy on one of the three days we are afloat, but it's mostly smooth sailing.
If I were a diver I'd be in seventh heaven, just like the honeymoon couple who emerge from the deep glowing even more than usual after each of their dives. The Explorer fare includes at least two dives a day, which are a mixture of sunrise, reef, wreck and night dives depending on where we happen to be at the time.
I go snorkelling instead with the marine biologist, Tim Davis, and one of the crew, and am thrilled to spot a reef shark on one of the trips.
The coral plates are huge, the fish are plentiful but the visibility is not great due to the cloud cover. We've not picked the best time to visit the Maldives, on the cusp of the seasons as the dry makes way for the monsoon.
However, the rain can't deter my curiosity and I am the only person to take a trip to a village on Rasdhoo island.
I guess this will be my only chance to see real Maldivian life, as spending time in plush resorts, while divine, is as far removed from local life as you can get. As the administrative capital of the Ari Atoll, the village has a boarding school, offices, mosques, souvenir shops and a thriving boat-building industry. Hancock, who accompanies me on this jaunt, introduces me to a man working on a dhoni, a traditional fishing boat, which looks like a mini Noah's Ark.
That evening we go hand-line fishing on the Explorer's own dhoni, the 17-metre Azekera, which is towed along during the trip and used to take divers and fishermen out to the good spots. Everyone bar me catches a reef fish – big, colourful, juicy-looking things – which the chef cooks for lunch the next day.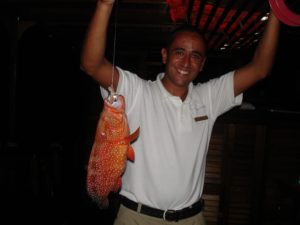 There's plenty of variety on this three-day cruise, which begins at the Four Seasons Kuda Huraa resort, located on one of the 50 tiny islands that makes up the North Male Atoll.
There are 26 atolls in the Maldives and the captain lets us know when we are about to leave the calm waters of one atoll and cross the Indian Ocean to another. During the trip we touch on three atolls, weaving through the islands and dropping anchor at night in a calm lagoon.
On the last day we are each given a traditional sarong to wear at the farewell barbecue dinner on Tasty Sand Island (its official name is Meerufenfushi). But the weather has other ideas and a thunderstorm forces us to stay on board and dance to the sound of Maldivian drums in the lounge room instead.
Tue to form, the sun is out the next day and our exit befits that rich and famous lifestyle I have relished for a few days. We pick up our shoes, say thanks and shake hands with the crew, board the rubber ducky and race off towards our waiting seaplane.
Details, details…….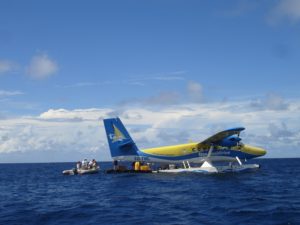 The Four Seasons Explorer  has a program of three, four and seven-night cruises. The three-night cruise, with fares from $US2550 per person, twin-share, departs from the Four Seasons Kuda Huraa Resort (on North Male Atoll), travels north and includes a beach day on a private island, a visit to an 11th century house on another and finishes at the Four Seasons Landaa Giraavaru resort in the Baa Atoll.
The four-night cruise departs from Landaa Giraavaru resort and travels south to Rasdhoo for a village visit, a day on Tasty Sand Island and other island visit before arriving at Kuda Huraa; the fares start from $US3400; the seven-night cruise is a combination of the two and is priced from $US5950. (Note: there's a hefty 23.2% service fee and GST added to the fares). While passengers do not have to stay at either resort to take a cruise, they must get there from Male airport, via either a 30-minute launch transfer to Kuda Huraa or a 30-minute sea plane ride to Landaa Giraavaru. Transfers are included in the price. Cruises specialising in diving and others that study manta rays are also available.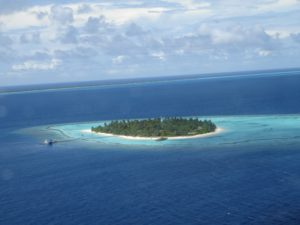 This story was published in The Sun-Herald on November 29, 2009; prices have been updated.
https://www.fourseasons.com/maldivesfse/