Have I been sick when travelling?  Yes, indeed.  If you have to be sick when on the road, it's best to be snuggled into a warm bed in a nice hotel somewhere, just an arm's length from the phone, the glass of water, the drugs and the TV remote control.
But that's not really a backpacker's tale, is it?
Cairo, Egypt. 1984: I was as sick as a dog. It was September, ridiculously hot and our little travelling party of three was pretty ridiculous in itself – trudging around with 14kg backpacks in heatwave conditions. Most tourists don't turn up until around December when the conditions cool down, but we didn't know that.
Cairo is chaotic – deadly overhanging wires, buckled footpaths, 14 million people out on the streets, along with their cars, overladen horse-drawn carts and their donkeys. If I recall the whole place was being dug up to put in a subway system and it was bedlam – a bit like Sydney now and the shemozzle that is our light rail in progress.
Our digs, or the place where we laid our heads at night, was the charming hotel Tee; I don't remember much about it apart from the fact that the lift broke down within minutes of us handing over the money and it was 14-flights up. Ah, but I was fit in those days.
The mornings would start out well enough and we'd then venture onto the street for sightseeing. Then a hour of so later I'd be gripped with vicious stomach pains – I'd double up with pain, stagger on, look desperately around for a public loo, and not finding one (I don't think that was even a concept back then), the pains would disappear.
For a while.
The pattern would repeat itself – happy, walk a bit, hideous heat, horrible stomach pains, desperately scanning the environment for a toilet, pain goes.
I was pretty sure the culprit was the moussaka I'd eaten at one of the many budget restaurants in the Plaka in Athens, a few days earlier. Perhaps correct, possibly far-fetched but I was convinced some deadly amoeba was still in my system and fighting to get out.
At the time of 'dining', the moussaka was sitting in one of those bain-maries in an outdoor restaurant, which was cheek-by-jowl with several other outdoor eateries.
It had probably been wallowing in its stainless steel container for a good day or two. I had a bite and gave it to my partner, who would pretty much eat anything you put in front of him and liked to boast about the revolting meals he'd chowed down on. He scoffed it immediately. No complaints.
Within a day I started to feel crook and then we boarded an Egypt Air plane and flew to Cairo.
We spent the first night in an expensive hotel, quite by accident. We were as usual looking for a cheap dive, but the cab driver who had picked us up from the airport, because we arrived too late to catch a local bus, decided to take us on a mystery tour of Cairo for a good hour promising his brother, cousin or his best mate had a great hotel for a cheap rate. It didn't eventuate, so we spent the night in a mini-palace (by our humble backpacking standards) – with not one but two bedrooms. Next day we checked out.
While strolling along one of the main chaotic streets – Rameses Street perhaps – we met two young men, Ali and Ibrahim, who both owned businesses. They were upwardly mobile Egyptians and they took a real shine to us – my sister, my boyfriend and me. They had never seen a tourist in September, so we were a real curiosity, especially wandering down Rameses Street laden with kilos of heavy gear in the 42-degree sweltering heat.
They found us the Hotel Tee (I don't think they knew the lift would cark it) and for the following few days we'd meet them in the afternoon to have a chat, drink chai and eat Egyptian pastries. They loved us. They told us so several times.
So some days later when I said I couldn't eat anything as my stomach was killing me and I had tremendous pains, they sprang into action.
"You are sick. We go to the doctor!"  It's amazing I had never thought of that.
We were bundled into one of their cousins' or friends' cars and off we sped – everyone in Cairo drives like a maniac – to a hospital. Ali, Ibrahim, my sister Lisa and me.
I don't remember much about the hospital – basic I guess – plastic chairs in the waiting room, that sort of thing. But Ali and Ibrahim knew the ropes and got me a doctor straight away.
I'll never forget him.
My sister and I were ushered into a little room with a bed. The doctor gestured for me to get on it. I took him in. A big, swarthy man dressed in a khaki safari suit. Not sure of his age – about 40 or so, and unfortunately nothing at all like Omar Sharif.
A cigarette dangled from his mouth, with half-an-inch of ash balanced at the end. He approached me, leaving the fag in situ.
He grabbed my stomach and I guess he asked me where it hurt. Fortunately way back then, I was super svelte and lucky to weigh 50kg after several months of backpacking about. So there wasn't much stomach to grab – but it hurt nonetheless. "Everywhere!" I said.
Eventually the ash fell on the bed, narrowly missing me and he walked over to a cabinet. He returned with a little vial of fluid and made some gesture to Lisa, who worked out that she had to go and buy a clean syringe from the nearby pharmacy. I'm not sure how that was all worked out; maybe Ali and Ibrahim came into the surgery to decipher it. I was in shock and wondering what was going to happen next.
Lisa, luckily a recently-graduated nurse herself, returned with the syringe enclosed in what appeared to be an hygenic plastic bag. The doctor ripped off the plastic, jabbed the syringe needle into the vial, sucked in the fluid and motioned to me to pull down my much-worn and pretty dagging pants – or were they shorts? (surely not in Muslim Egypt in 1984), or maybe I was wearing one of my knee-length travelling skirts. I digress.
Then whack! He jabbed the needle, with not a lot of finesse, into my only-slightly-exposed derriere.
Ouch!
That was it. He told me to get up, and scribbled down something on a piece of paper and handed it to Lisa. A script – and one for quite a heap of drugs too.
I have no idea if we paid for that doctor's visit, or whether wonderful Ibrahim and Ali picked up the tab, or whether there was actually a thing called Egyptian Medicare. I am eternally grateful whatever the circumstances.
Once out the door, we found the pharmacy and the boys proceeded to hand the script over to the chemist.It was chaotic in there; people 10 deep at the counter, and of course it was oppressively hot.
A wave of nausea engulfed me, I gulped for air and pushed my way outside. I was looking for a loo, a gutter, a receptacle of some kind. I spied a black bin – one of those big Sulo garbage bins we all have in our backyards now but were unknown to me back in 1984. I was desperate, sweating and thought I was going to faint. I flung open the bin, leaned in and threw up – several times.  It could have been pretty ugly, but I had consumed nothing but mango juice for days (probably not a great choice but it was so delicious, so cool and remarkably cheap) and that's what I deposited in the bin.
I felt relieved and then realised that I had vomited out in public view, in the middle of the street. Lisa ran out of the pharmacy and a clutch of women, clad in their garb of heavy black full-length robes ran up to me. Several produced tissues from deep within those robe pockets and proceeded to dab my mouth and wipe my face. They looked concerned; they were worried about me. They weren't remonstrating or yelling!
I thanked them. Ali and Ibrahim emerged, carrying a bag of expensive drugs. One of the packets seemed to contain horse tablets.  I tried to offer money. They refused.
For days I ate nothing but dry crackers and drank flat lemonade, or whatever the Egyptian soft drink equivalent was.
My stomach recovered; I never had another pain. I have no idea what was in that little vial of Egyptian medicine, but it worked.
As to Ali and Ibrahim: We hung out with them during our remaining days in Cairo, rode around a park in one of those tourist horse-drawn carriages, smoked hookah pipes outside a restaurant and ventured into the suburbs to meet their cousins.
Back in Australia months later, I sent them photos, a card and letters and a couple of very touristy T-shirts (one emblazoned with a koala and the other a kangaroo) I'd bought at Paddy's markets. I followed up again with a card or two.
I think they liked the gifts; I can't recall if they ever responded – their English skills weren't the best (and of course my Egyptian was amazing!) – but their hearts were massive.
I still eat moussaka; in fact I have an excellent recipe gleaned from my Mediterranean cookbook that replaces the usual béchamel sauce with a topping of tangy yoghurt.
Now here's the moral: Be careful what you eat when travelling – have fun and don't shy away from local delicacies – but never, and I mean never, ever be tempted by anything lingering in a bain-marie.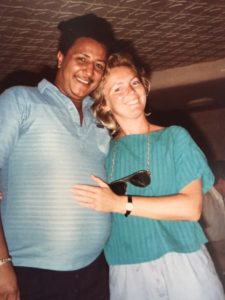 .
A