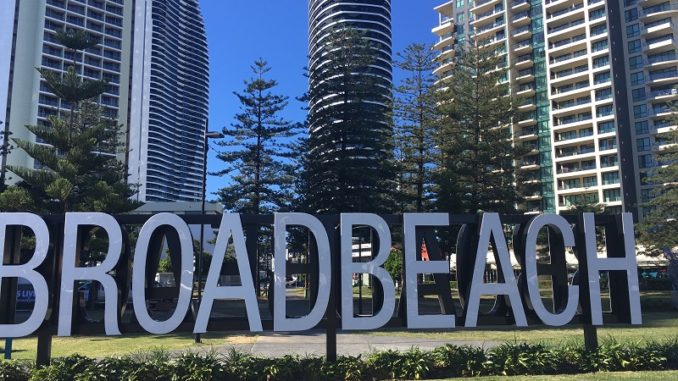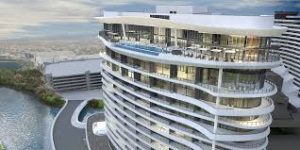 Australian celebrities have strutted their stuff on the Logies red carpet  – trophies and perfect teeth gleamed and dresses shimmered. The big annual event in Australian show business – named in honour of Scottish engineer John Logie Baird who invented the television –  always draws the crowds and massive TV audiences. But did you notice this year's location? Rather than arty Melbourne where it's been held for its entire 59-year history, The Logies took place at The Star Gold Coast, the shiny newly-reborn resort set on a man-made lake at Broadbeach, which was once Jupiters Resort & Casino. The whole complex has been given the 5-star plus treatment and now includes a fancy 56 all-suite hotel called The Darling, which is connected to The Star, even though it looks like a separate space-age building. The casino is still there – loud and proud – but the whole complex is looking smart and funky with new restaurants and bars. I stayed in The Star itself, but was treated to a mini-tour of The Darling and the fab Nineteen at The Star restaurant & bar poised on the 19th level of course. That's the new in place for a drink.
The Gold Coast is having a big year; only a few months ago it hosted the 21st Commonwealth Games, over 11 days from April 4. More than 6,600 athletes, from 71 nations competed and luckily for Australia, we scooped the pool wining 198 medals including 80 golds, soundly beating England and India in the medal tally.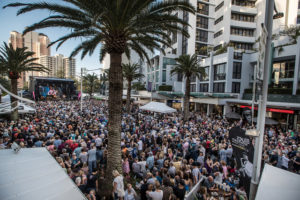 Come May and it was time to party again and I flew up to the Goldie, as they affectionately call the sun-and-surf capital that extends a whopping 70 km from north to south and includes 21 patrolled beaches. I was there for Blues on Broadbeach, one of several music festivals on the coast. Luckily I was bunkered down for two nights at The Star; a great location as it was an easy five-minute walk past the manmade waterways to all the action including the main Surf Parade street stage and little bars like the cosy Loose Moose Tap & Grill House, hosting chilled morning blues sessions.
I love a blues festival and have been to the Byron Bay gig a half dozen times and other blues-infused events over the years – but what's special about Blues on Broadbeach is that it's free. More than 100 acts, playing at 10 outdoor and 10 indoor stages over four days and it doesn't cost a dime. There are plenty of people about, of course, but standing amongst the throng to listen to headline act Robert Cray on Sunday evening was an incredibly relaxing 1.5 hour experience – no sardine syndrome and certainly no pushing. I couldn't see much (I'm only 157 cm) but there was a huge video screen and the sound was perfect. I'd had the good fortune to meet the man, who plays his special brand of contemporary blues and has won five Grammy awards and been nominated for 15 more, earlier in the day. Blues on Broadbeach was his only Queensland concert, so blues fans were super appreciative of the rare chance to catch his free gig.
The night before, a group of us sat in a little makeshift bar near the Kurrawa Park stage listening to US gal Eilen Jewell, before wandering up Broadbeach Mall to catch a few tunes from Memphis outfit Southern Avenue. Later we settled in at Koi Restaurant in the main drag of Surf Parade, ordered wine and a tapas plate and got ready for Aussie rockers The Screaming Jets playing about 50 metres up the road – very civilised indeed. I particularly liked the Sunday morning session at the Loose Moose. Folks were in a relaxed mood, sipping on their lattes listening to the James Street Preachers as the morning sun was heralding another warm day for autumn. I was lucky to have perfect weather for my Queensland sojourn – and to attend what as the 17th annual event. It all began back in 2002 and I must say I didn't know much about it at all. When  I got back to Sydney,  winter had begun in earnest and I reckon it rained for what seemed like a good month.
In this new city that never sleeps, the party at Broadbeach is set to continue later this month when Groundwater, formerly known as the Broadbeach Country Music Festival twangs into action on July 27, taking over many of the same stages in the beach town's wide boulevards.
Rug up but ever so slightly as it is Queensland to catch Aussie girls, the McClymonts, US singer Suzanne Vega who I loved all those years ago for her haunting "Luka" and "Marlene on the Wall", and get down to some great bluegrass with the Davidson Brothers. I caught these boys, originally from Victoria,  years ago at The Harp in Tempe and bought a CD then and there.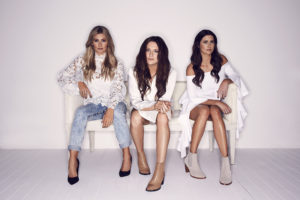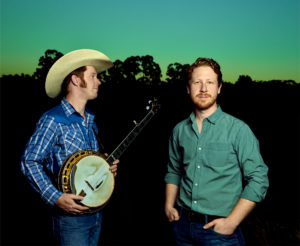 There's a tribute to James Blundell, who's credited with fusing rock and country and taking the sound to a wider audience and a showcase event hosted by Felicity Urquhardt, presenter at the ABC's long-running 'Saturday Night Country'. Groundwater Country Music Festival runs for three days and of course is free. While Broadbeach has been party central for much of the year, there are a handful of other music and cultural events on the coast. Later this year check out Buskers By the Creek at beautiful Currumbin (October 13 and 14) and next April the Bleach Festival gets underway again in venues across the Gold Coast from Main Beach to Miami (April 17 to 28, 2019). It's 10 days of music, arts and dance.
Many thanks to Broadbeach Alliance for hosting me at Blues on Broadbeach.  http://broadbeachgc.com/
Check out the festival sites: http://groundwatercmf.com/      http://bluesonbroadbeach.com/