A Christmas Markets cruise is full of bountiful gifts
When it's sizzling hot in Sydney and  the air dense with humidity, my thoughts turn to cool northern climes and a fantastic river cruise I took along the Danube. The snow continued to fall as we visited Christmas markets along the way.
"The first snowflakes fell in Budapest, dissolving on my thin coat. By Bratislava it was cold as I rifled through clothing racks for a woolly jumper in a department store down a cobblestone street in the former Eastern bloc town.
We'd been told the weather would be mild, a little cool perhaps, but Mother Nature had other plans during our mid-November cruise.
In Vienna the temperatures plummeted and everyone bought beanies and gloves; near Salzburg we slogged ankle-deep through the snow to the buttercup church at Mondsee where Captain von Trapp married Maria in everyone's favourite movie The Sound of Music.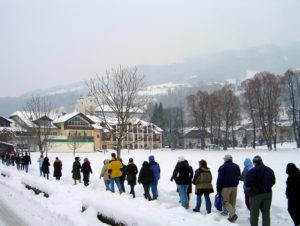 But for we Aussies, the sight of a countryside blanketed in white was heaven and from my cabin I watched scenes straight from Christmas cards drift by – the blue church steeple of Durnstein dusted in powder and sweet little villages aglow in the wintry light.
We were just in time for the Christmas markets and would get first dibs at the wooden stalls laden with trinkets and toys.
Christmas markets, or Christkindlmarkt in German, take place in Europe throughout Advent, the month preceding Christmas.
Some open as early as November 11, the feast of St Martin, a 4th century French soldier renowned for his generosity.
Christmas markets have a long tradition with the first established in Dresden in 1434. Today Germany holds around 2,500 and dozens more take place across Austria and the Czech Republic.
It was snowing softly as I mooched around my first market in Vienna, laid out beneath the neo-Gothic spires of the town hall, or the Rathaus as it's not so romantically known. It is one of four markets in the Austrian capital and the most central, surrounded by a park of dazzlingly-lit trees adorned with Christmas angels. I tasted my first gluhwein (mulled red wine) and bought the commemorative mug with its picture of the town hall. Locals pushing infants in strollers shopped for tree decorations and toys and an elderly grey-bearded gentleman (not Santa) was doing a brisk trade in cloth caps, Fedoras, scarves and mittens.
In Durnstein, a village almost too picturesque t to be true, we refuelled on strudel and apricot schnapps in snug little cafes in readiness for the long, cold walk to the top of a hill to view the ruined castle where Richard I, the Lionheart, had been imprisoned in 1192. It seemed the legendary crusader had had a run-in with local ruler Duke Leopold V on his way home from Jerusalem.
Further downstream at Linz I boarded a coach for the optional day tour of Salzburg, stopping off at Mondsee for a peak at the wedding church. Salzburg takes the strudel as  one of the prettiest towns in Austria, especially blanketed in snow. The Christmas market was in full swing in Cathedral Square near the fountain where Julie Andrews sang "I have confidence in Springtime", although it was nearly winter and everyone was queuing for more mulled wine and the famous Mozart chocolate balls (or Mozartkugel), which have been made in the composer's hometown since 1890.
One stall had more than its fair share of mini-Santas; there were Santas on spring coils, Santas in lanterns and even Santas in snow cones, which seemed a little unnecessary as the real stuff was fluttering all around. The best stalls sell the hand-made wooden toys as craftsmen toil away with hammer and chisel.
Next stop was Regensburg, a gorgeous Bavarian town with a 12th stone bridge straddling the Danube and home to two equally tempting Christmas markets.
The most spectacular and one which charges admission (about 7 Euros) is the Romantic Christmas Market in the 700-room baroque Palace of the Thurn und Taxis. Entrance is via a cobblestone walkway flanked with flaming torches opening to a courtyard where artisans fashion their toys and gifts.
The admission price is said to help the resident royal, Princess Gloria, maintain the extravagant lifestyle she once enjoyed with her late husband Prince Johannes.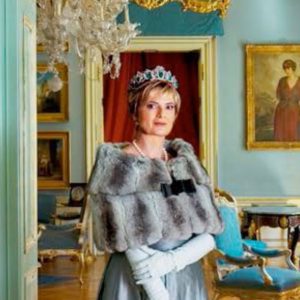 Now 58, Princess Gloria, known as the 'punk princess' for her sumptuous parties in the 1980s, runs the palace like a business selling her own label wines, honey and chocolates and occasionally makes an appearance to read poetry or sing carols with the choir.
The star attraction of the alternative market, held in the shadow of St Peter's Cathedral, is a performance by the Domspatzen choir. Dating back to 976AD the internationally-renowned choral group was lead for more than 30 years by the now-retired Monsignor Georg Ratzinger, who is the brother of retired pope, Pope Benedict XVI and still lives in the town.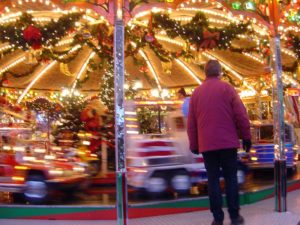 From Regensburg, we headed to Nuremberg to ramble through the market that prides itself on selling only traditional items such as gingerbread, wooden clocks and handcrafted Christmas tree decorations and has a ban on high-tech gadgets and 'war toys'.
Heavily bombed during WWII and best known for its Nazi rallies and the war crime trials of 1946, Nuremberg shrugs off that unpleasantness and takes on a magical atmosphere in Advent. Of the 180 festive stalls some 40 are devoted to the delicious gingerbread, fruit load, cakes and pastries and nearby shops are also packed to the rafters with gingerbread treats.
Our cruise finished here but the Christmas spirit continued once we'd arrived in Prague.  Instead of gluhwein, the Czechs were drinking svarene vino, a similar mulled brew and making merry in the old town square near the twin-towered church of Old Lady Before Tyn ( 'tyn' means 'an enclosed court').
Prague is enchanting in winter with many of its 1000 church spires illuminated at night. Although I disembarked in Nuremberg there were many more markets open for business further along the Main, the short waterway that links the Danube with the Rhine.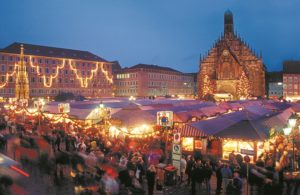 The UNESCO Heritage city of Bamberg has four separate markets and the famous Nativity Trail that connects 400 Christmas scenes in 40 public buildings including churches and museums. The Wurzburg market is known for its very own Christmas Express train bedecked with a huge Christmas tree, while Miltenberg's old castle and quaint half-timber houses is the perfect setting for a traditional market complete with old-fashioned carousel and donkey rides for the kids.
Wertheim, on the eastern bank of the Main River, might be described as the Christmas engine room. Here the city's artisans turn out thousands of precious hand blown decorations that are on sale across the country.
While there are hundreds of markets, and I savoured just a handful, they all have something different to offer – be it choirs, colourful stalls, horse-and-carriage rides and in the case of Nuremberg the best little sausages I've ever tasted."
SEVERAL river cruise companies, including Avalon Waterways and Travelmarvel, run Christmas Markets cruises in November and December each year. They are a magical experience and naturally very popular. My advice is to book as early as you can  and definitely rug up.
 https://www.travelmarvel.com.au/travel-modes/river-cruising
https://www.avalonwaterways.com.au/
https://www.thurnundtaxis.de/en/