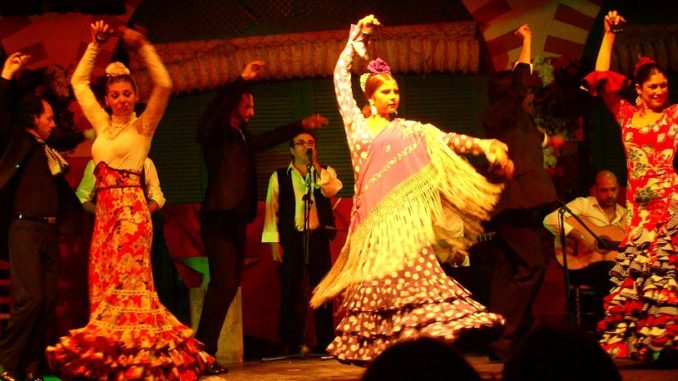 Last month I was foot-tapping to the wonderful five-piece Gypsy fusion band Monsieur Camembert. Theirs is an Eastern European style of music but gypsies, or Romani, are found right across Europe and are said to have originated in India. Their music inspired Flamenco but while a night out with Monsieur Camembert is one of fun and frivolity, a night in a hot Flamenco bar is an entirely different matter.   
Here's my tale from a night in sultry Seville.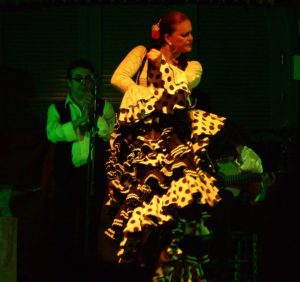 "Its stories of passion, fiery love and tragedy are so heart-wrenchingly told, I can't help but get caught up in the drama. The dancer commanding centre stage at El Palacio theatre in Seville is not the youngest nor the lithest woman to swirl a skirt or twirl a cape, but she has me in her grip. Flamenco is serious business; tales of love and love-gone-wrong are sung and stamped out with fury and what sounds like threat. I get the feeling that our diva, a formidable gal perhaps in her 50s, is just as likely to shoot her lover if things go wrong, as to drag him off to her caravan. This gypsy woman is not to be tangled with.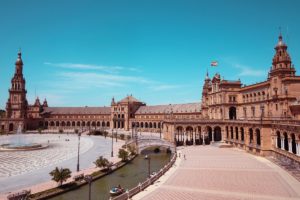 Andalusia, one of Spain's 17 autonomous communities, is the cradle of flamenco. And here in its capital, there are dozens of opportunities to see a performance and feel the passion and spirit – the duende in Spanish – of the dance. From the small traditional clubs called penas found in the city's backstreets, to the tablaos (from the word meaning dance floor but today a restaurant with dance show) and the large theatres, after-dark Seville sizzles with flamenco. Along with bullfighting, flamenco is one of the two cultural pillars of the city. Historians date it back several hundred years when the original performances consisted of just the voice – a cry accompanied by the rhythmic beating of a wooden cane.
Gradually dance and guitar were added, along with the fourth element – jaleo, which roughly translates as "hell raising": that wild hand-clapping, foot-stomping and shouts of encouragement. It's the "ole" you hear thrown in at the end of every feverish movement. Like the stories it tells, flamenco is a layered and intricate performance, whose origins are mysterious.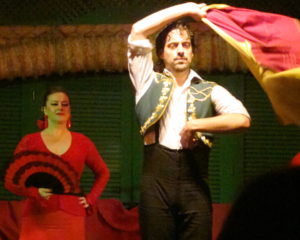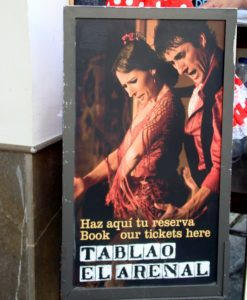 Many believe the gypsies invented it, but aficionados (and there are many), claim they were not the sole creators. Gypsies, who arrived from India in the 15th century, blended their culture with that already existing in Andalusia, a region that had been in the grip of the Muslim Moors for more than 700 years.
When the Christians re-conquered Spain in 1429, the Moors, Jews and gypsies who refused to convert were persecuted. Many of these outcasts escaped to mountain areas far from the marauding Christians.
There in caves, say the experts, they fused their diverse cultures, music and dance – and flamenco was born. Centuries later, non-gypsies, intrigued by this wild dance, recruited them to perform at parties. Flamenco cafes, known as cafe cantantes, sprang up in the Golden Age of Flamenco from 1850 to 1910, although many gypsies refused to perform in them as flamenco, by its very nature, is spontaneous and gypsies would not be told when to dance and what to sing.
Flamenco all but disappeared in the 1940s with the economic hardships wrought by the Spanish Civil War and World War II. But by the 1950s it had been revived with a flamenco festival, spirited competitions and the opening of new cantantes. Today, flamenco is alive and well across Spain although the best performances I've seen are in Andalusia. The show at El Palacio Andaluz, a former warehouse and the largest venue in Seville, has all the hallmarks of a tourist's night out. It is part of a dinner-and-a-show evening, organised by coach tour company Globus. There are other groups here, whose participants (like me) keep jumping up to snap away with their cameras.
But the show has all the angst and intensity I want. The costumes dazzle – the reds, the golds and the flashes of crimson. The figure-hugging, ruffled gowns and the lavish fringed shawls delight at every turn; the men's black suits and waistcoats add an authoritative edge and all the while the Cuban heels pound the floorboards.  For 90 minutes – with an intermission for us, dancers and audience, to catch our breath – a dozen performers take us through every style, every fandango and every emotion. The passion is apparent on their sweat-glistened bodies and faces. The feminine flurry of fringes and sashaying of shawls mixes well with the men who wear their arrogance in sneers, their dark hair long and tousled, and their red polka-dot cravats with a raffish abandon.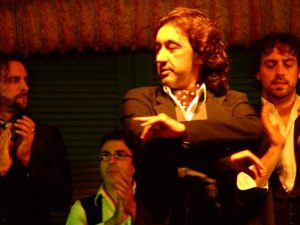 Move over Matt Preston – never has a cravat looked this damn good! At the end of the show, we are lucky enough to have our photos taken with some of the cast in a room under the main auditorium. Some of the dancers chat to us. But the diva is not present. She is no doubt signing autographs and I like to imagine she'll make a dramatic exit to seek love and torture in the hot streets of Seville.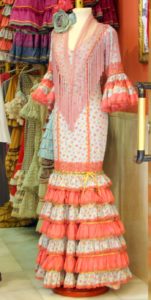 There are dozens of Flamenco performances on most nights, seven flamenco schools and a flamenco museum in Seville. Show tickets range from €15 (about $21) to €58. https://elflamencoensevilla.com/fotos-tablao-flamenco/   http://www.sevillaflamenco.com    http://www.flamencotickets.com;  http://www.museodelbaileflamenco.com
This story was published in the Sun-Herald. I attended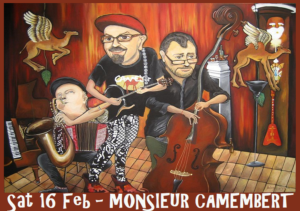 the Flamenco performance while on a Globas nine-day "Best of Spain" tour. As my first coach tour I didn't know what to expect, but the fun passengers and excellent tour director made it a memorable experience. http://www.globas.com.au
If you'd like to read my story on the coach tour, here's the link: http://www.traveller.com.au/the-modern-coaching-manual-30j5j
If you'd like to see the wonderful Monsieur Camembert, they have another show at the Camelot Lounge in Marrickville on February 16, 2019. http://camelotlounge.com/