People often ask: Are balconies worth the extra cost?
A cruise is all about life on the high seas, so what's better than being able to see that big vast ocean at any time of the day. Wake up, pull back the curtains and step out onto your own balcony. Voila! And how romantic to return to your stateroom after a great night onboard, walk out onto that little terrace and stare into the inky blackness, nightcap in hand.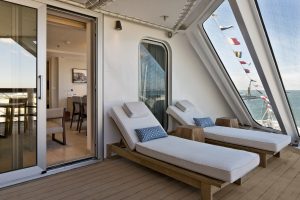 Not too long ago a balcony (or veranda as some ships call them) was considered a real indulgence; only the posh passengers had one. These days the price has definitely come down as ships get bigger and bigger and more cruise lines are adding a greater percentage of this style of accommodation when they build new vessels. Some luxury cruise lines have nothing but balconies.
Once you've experienced a balcony and felt the salty wind in your hair, it's hard to go back.
One of the great joys of having a balcony is enjoying room service breakfast on it; it's better than the best seat at a seaside cafe. Breakfast on the balcony is sheer bliss – there's no need to queue up in the buffet, no need to save a seat on the ship's lido deck and hope no-one grabs it while you get another cup of coffee, and no need to dress up a little fancier to go down to the formal dining room. You can enjoy all the treats while still in your bathrobe! And as most ships don't charge for room service breakfast, this indulgence is absolutely free.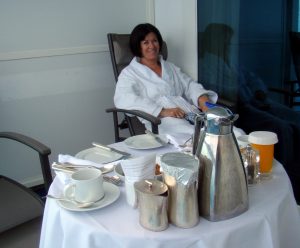 Another great time to enjoy a private balcony is when pulling in and out of port. It's a joy to sail away and toast day one of your holiday at sea. Many ships provide a welcome bottle of bubbly for just this purpose. And did you know that many lines let you bring one bottle of wine or champagne onboard to consume in your cabin? Veteran cruisers love getting up early to watch their ship pull into a port. And newcomers soon get the hang of this and are up on deck to see the ship glide towards a Pacific island or tie up at a big city port. Watching this spectacle from your own balcony means you always have a spot by the railing and, once again, there's no need to dress up.
Having a few friends around for drinks is a great way to live the high life. Couples and friends travelling together often gather on the balcony for a tipple before going to dinner. "Drinks on my balcony tonight?" is certainly a sophisticated invitation!
Not all balconies are external – that is not all look out over the ocean. Royal Caribbean International's Oasis-class ships have 'internal' balconies that overlook the ship's boardwalk areas, providing views down to the fun activities happening below.  These are cheaper than traditional oceanview balconies. Among these are balconies at the stern (rear) of their Oasis ships that provide fantastic views of the Aqua Theatre, where amazing high-diving feats take place.
As the innovators of the cruising world, Royal Caribbean is always coming up with something new. One of its latest balcony ideas is, in fact, not a balcony at all. The 'virtual balcony' is a large, floor-to-ceiling window-size video screen on the wall of an interior cabin that provides real-time screening of what's happening outside in the real world. With a flick of a switch, passengers can hear the sounds of the sea and watch the ocean view go by. Apart from anything else, it would certainly add quite a bit of light to a cabin, which is normally quite dark.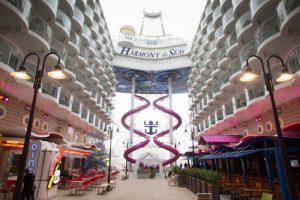 Some Holland America Line ships also have an interesting feature called 'lanai' balconies. Rather than being cabins with private balconies that are yours and yours alone, they are cabins that open straight out onto a wide public promenade deck. Each lanai cabin comes with two deck chairs, which are for the sole use of the occupants. So rather than opening your cabin door and walking out into an internal corridor, you walk straight out onto the open deck and the ocean. And as many occupants have said, just remember to close your curtains, as passengers are constantly walking past in daylight hours.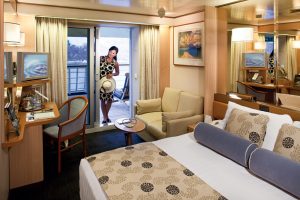 And as to the price. Contrary to what many may think, a balcony can be quite affordable. A quick look at two 13-day cruises to New Zealand departing from Sydney next summer (2019), on two popular four-star cruise lines, revealed that the difference in price for a balcony cabin (over an ocean-view cabin) was a mere $450 on one ship and $460 on another, or about 15 to 20 per cent extra.
So to answer the question: Yes, a balcony is well worth the money.