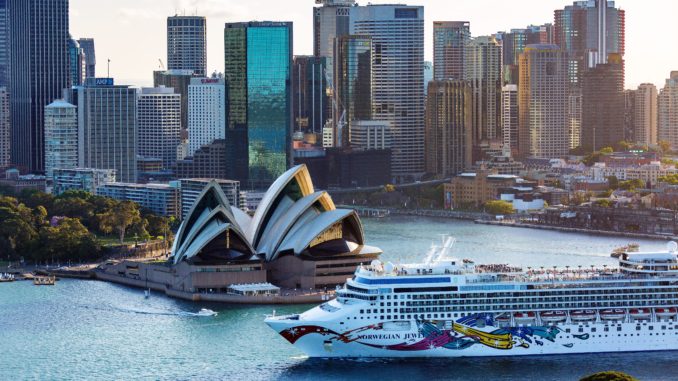 Summer spells surf, sun and cruise ships by the score
Cruise fans can expect to see dozens of ships berthed at Circular Quay over the coming months and for those interstate cruise spotters, there'll be plenty of ships to admire at terminals in Brisbane, Melbourne, Cairns, Fremantle and increasingly at Adelaide.
The wave season has begun. That's what the cruise industry calls this time of year, roughly from October to April, when overseas companies send their ships Down Under for the summer, either on seasonal deployments or on round-the-world voyages of 100 days or more.
Sydney sees the lion's share of the action of course and this year 45 different ships will arrive at the gateway city, making some 285 visits in all.
Other capital cities will also welcome new ships and old favourites as well as NSW regional towns such as Newcastle and Eden – a rising star in recent years – while even industrial Port Kembla will be graced with two cruise ship visits.
Burnie the Tasmanian port on the north-west coast of the island is set to receive a huge amount of cruise traffic this year. The gateway to Tasmania's Cradle Mountain, the town is just 75 minutes by road from the famous landmark.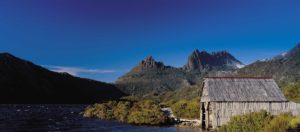 February is the most popular month to spot ships at Sydney's Overseas Passenger Terminal (OPT) at Circular Quay – the best location in town. Many ships – the smaller vessels that can fit under the Harbour Bridge – dock at White Bay Cruise Terminal near Balmain. While that terminal is relatively new and has good facilities and plenty of parking, its industrial location just can't compete with Circular Quay for views and those must-have selfie-taking opportunities.
New ships and old favourites
Every year new international ships head down to Oz, to take their place with the regular seasonal operators such as Celebrity Cruises, Royal Caribbean Cruises and Carnival Cruise Line, which bring their ships here for five-month stints.  Holland America Line, also a regular visitor, has been known to mix it up a bit and bring different ships Down Under every couple of years.
Joining the regulars in 2019 is Cunard, which after years of visiting on world cruises is finally basing a ship here, albeit for only a month.  Queen Elizabeth, one of three in the famous fleet will be stationed here during February and March 2019. (During the 2019-2020 season, however, the ship will be here for 101 days). During this stint she'll cruise out of Sydney, Melbourne and Adelaide offering an interesting mix of short hops from Adelaide to Melbourne and Melbourne to Sydney via Tasmania, which is perfect for those wanting to check out the regal service without breaking the budget.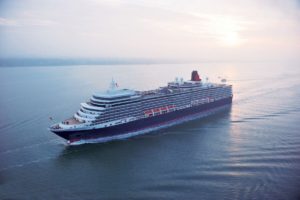 There's also a few Sydney to New Zealand cruises, which also call at Tassie ports. The ship will be treated to a bow-to-stern refurbishment in November 2018 in readiness for her arrival, while many of the crew will don Akubras during her Australian sojourn. And on February 28, 2019 Cunard sibling, Queen Victoria, will also cruise into Sydney as part of her 107-night round-world voyage from Southampton. http://www.cunard.com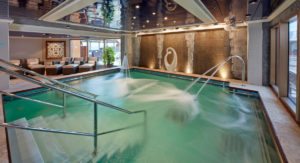 Here's the rest of the line-up for summer 2018-19
Princess Cruises
The first international ship to arrive this season was Majestic Princess; cruising through Sydney Heads in mid-September. The virtually brand-new ship (launched in 2017) has the line's emblem – the sea-witch with long flowing hair – painted on the bow.  It sports two Michelin star chef restaurants (Harmony and La Mer), karaoke rooms, the alleged (by many) super comfy Princess beds and at the top of the ship a glass floor called SeaWalk, a dramatic over-the-ocean glass walkway providing dizzying views of the sea 40 metres below.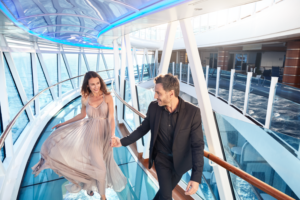 Check out the video showing the 143,700 ton, 3560-passenger ship.
https://www.princess.com/cruise-tips-vacation-ideas/video/cruise-ships/majestic.html
Princess will also have three other ships in Australian waters this season: Golden Princess, Sea Princess and Sun Princess, cruising from all our popular ports (and Auckland), while Pacific Princess will make calls at Sydney, Cairns and Darwin as part of a round-world voyage.  The ships vary in size and décor and have a variety of restaurants, but all sport the 'Movies Under the Stars' outdoor cinemas, where you can watch a latest run movie with a box of popcorn and drink, while snuggled up under a blanket.  http://www.princess.com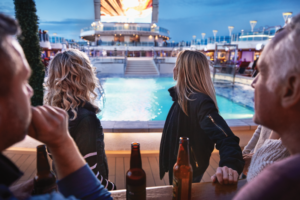 Royal Caribbean Cruises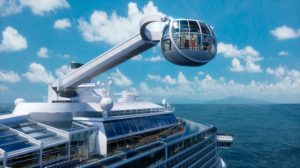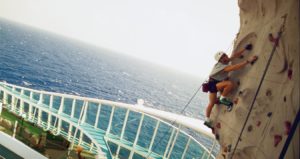 This huge cruise line, which most of us know by now, is back for the season with four ships including the biggest vessel to be based here – the 168,666-ton Ovation of the Seas. That's the ship with the huge glass ball attached to a crane-like arm that lifts passengers up above the ocean and takes them on panoramic journey – it's called North Star and has capacity for 14 guests at a time. Also on board is a sky-diving tunnel, dodgem cars, a surfing simulator (called FlowRider), robot drink mixers and all manner of fun gadgets and gimmicks. Fleet-mates Explorer of the Seas, Voyager of the Seas and tiny (by comparison) Radiance of the Seas don't have the latest whiz bang technology but do come equipped with rock-climbing walls, FlowRider, ice-skating rink and cartoon characters such as Shrek, Princess Fiona and their pals. Royal Caribbean operates itineraries to the Pacific Islands, New Zealand and along the Australian coastline.
Celebrity Cruises 
A sister brand to Royal Caribbean, Celebrity is bringing popular ship Celebrity Solstice back for its seventh season Down Under with itineraries to New Zealand, Queensland islands, the South Pacific and Australian coast from November 2018 through to March 2019. It's a more sedate, sophisticated experience than its sibling line; there's chilled-out lawn bowls and picnics on the grassed top deck (along with evening movies on the big screen)– and a handful of elegant specialty restaurants such as the beautiful Murano French restaurant, Silk Harvest and the Tuscan Grille steakhouse. http://www.celebritycruises.com.au
Carnival Cruise Line 
This glitzy line will have two ships cruising Australian waters and the South Pacific this season when Carnival Legend re-joins Carnival Spirit, the latter being permanently based here. The 2141-passenger ships have a big following, despite their somewhat garish decor. Good food, amped up fun (think dancing waiters at meal times), Cat in the Hat breakfasts for kids and the popular Green Thunder super-fast water slide and friendly staff make it a favourite line with plenty of followers.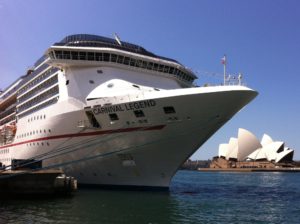 Stayed tuned for late 2019 (December in fact) when another Carnival cousin – the Carnival Splendor, with capacity for 3000+ passengers, heads Down Under for year-round cruising. http://www.carnival.com.au
Holland America Line
The long-established company with a fleet of 16 ships, Holland America is a popular visitor Down Under. This season the Noordam will return, along with a newcomer Maasdam, and cruise the Pacific and New Zealand until April 2019. Itineraries tend to be longer as there's the opportunity to join cruises together – such as the 23-day Pacific Treasures and South Australia Holiday that takes place over the Christmas-New Year period. The line is adding several new Australian ports this season including Port Lincoln and  Kangaroo Island in South Australia, and the emerging favourite, Burnie.  Launched in 2006 Noordam features the terrific BB King Blues Club with performers straight from the Beale Street, Memphis club. Another standout attraction on Noordam is BBC Earth Experiences (also recently added to Maasdam), an evening performance in the theatre that combines amazing nature documentaries set to music and performed by the ship's orchestra. Maasdam, is no spring chicken, and one of the older ships in the fleet, having been hatched (launched) in 1993. She's the same age as P&O's Pacific Eden and Pacific Aria, which are former Holland America vessels.  However, Maasdam does have the line's classic feature – a teak walk-around promenade deck, rarely seen on today's new ships and perfect for strolling.  Another fleet-mate Amsterdam will also make an appearance in Sydney – on March 24 – and a few days later in Townsville and Cairns as part of her 128-day Grand Voyage from Ford Lauderdale. http://www.hollandamerica.com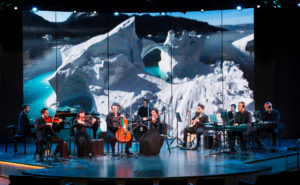 Norwegian Cruise Line or (NCL) will be back in town this summer with Norwegian Jewel, which made its Australia debut in November last year.  This summer the ship arrives in December for a season of cruises between the old favourites of Sydney and Auckland taking in the fantastic towns of Napier and Akaroa as well as Aussie ports Eden, Melbourne and Burnie. This year, however, the ship won't be featuring the Australian-produced dance show, Burn the Floor that wowed audiences last year.   This season the ship will present two new Broadway-style shows: 'Rock You Tonight', packed with 70s hits from the likes of Queen, Journey and The Who, and exclusive Australian hit musical 'Velvet', featuring disco classics, circus acrobatics and cabaret. The ship has also been treated to a stern-to-bow facelift and has new wining and dining venues – The Pit Stop, an All-American vintage-inspired bar and late-night hotspot, Bliss Ultra Lounge. There are excellent deals this season, such as free unlimited Wi-Fi and the much-loved 'free bar'.   http://www.ncl.com
MSC Cruises
Making its first call in Australia this season will be the MSC ship, Magnifica. An Italian line, known for its glitzy interiors that often run to crystal staircases, MSC Cruises is a rare visitor to our shores. The eight-year-old ship that can carry up to 3220 passengers (and is one of the few that doesn't have the jazzy staircase) is doing duty as the host of the cruise line's first-ever round-world voyage. The 119-day world cruise departs Genoa on January 5, 2019 and returns to that city – the birthplace of Columbus and a somewhat underrated gem of the Mediterranean – on May 3. MSC Magnifica calls at Sydney on March 18 for an overnight stay; it also visits Melbourne a few days later. Beyond the bling, MSC Cruises is also known for its relatively cheap cruise fares and very affordable drinks packages. Now we should all drink to that! http://www.msccruises.com.au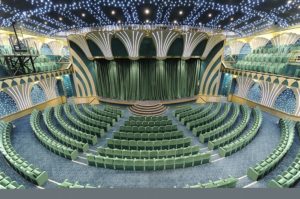 Seabourn Cruise Line
Luxury small and boutique ships are also heading our way. Look out for the Seabourn siblings – Seabourn Sojourn and Seabourn Encore, elegant white ships that offer an all-inclusive cruise where waiters are happy to serve you cocktails by the pool (not chits to sign either) and tend to remember passengers' first names in no time.  You can see Seabourn Sojourn in Sydney on December 11, 2018 before it departs on a 16-day cruise to Fremantle calling at ports including Melbourne, Hobart and Port Arthur, Adelaide, Port Lincoln and Bunbury on the way. It then makes its way to Singapore calling at Exmouth, Broome and Darwin. Seabourn Encore arrives in Sydney on December 21 after a trip from Bali and then sets off on a series of 16-day cruises between Sydney and Auckland, including one cruise that circumnavigates New Zealand. Encore ends its short Antipodean season with a cruise back to Bali, along the Queensland coast, departing from Sydney on March 27, 2019. http://www.seabourn.com
Silversea Cruises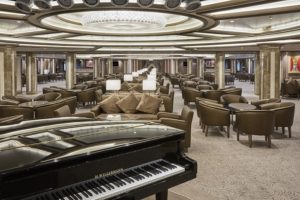 Silversea Cruises' ships Silver Whisper and new flagship Silver Muse are also set to make an appearance this summer. Launched in May 2017, the 596-passenger 40,700-ton Silver Muse sails into Sydney on January 6, 2019 for a handful of cruises to and from New Zealand. On February 22 she heads back to Asia, setting a westerly course from Sydney with calls at South and Western Australian ports along the way. Silver Whisper will make a brief appearance Down Under when she arrives in Sydney on February 1 as part of a round-world itinerary. From Sydney she heads north calling at Brisbane and Cairns en route to Bali.
Regular visitor and expedition ship Silver Discoverer will return to the Kimberley in April 2019 for a season of cruises between Darwin and Broome in the dry season up until June. The 100-passenger ship is equipped with Zodiacs for adventurous shore excursions in search of crocs, huge red rocks and the amazing Montgomery Reef.  http://www.silversea.com
Regent Seven Seas Cruises
We'll have visits from two of the line's four ships this summer. Regent Seven Seas Cruises (RSSC), offers the most inclusions of any cruise line sailing the globe, with all drinks and specialty dining included together with excursions in every port. Seven Seas Navigator, which carries just 490 passengers, arrives in Sydney on February 12, 2019 from Papeete (Tahiti) after a sailing through the Pacific Islands. She leaves that night on a 24-night cruise to Hong Kong calling at ports in Queensland including Fraser Island, a rare visit for an international cruise ship. Sister ship Seven Seas Mariner, which carries 708 passengers, will explore all the country on a Grand Circumnavigation of Australia. Heading off from Sydney on December 15, Seven Seas Mariner will head north and call at Mooloolaba, Airlie Beach, Townsville and Cairns and then cruise over to Papua New Guinea, Komodo and Bali. She then heads back into Australian waters and makes her way to Sydney with calls at Broome, Exmouth, Fremantle, Kangaroo Island, Adelaide, Melbourne and Burnie in what must be one of the longest and most varied circumnavigations ever of Australia. http://www.rssc.com
Oceania Cruises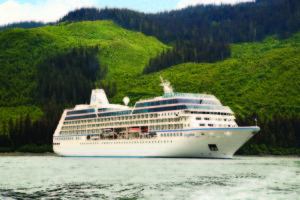 Owned by the same company as Regent Seven Seas Cruises (that is Norwegian Cruise Holdings), Oceania Cruises is a six-ship fleet that carries between 684 and 1250 passengers, with the newer ships – Marina and Sirena being the largest. The ships are known for their grand staircases and impressive but cosy libraries. The line also brags that it has the 'best food at sea' – many dishes have been curated by renowned French chef, Jacques Pepin. All restaurants are included in the fare along with the Wi-Fi but drinks are not, however, daily drinks packages can be bought. One of the three smaller ships, Regatta, will arrive in Sydney on December 13 after a 31-day South Pacific voyage that begins in Los Angeles and calls at Hawaii, French Polynesia, the Samoas and other isles. From Sydney Regatta will embark on a 34-day circumnavigation of Australia, on a similar itinerary to that of sister-company ship Seven Seas Mariner.
Regatta will call at new ports such as Hamilton Island and Geraldton in a voyage that also takes in Papua New Guinea and Indonesia. Another fleet-mate, Insignia, will also cruise along our east coast, calling at three cities – Sydney, Brisbane and Cairns – from March 4 to 9, as well as calling at Darwin on March 13. The visits are part of the ship' s 180-day world voyage from New York to Miami, which touches on almost every area of the globe.   http://www.oceaniacruises.com
Azamara Club Cruises
Passengers aboard the Azamara Quest will be counting their lucky stars when the ship takes its place in Sydney Harbour for the New Year's Eve fireworks. The overnight call in Sydney on the eve of 2019 is the highlight of the ship's itinerary that will begin in Fremantle on December 22 and conclude in Melbourne. Guests will spend Christmas at sea, and also spend a day in Hobart. From Melbourne, the 716-passenger Azamara Quest will undertake cruises to New Zealand until March, before heading back to Asia.    http://www.azamaraclubcruises.com
Crystal Cruises
Fresh from revamps and renovations – or 're-imaginings' as Crystal Cruises likes to call them – the line's two ocean-going ships, Crystal Symphony and the younger Crystal Serenity, will call here as part of grand and round-world voyages. Both ships will sport extra suites and penthouses and new restaurants. The former Crystal dining rooms have been re-christened Waterside and now have open seating and more tables for two and four; the Lido café is now the Marketplace, while a Churrascaria Brazilian steakhouse is a new eatery. The Japanese restaurant Nobu is now Umi Uma serving Japanese-Peruvian fusion, while Silk is a new alfresco diner offering Chinese fare. New bars include the Starlite Club (on Symphony) and Stardust Club, on the Serenity. First to arrive in Sydney will be the Crystal Serenity on February 8 – from Auckland and Hobart. She'll then head over to Kangaroo Island, Adelaide, Albany and make a maiden call at Busselton before docking at Fremantle. The Crystal Symphony also arrives after crossing the Tasman, docking in Sydney on April 8. http://www.crystalcruises.com
Viking Cruises
Viking Cruises, a newcomer to the ocean cruising scene, will homeport a ship in Australia for the first time this season. Viking Orion, launched in June 2018, arrives in Sydney on December 16 after a cruise from Bangkok calling at Queensland ports along the way. It then operates five itineraries of 14 days each between Sydney and Auckland, offering free tours in each port. The ship's fare has many inclusions from alcoholic drinks, to Wi-Fi and gratuities. Viking has five ocean cruise ships in its fleet (soon to be six), each taking 930 passengers, and a river cruise division comprising some 60-plus riverboats. The company's founder, Torstein Hagen, was once the CEO of the much-loved (and now defunct) Royal Viking Line that many Australians remember. The names of the first four ocean ships – Viking Sun, Viking Sea, Viking Sky and Viking Star – are the same as those used for the sleek vessels of the former cruise line. Viking's newest ships –Viking Orion and the soon-to-be launched Viking Jupiter, have been given celestial monikers. Among Viking Orion's features are the new Explorers' Dome planetarium, situated above the Explorers' Lounge, and the fantastic Nordic Spa complete with the perfect chill-out room called the snow grotto.   www.vikingcruises.com.au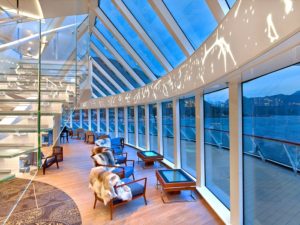 Rare sightings
And making fleeting appearances this season will be Europa 2 and Costa Luminosa. The former belongs to Hapag Lloyd Cruises, a German line and an infrequent visitor to these shores. The 516-passenger ship's claim to fame is that it scores a perfect 5.5 stars in the Berlitz Guide to Cruising & Cruise Ships (2018 edition) – a major achievement indeed. The book's author, Douglas Stewart, has only allotted 5 1/2 stars to only one other ship (and that's sister vessel, Europa). The ship will be Sydney on March 24 and 25, 2019 before she heads north to Asia via Brisbane and Cairns. For those who want to test the superb service, berths are apparently still available!
Costa Luminosa's claim to fame is that I attended her christening in Genoa, Italy in June 2009. It was a double christening in the harbour – performed in a major ceremony attended by the creme de la creme of Genoese society as well as Italian actors and performers. The other ship christened on the same night was Costa Pacifica. As the name suggests, Luminosa means light and the ship certainly has plenty of that – there are dazzling crystals everywhere! Strangely the ship won't be coming to Sydney, but calls at Melbourne (March 9) and Brisbane (March 12) and Cairns (March 15) only. Another newish British cruise line is also heading Down Under – Cruise & Maritime Voyages. This line has a fleet of five  'classic' ships (soon to be six), by which I mean older ships that have certainly been around. Most are around 30 years old; a couple – such as Astoria and  Marco Polo were launched much earlier (in 1947 and 1966 respectively). Nonetheless, all ships have had stylish makeovers. This summer we'll see Astor in Sydney on December 1 and in Adelaide on December 4, before the ship arrives in Fremantle on December 8 to begin a season of cruising out of Western Australia for three months. The itineraries include WA coastal jaunts and cruises to Asia. Another fleet mate, Columbus will be in Australia in February as part of a four-month world cruise from London. It arrives in Sydney on February 24 and then moves north to Hamilton Island (February 27) and Cairns (March 1) before heading to Japan. If Columbus looks familiar to cruise-watchers, that's because it was formerly the Pacific Pearl, which was part of the P&O Cruises fleet a few years ago. Cruise & Maritime has some terrific itineraries in the Northern Hemisphere especially and appeal to those who love older, smaller ships without all the whiz bang features.   https://www.hl-cruises.com/
And last but not least our local operator – P&O Cruises
The Australian company's five ships will be having a busy season with cruises from five ports plus Auckland. South Australians get a chance to cruise from their own backyard, several cruises departing Adelaide from January to March) aboard Pacific Eden. (Following the South Australian season, the ship will leave the fleet and transfer to the British line, Cruise & Maritime Voyages and be renamed Vasco da Gama in honour of the famous Portuguese explorer. Fleet mates Pacific Aria, Pacific Dawn and Pacific Jewel will cruise to the Pacific Islands, New Zealand and a plethora of coastal ports. The fifth P&O vessel and the flagship Pacific Explorer will be flitting about, departing from Sydney, and offering cruises as diverse as short three-day comedy sailings to a 16-day foray to French Polynesia. Special event sailings include trips to the Australian Open Tennis in Melbourne and Australia Day on Sydney Harbour. http://www.pocruises.com.au