When I was in Hawaii last year, I did the usual things during a brief stopover in Waikiki. I went snorkelling in Turtle Canyon, having taken a boat out from Kewalo Harbour, I shopped at the Ala Moana centre, browsed the streets markets and shops, popped into the famous Royal Hawaiian Hotel and just took in the warm weather and sights.
One of the most unusual activities was my trip to see a bunch of cartoon characters and luckily I just happened to be in town on the opening day of the first-ever Peanuts Adventure – an interactive experience. The fact that I was not quite the demographic for the colourful show….I've always been a big Snoopy fan – was irrelevant! What about you? Are you or were you a Snoopy fan?
Unfortunately, the show has closed but hopefully, it may open in mainland USA this year. My sources tell me there's still a Snoopy merchandise store in the shopping centre! (I mean, really!)
Here's my take on it.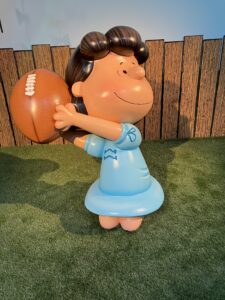 I love Lucy. Not the zany redhead, Lucille Ball, although she's a hoot, but Lucy from the Peanuts comic strip. And not just because she's bossy, selfish and opinionated – all admirable traits in a cartoon character.
I just love her conceit: her confident dispensing of psychiatric help from a lemonade stand for five cents.
Peanuts, one of the world's most popular comic strips, was created by Charles M Schulz in 1950. For over half a century, until his death in February 2000, he penned 17,897 cartoons, which were syndicated in 2600 newspapers.
Its longevity is surely due to the rather adult humour of the ever-insecure protagonist Charlie Brown (a sort of 'everyman' or 'every kid') and his loveable sidekicks dispensing wisdom and fantasising about their powers.
What's not to like about a beagle dressed as a World War I flying ace? Or Woodstock the tiny bird who communicates entirely through peeps or little Linus clutching his security blanket?  Apparently, Schulz coined that now-popular phrase.
And I daresay kids just love the cute colourful characters, brought to life in countless TV specials and movies and the merchandise that has been around for more than 40 years.
I expect fun, not cheap psychoanalysis when I arrive for the world launch of "Search for Snoopy, a Peanuts Adventure" at Honolulu's retail paradise, the Ala Moana Centre last July.
Billed as an interactive 'immersive' attraction, Search for Snoopy was created by Kilburn Live, whose suite of children's shows includes World of Barbie and a Dr Suess Experience.
Honolulu, I imagine, was chosen for the launch as the floppy-eared beagle and Hawaii have had a relationship for years; there are three Snoopy shops on Oahu, the main island, while Japan – the biggest international tourist market – is Snoopy-mad with a Peanuts Hotel in Kobe and Snoopy Museum in Tokyo.
It's not hard to find this new attraction even though the Ala Moana Centre is huge (it's the world's largest outdoor shopping centre) as little kids were railing Snoopy balloons and I asked their mum for directions.
On arrival, I'm greeted by a human-sized hound who dispenses hugs before I check out a world of super-saturated colour filled with props and games.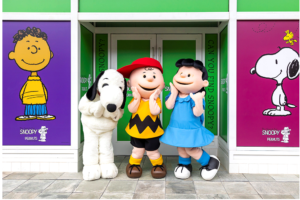 There are eight neighbourhoods to explore. I start in a room dedicated to Snoopy the detective, one of his many alter-egos. From there I wander to rooms filled with mementos of Snoopy's life as a pirate and astronaut, where kids are steering a ship's wheel and fiddling with spaceship dials.
I enter another neighbourhood after walking under Snoopy's big red doghouse, lined with cartoon strips. While kids run off to see what's around the next corner – or cuddle a passing life-size character – I stop to read some of the comics, blown up for easier viewing. Years after I first read a Peanuts cartoon, I still love them – the deep simplicity of the humour is somehow very satisfying.
I walk along a corridor and discover a bank of red school lockers. Opening one I enter a room where the Winter Dance, the name of a 2015 movie, is taking place. Children and parents are grooving on a fluorescent dance floor under a disco ball following dance moves projected on a big screen. I'm tempted to join in, but don't have a child in tow.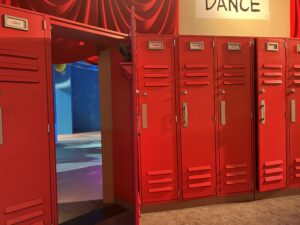 I arrive at a classroom where Peppermint Patti is asleep at her desk, beside an unopened copy of War and Peace. The classroom props are a big hit – kids can holler into a microphone, spin the globe and draw with huge pencils.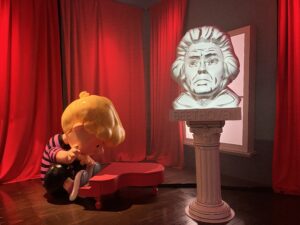 In the adjacent red room, Schroeder sits at his toy piano beneath a portrait of his hero, Beethoven. In another neighbourhood, youngsters are fishing for pumpkins with a hook, a nod to Linus' obsession with the Giant Pumpkin he believes will rise at midnight on Halloween.
Eventually, I find Lucy's psychiatric booth, but the doctor is not in. Instead, a row of old-fashioned telephones is available to listen to her advice, delivered with tell-tale cockiness.
Search for Snoopy is fun and kids can follow a bunch of clues to help Charlie Brown find his beloved beagle. And naturally, there's an App!