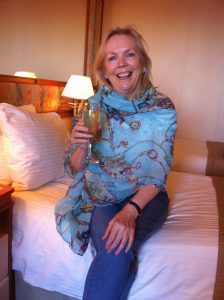 Hi, I'm Caroline Gladstone, a long-time travel writer, freelance journalist and newcomer to the blogosphere. An Australian, living in Sydney, I write about all types of travel experiences and adventures, but my specialty is cruising. I've cruised on more than 70 ships – huge, mid-size, and boutique, along with river boats, sailing ships and even a cargo vessel. I was onboard for the launch of the biggest ship in the world – Harmony of the Seas – in 2016, now superseded of course by sibling Symphony of the Seas, and have flitted around the Maldives on the petite Four Seasons Explorer, a 22-guest luxury catamaran operated by Four Seasons Hotels & Resorts.
My stories appear in Fairfax Media, publishers of the Sydney Morning Herald, The Sun-Herald and The Age, as well as The Weekend Australian, Stellar magazine and other magazines including Vacations & Travel, Cruise Passenger, Discover and Travel Bulletin as well as on the popular website, Cruise Critic, owned by Trip Advisor. Over the years my stories have been published in Escape (the travel section of the Sunday Telegraph and Herald-Sun), the RACQ Magazine, Great Walks, Get Up and Go Magazine, The Quorum and various websites.
I like to think my stories are well-researched, full of information and served with a side of humour.
Cruising, I'm sure you've noticed,  is the fastest-growing sector of the travel industry. In 2017, a record 1.34 million Australians took an ocean cruise – to all parts of the world –  according to figures released on May 23, 2018 by CLIA, the Cruise Lines' International Association.
And many thousands also embarked on river cruises – a wonderful experience – and also a rapidly-growing holiday option.
But while many people are cruise-savvy and have taken several nautical holidays, many Australians and others are newcomers to cruising. For that reason, I've added a Cruise Advice tab to my website where you can find articles that may answer some questions or demystify this 'thing' called cruising.
I've also added a Musings tab, which will act as a repository for a variety of things from slightly quirky tales, random observations in the travel/tourism world, and  'musings' in general.
Apart from writing cruise and travel features, I have worked as a guidebook writer on a variety of titles. For 12 years I was a regular contributor to the Fodor's Guide to Australia (I wrote chapters on south-east Queensland, New South Wales, Sydney, Victoria, Melbourne and the Red Centre) and I also co-wrote the inaugural Fodor's Guide to Tahiti and French Polynesia; Fodor's guides are published by the US-based Random House. As a result of all that research, I came to know my way around Australia and am more than a little au fait with Tahiti and her many beautiful islands. There's quite a bit beyond beautiful Bora Bora – I've driven around the almost car-free roads of Tahiti itself, Moorea,  Huahine and Moorea, biked in lovely way-off Rangiroa and Tikehau in the Tuamotu group, visited the ancient temples of Raiatea where human sacrifices once took place and taken an island-hopping cruise on the ship, Paul Gauguin.
All stories and 'musings' on this site are my own work; many photographs were also taken by me. Others were supplied by tourism bureaux and cruise lines specifically for publicity purposes.
Please get in touch via the 'contact me' email if you'd like to discuss a story idea, commission a story, talk about a writing or editing project, or if you'd like to invite me on a cruise or other travel experience.
Follow this link to see some of my stories on Fairfax Media :http://www.traveller.com.au/caroline-gladstone-hvf4y
Click on this link to see one of my Fodor's stories on French Polynesia:  https://www.fodors.com/news/tahiti-on-a-bud-3219
Thanks for your interest and wishing you smooth sailing.
Caroline